Devils coach Lindy Ruff has been given a multi-year contact extension on the eve of the season
New Jersey made the playoffs last year for the first time since 2018 and beat the rival New York Rangers in the first round.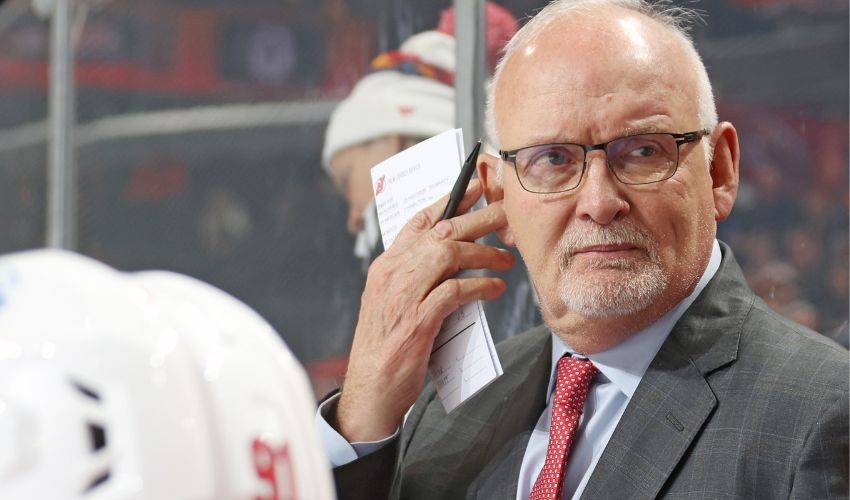 Less than a year after leading the New Jersey Devils to their best regular season, coach Lindy Ruff has been signed to a multi-year contract extension.
General manager Tom Fitzgerald announced the signing on Wednesday, a day before the Devils open the 2023-24 season at home against the Detroit Red Wings.
"This young, exciting team has developed and thrived under Lindy's stewardship since he joined the Devils' organization," Managing partner David Blitzer said in a statement. "Lindy is one of the winningest coaches in NHL history and his extension is well deserved. I'm looking forward to continued team success this upcoming season and beyond."
Fitzgerald had said before the start of training came that management wanted to give the 63-year-old Ruff a new contract but he simply had not gotten around to working out a new deal.
"We're incredibly fortunate as an organization to have Lindy Ruff behind the bench to guide this group, who've made significant strides under his leadership," Fitzgerald said. "I've always believed that Lindy was, and continues to be, the right man behind the bench for this team. From the beginning, he's done a tremendous job piloting our young group, and we're excited to see this team's continued success under his watch as we take the next steps."
The Devils 112-point season last year came after New Jersey lost its first two games of the season at home and fans chanted for Ruff to be fired. Shortly after that, the team went on a 13-game winning streak and the fans chanted "Sorry Lindy" late in one game.
Ruff laughed about it and said at some point he would go out and have beers with the fans.
New Jersey made the playoffs for the first time since 2018 and beat the rival New York Rangers in the first round before losing to the Carolina Hurricanes in the second.
"I'm thrilled to commit here to this situation and couldn't be prouder of the great progress that our group made last season," said Ruff. "We have a special group in Jersey and there's an opportunity to accomplish long-term success, make a lot of positive memories and give our fans a lot to cheer about — because our Devils' fan base is one of the best in the League and they deserve to see a winner."
Ruff, who joined the Devils in 2020-21, is one of the most successful coaches in NHL history, ranking first in wins (834) among active coaches. He is the fifth-winningest coach in league history and one of six NHL coaches all-time with 800 career wins. Ruff is 15 wins behind Ken Hitchcock (849) for fourth all-time.
Ruff has spent parts of 22 NHL seasons with Buffalo (1997-98 to 2012-13), Dallas (2013-14 to 2016-17) and New Jersey. He led the Sabres to the 1999 Stanley Cup Final.
Ruff played 12 seasons in the league as a defenseman with the Sabres and Rangers.
___
AP NHL: https://apnews.com/hub/nhl
Tom Canavan, The Associated Press