Buffalo Sabres lock up defenseman Rasmus Dahlin to 8-year, $88 million contract extension
Overall, Dahlin's 232 career points ranked ninth on the NHL list among defensemen before their 23rd birthday.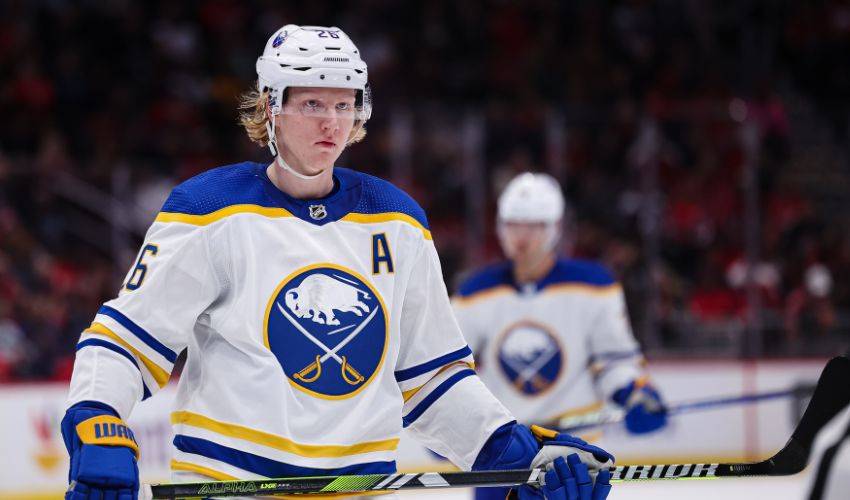 BUFFALO, N.Y. (AP) — Sabres defenseman Rasmus Dahlin arrived in Buffalo from his native Sweden as a raw 18-year-old who could barely speak English, had little experience living away from home, and unprepared for the growing pains he'd face in maturing into a full-rounded player.
Some five years later, toughened by the adversity of spending his early years playing on a losing team that's finally showing signs of contending, Dahlin can't think of a better place to stay for the long-term future than Buffalo after signing an eight-year, $88 million contract extension on Monday.
"First of all, I grew up here as a man," the 23-year-old Dahlin said after practice.
"I had one or two rough years there, but I learned a lot and it made me a better person. It made me more of a competitor, a never-give-up mentality," he added, referring to a Sabres team that finished with a sub-.500 record during his first four seasons, including a last-place overall finish in 2020-21. "So I'm actually very, very happy about those years."
And the Sabres were more than happy to reward Dahlin's emergence as a team leader and one of the NHL's top offensive blue-line threats last season by making him their highest paid player in terms of annual salary. The Sabres placed such an emphasis on locking up Dahlin, the deal was completed with the player having one season left on a three-year, $18 million contract.
"We know we have a player in Rasmus Dahlin that we think will continue to get better for at least the next nine years," Sabres general manager Kevyn Adams said. "And I think it sends a big statement to our team, our fans, of the commitment (ownership) made, and what he means to this organization."
The timing of the signing removes any distraction from contract talks lingering into the season, with Buffalo preparing to open at home against the New York Rangers on Thursday. And it signifies the team's optimism by locking up its most talented player and kicking off a season in which Buffalo finally appears poised to be a playoff contender and end a 12-year postseason drought.
Dahlin is but the latest member of what management has identified as part of its core group to sign a long-term deal.
It's a group made up of centers Tage Thompson, who last year signed seven-year, $50 million contract, and Dylan Cozens (seven years, $49.7 million) and defenseman Mattias Samuelsson (seven years, $30 million). And it's expected to eventually include defenseman Owen Power, the first player drafted in 2021.
"For me, it's critical that these guys have made the commitment," Adams said. "I think this sends a strong message to the league that this is going to be a special place to play moving forward."
Though Buffalo extended its NHL-record playoff drought to a dozen seasons last year, the Sabres' trajectory points up based on their young, developing talent, and after they fell a mere two points from qualifying for a postseason berth in April.
Upon arriving at training camp, Dahlin voiced his confidence in believing the Sabres are ready to become contenders by saying: "It's go time. I mean, we don't have excuses anymore."
Entering his sixth season, Dahlin is coming off a year in which he took a major step in displaying signs of the playmaking potential that led to the Sabres selecting him with the No. 1 pick in the 2018 draft.
His 15 goals were a career-best and most by a Buffalo blue-liner since Alexei Zhitnik scored that many in 1997-98. Dahlin's 73 points, also a career-best, were tied for fifth among NHL defensemen, and ranked third on the Sabres single-season list behind Phil Housley, who holds the top two spots with 81 in 1989-90 and 77 in 1983-84.
Overall, Dahlin's 232 career points ranked ninth on the NHL list among defensemen before their 23rd birthday.
Dahlin's two most productive seasons — he had 13 goals and 53 points in 2021-22 — have not coincidentally come under coach Don Granato, who has loosened the reins on his players in urging them to play without fear of making mistakes. That was a major switch from Granato's predecessor, Ralph Krueger, who had Dahlin focus on playing a more defensive role.
Much like his production, Dahlin's confidence has blossomed under Granato, who initially took over as interim coach after Krueger was fired in March 2021. Last season, Dahlin and veteran forward Zemgus Girgensons served as alternate captains, during Kyle Okposo's first year as captain.
Dahlin now has even more reason to look forward to the season-opener and the buzz of the crowd on Thursday.
"I've been waiting all summer," Dahlin said. "I hope they're going to be loud. I know they're going to be loud. So I can't wait."
___
AP freelance writer Jonah Bronstein contributed to this report.
___
AP NHL: https://apnews.com/hub/nhl
John Wawrow, The Associated Press