NHL stars excited for PWHL puck drop: 'An amazing thing for hockey'
The PWHL now established with teams in six hockey-crazed markets, the game appears to finally be in lockstep.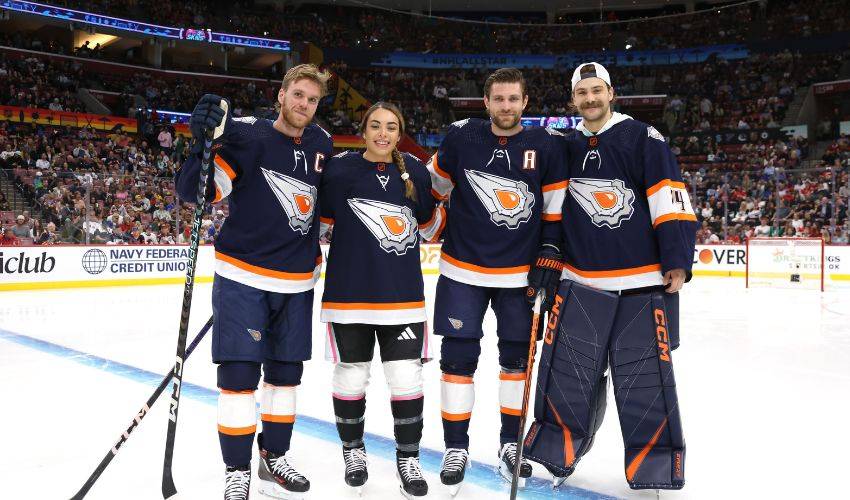 John Tavares has spent untold hours honing his skills.
Like the hundreds of NHLers he battles with and against each season, the reward is a career in the spotlight to go along with millions of dollars in the bank.
Women's hockey players — many of them stars on the international stage — have never had the same opportunity at the professional level.
That frustrating situation, however, changed quickly and drastically when the Professional Women's Hockey League was unveiled in late June.
Slated to begin play in January, the new circuit represents a seismic shift in the women's game, which has provided some of the sport's iconic moments at the Olympics and world championships with the heated Canada-U. S. rivalry, but has struggled to gain traction in North America with a financially sustainable pro model.
The PWHL now established with teams in six hockey-crazed markets, the game appears to finally be in lockstep.
And the men are glad the path is finally clear.
"You want to see them flourish," Tavares, captain of the Toronto Maple Leafs, said at the pre-season NHL/NHLPA player media tour outside Las Vegas. "The international game, it's been tremendously successful, a lot of fun to watch, and they're great athletes.
"They play a great game that we all love. They do a great job at it and deserve the opportunity to have their own league and develop a history of pedigree — a legacy — just like we have as men."
Toronto, Montreal, Ottawa, Boston, Minneapolis-St. Paul and the New York City area have been tabbed as the new league's Original Six.
"Gonna be awesome," Ottawa Senators captain Brady Tkachuk said of having a PWHL team in his backyard. "It's a great market to play in and has a lot of people that care — not only about the hockey side, but the people side.
"Really excited to have them."
The Professional Women's Hockey Players' Association was established in 2019 after the Canadian Women's Hockey League collapsed.
Instead of joining a rival league based south of the border, many of those players, including Canadian icon Marie Philip-Poulin and U.S. counterpart Hilary Knight, who have both appeared at NHL all-star games and exhibition tours in recent years, pushed for a sustainable economic model and fairer wages.
That's what they appear to finally have in the PWHL, where salaries will range from US$35,000 to $80,000 as part of a collective bargaining agreement signed through 2031.
The new league has yet to unveil team names or arenas, but coaches and general managers are in place. The inaugural draft was held last month and rosters are being filled out ahead November's training camps.
"Fantastic," Edmonton Oilers captain Connor McDavid said. "It's so good for women's hockey, but also hockey as a whole to be able to open up the game to everybody.
"Now that women can play at the professional level and make a living, it's an amazing thing."
There are stories through generations of women's hockey players and the sacrifices made, including holding down multiple jobs or heading from practice to work to make ends meet.
"You could give up on your dream or give up in a heartbeat with not having a pro league that's set," Montreal Canadiens forward Cole Caufield said. "For them to stick with it and believe, it's really cool. There's a lot of special people that are gonna get a chance to be known now and be recognized.
"That's probably the best part."
NHL deputy commissioner Bill Daly said his league has offered logistical support, including scheduling some of its high-profile events in conjunction with the PWHL.
"It's really to be there in any way we can to help facilitate the progression," Daly said. "They're working on a very ambitious timeline to get a league up and running and do all the things you need to do to make that happen. But they're committed to it. We just want to be helpful."
"Very exciting," Calgary Flames centre Nazem Kadri added. "As players in the NHL, we completely support them. We want them to thrive, we want them to do well, we want them to expand."
New York Islanders captain Anders Lee was ecstatic when he heard the PWHL news, and not just for what it means right now.
"As a father of two girls, for them to have something down the line — whether they play hockey or not — just to have that opportunity and have these women to look up to," he said. "(Women's hockey players) work just as hard as us, they put in all the same time. They deserve something like that.
"Excited to see where they can take it."
But not everyone is a winner — at least in the short-term.
Only six PWHL teams means fewer spots available compared to previous setups, especially when adding in the stars from the PWHPA.
"I think they decided like, 'Hey, it's time to take a run at this and get the best of the best, get them in on a few teams and try and put the best product on the ice,'" Washington Capitals forward Tom Wilson said. "That's probably a good plan and a good thing. Obviously some people lose their jobs, but that's the way it goes."
The men see a bright future.
"This is a great opportunity," Tavares said. "Really hope their league can run with it."
This report by The Canadian Press was first published Oct. 5, 2023.
___
Follow @JClipperton_CP on X.
Joshua Clipperton, The Canadian Press