Flames assistant GM Chris Snow dies at 42 after lengthy public battle with ALS
The Flames confirmed his death Saturday night.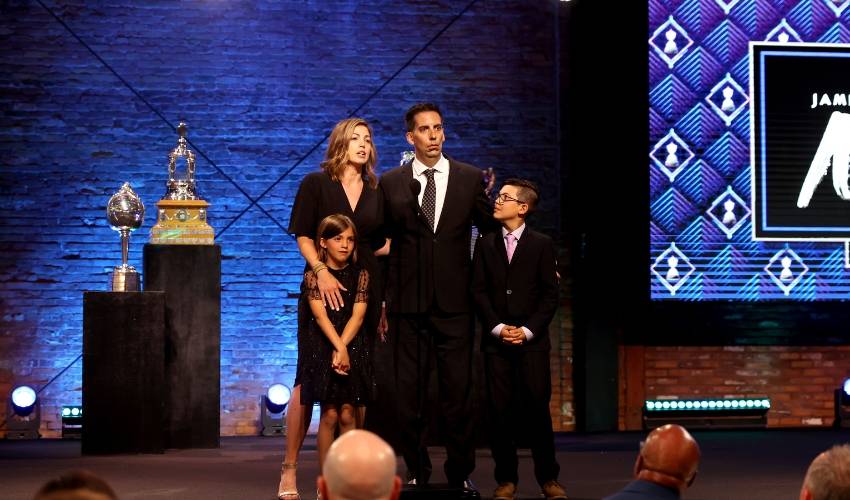 Calgary Flames assistant general manager Chris Snow has died at age 42 after a lengthy public battle with Lou Gehrig's disease.
The Flames confirmed his death Saturday night. Kelsie Snow said on social media her husband went into cardiac arrest Tuesday caused by a catastrophic brain injury from a lack of oxygen, which doctors did not expect him to wake up from.
On Thursday, Kelsie Snow said tests confirmed her husband would not wake up, adding he remained on life support while organ donation was arranged because he offered his body to a clinical trial.
"We are so proud of him," she posted.
In a statement, the Flames said, "We, along with the entire hockey community, are mourning the passing of Chris Snow. Even while battling ALS, Chris dedicated his life to helping others and he changed the lives of so many."
NHL Commissioner Gary Bettman called Snow a "remarkable man whose courageous and relentless battle with ALS has been an inspiration to so many."
"An innovative student of our game with an expertise in data analysis, Chris supervised the creation and build out of the Flames' analytics department and was influential in all facets of the Club's Hockey Operations decision-making," Bettman said. "First and foremost, however, he was a beloved husband to Kelsie, a devoted dad to Cohen and Willa, and a friend to everyone in hockey fortunate enough to have met him. The Snows' willingness to share the trials and triumphs of Chris's lengthy ALS journey has inspired so many and profoundly increased awareness of the need to find a cure for this debilitating disease."
The Snow family became a source of hope inspiration within the hockey community since Chris was diagnosed in June 2019 with amyotrophic lateral sclerosis, ALS: a progressive disease that attacks nerve cells that control muscles throughout the body.
"We cannot convey the impact Chris has on our organization, not only in his work but the leadership and positivity he brings," the Flames said in a statement Wednesday. "Despite his own challenges, he is a beacon of light, uplifting all of us around him."
Snow was a baseball writer prior to being hired by the NHL's Minnesota Wild in 2006 as director hockey operations and spending four seasons in that role. He joined the Flames front office as an analyst in 2010, working as director of statistical and video analysis for eight years and director of hockey analysis for one being promoted to assistant GM in 2020.
___
AP NHL: https://apnews.com/hub/nhl
Stephen Whyno, The Associated Press