Senators hire Steve Staios as president of hockey operations
Staios joined the Senators on Friday after resigning from his post as special adviser on the Edmonton Oilers' hockey operations staff.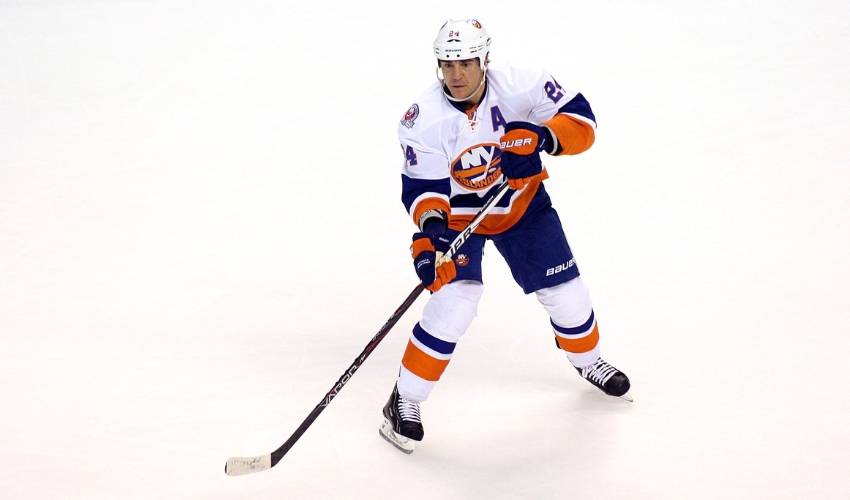 Ottawa Senators owner Michael Andlauer got exactly what he wanted Friday.
Andlauer appointed Steve Staios as the team's new president of hockey operations. He joined the Sen after resigning from his post as special adviser on the Edmonton Oilers' hockey operations staff.
Andlauer and Staios have known each other since the 2004-05 NHL lockout. 
When Staios took his past job with the Oilers, after being president and general manager of the Ontario Hockey League's Hamilton Bulldogs, Andlauer had some words for Edmonton's special adviser to the owner and chairman, Paul Coffey.
"I said, 'Paul if I ever own a team, you know I'm coming for Steve,'" Andlauer said at a press conference Friday.
Staios, a Hamilton native, served as president and GM of the Bulldogs from 2016-22, including a stint solely being president in 2015 before joining the Oilers in 2022-23.
The Bulldogs franchise is owned by Andlauer, whose purchase of the Senators was completed on Sept. 21.
"I am so excited that Steve is joining me in Ottawa to lead our hockey operations," Andlauer said in a release. "I have worked with Steve for many years and know first-hand that he will strengthen our team with his hockey acumen, attention to detail, commitment to excellence and enthusiasm for the game and its players. 
"In hockey you can never accumulate too much talent. Having Steve and Pierre (Dorion) leading our hockey department gives us a formidable team."
Dorion remains GM heading into the 2023-24 NHL season.
"It's just an absolute privilege to be able to lead the Ottawa Senators in my role as president," Staios said. "As Michael talked about, Pierre and I have had some great conversations already. 
"I'm here to support him on the day to day. I'm looking at all there is of our organization that could be best in class. That'll be my focus."
Staios was named player development adviser of the Toronto Maple Leafs in 2012 and two years later, became the manager of player development before moving to the bench to support the interim coaching staff in 2015.
He also managed Team Canada at the 2019 world juniors and 2017 world under-17 hockey challenge. In addition, he served as director of player development with Canada at the 2014 world championship.
The 50-year-old Staios's work in development and management followed a 16-year NHL career as a defenceman that saw him appear in 1,001 games with Boston, Vancouver, Atlanta, Edmonton, Calgary and the New York Islanders.
Dorion said there would be a mix of philosophies between GM, president and owner but that Staios is a good person to bounce ideas off.
"I think Steve can be a great sounding board. You look at his playing experience, … and it was through hard work," Dorion said. "I think through his experience, working in two different NHL teams but at the same time building two championship teams in Hamilton. 
"And his knowledge, you can't forget that. Just in talking to him, his knowledge, his vision, how he sees things, how Michael and him had so much success in Hamilton, I think that's how he could be a sounding board."
Ottawa is coming off a 2022-23 season that saw the Atlantic Division club finish 39-35-8 and miss the post-season for the sixth year in a row.
Staios did not shy away from the work needed to get the franchise back on track. But he also couldn't hide his enthusiasm to get things going.
"We have a lot to be excited about but we have a lot of work to do that we're all up for," he said. "I look forward to working with Pierre on the day to day, to be able to take this team to another level. 
"When you look at this team that we have, there's an incredible amount of heart, competitiveness and the future is bright."
The most specific question posed to the trio was regarding the situation of forward Shane Pinto. The 22-year-old restricted free agent, who scored 20 goals last season, has yet to be signed as the team looks to clear cap space.
"We've discussed it among the three of us," Dorion said. "We talked as recently as yesterday.
"Obviously our fans want Shane here, we want Shane here, players want Shane here. We're really working hard at it and we know he's an important part of our team and we hope he joins us in the very near future."
This report by The Canadian Press was first published Sept. 29, 2023.
The Canadian Press