Fresh off playoff appearance, New Jersey Devils re-sign forward Timo Meier to 8-year, $70M contract
The contract will pay the 26-year-old Swiss forward an average of $8.8 million annually.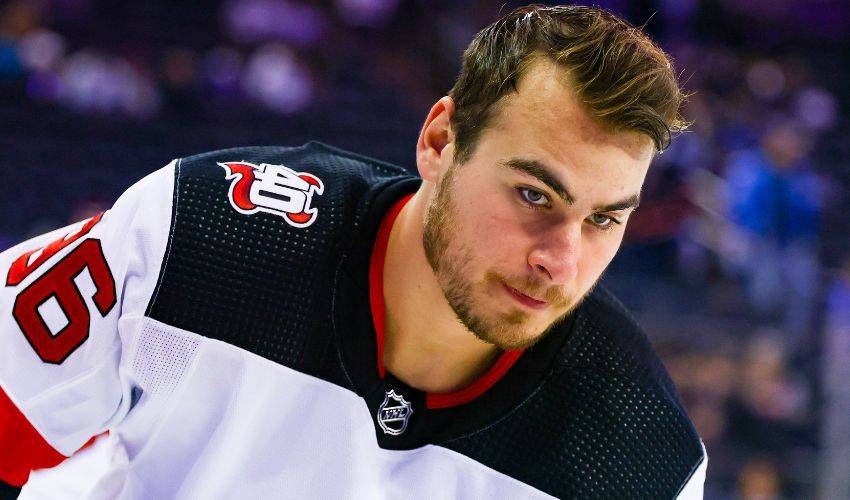 NEWARK, N.J. (AP) — The New Jersey Devils secured another piece from last year's team, re-signing forward Timo Meier to an eight-year, $70.4 million contract through the 2030-31 NHL season.
General manager Tom Fitzgerald announced the signing of the restricted free agent on Wednesday, hours before the start of the league's draft in Nashville, Tennessee.
The contract will pay the 26-year-old Swiss forward an average of $8.8 million annually with the deal starting at $12 million this upcoming season and winding down to $7.2 million in the last year.
Fitzgerald felt Meier, who was acquired at the trading deadline, would re-sign with the Devils after playing with the young team and seeing its potential. New Jersey posted a 52-22-8 mark this past season for 112 points, a 49-point difference from the previous season.
"I have to give credit to the players, to our core players who continue to lift us up and show the rest of the league that we are serious about putting a championship type of roster on the ice," Fitzgerald said. "So again, I hedged the bet and I hedged the bet on what we can offer players, and we won."
Meier combines the ability to score goals while being a physical presence on the ice.
The signing caps a good week for the Devils, who added Calgary Flames leading scorer Tyler Toffoli in a trade on Tuesday night for Yegor Sharangovich and a draft pick.
Fitzgerald has also re-signed center Erik Haula and forward Jesper Bratt, and signed and traded defenseman Damon Severson to Columbus for a draft pick used in the deal for Toffoli.
The Devils made the playoffs this past season for the first time since 2017-18.
Meier began his career with San Jose in 2016-17 and just completed his seventh NHL season. He had nine goals and five assists in 21 regular season games with New Jersey and registered a career-high 40 goals and 17 power-play goals for the entire season. He added two goals and two assists in the playoffs but proved to be a physical presence on the ice in series against the Rangers and Hurricanes.
Fitzgerald downplayed Meier's lack of scoring after the trade, saying the adjustment to a new team is tough.
"It's tough from expectations, to your own standards, learning a new system," Fitzgerald said. "And Timo, he's human. It's hard. But we saw him getting better and better and better as games kind of clicked off the map. I think he's going to be fantastic with the experience he had last year."
New Jersey acquired Meier and other compensation from the Sharks in exchange for forwards Andreas Johnsson and Fabian Zetterlund, defensemen Shakir Mukhamadullin and Nikita Okhotiuk and picks.
Meier has represented Switzerland on multiple occasions and is one of four Swiss players on the Devils' roster with Jonas Siegenthaler, Nico Hischier and goaltender Akira Schmid.
___
AP NHL: https://apnews.com/hub/nhl and https://twitter.com/AP_Sports
Tom Canavan, The Associated Press