Predators come full circle with Andrew Burnette hired as 4th coach
The 49-year-old Brunette spent the past season as a New Jersey Devils associate coach under Lindy Ruff.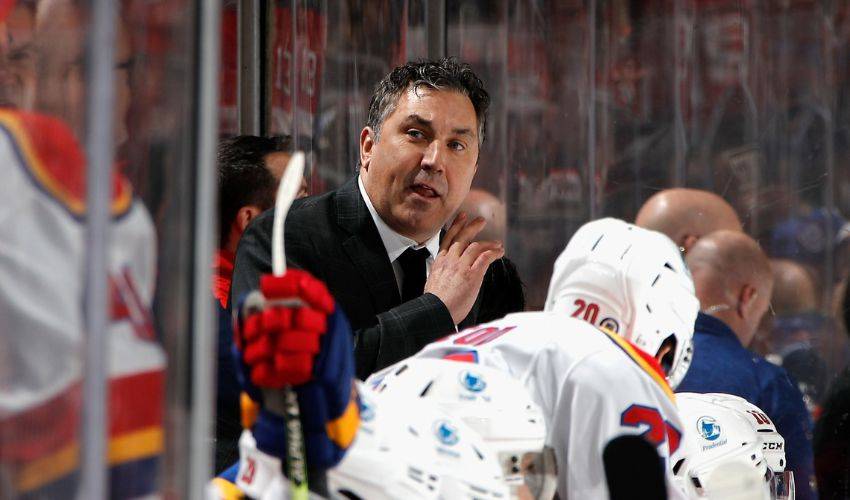 NASHVILLE, Tenn. (AP) — David Poile built the Nashville Predators from the bottom up as their first general manager for the expansion franchise.
Now the man Poile hired as his first coach here has brought back another original Predator. Incoming general manager Barry Trotz announced the hiring Wednesday of Andrew Brunette, who scored Nashville's first-ever goal, as the fourth head coach in franchise history.
The Predators' circle is complete again.
"He knows how our organization works and is run from top to bottom, understands what we are trying to do with this club," Trotz said Wednesday at a news conference introducing Brunette. "We're trying to get younger. We're trying to retool, build a team that can win a Stanley Cup."
Trotz, announced in February as Poile's replacement starting July 1, has been evaluating the franchise for months working with Poile. Trotz fired John Hynes and assistant Dan Lambert on Tuesday with a year left on their contracts. Trotz credited Hynes with doing a great job with the roster he had.
But Trotz has known Brunette since he was 19. They know each other very well personally and professionally, making the decision to hire the 49-year-old Brunette the easy choice of three candidates that included AHL Milwaukee coach Karl Taylor.
"I have the utmost confidence that he can lead us to where we want to go," Trotz said of Brunette and chasing the Stanley Cup that eluded Nashville in its lone Final appearance in 2017.
These coaching moves are the first by Trotz and come about six weeks after the Predators missed the playoffs for the first time since 2014 — when Poile did not renew Trotz's contract.
Brunette spent the past season as a New Jersey Devils associate coach under Lindy Ruff and has previous head coaching experience.
He was promoted to Florida's interim coach during the 2021-22 season and oversaw the Panthers setting franchise records for wins (58) and points (122) to earn the Presidents' Trophy before being eliminated in the second round of the playoffs. Brunette finished second in the Jack Adams Award voting for the NHL's coach of the year.
Brunette called being back with the Predators exciting after watching both the team and Nashville's growth since he left.
"I'm looking forward to growing and grabbing the Predator way, the foundation that which this organization's been built on and continuing to grow that," Brunette said.
He not only played for Trotz during the Predators' inaugural season in 1998-99. Their relationship goes back to 1993-94, when Brunette played under Trotz, who was head coach of the Washington Capitals' American Hockey League affiliate in Portland, Maine, at the age of 19.
The new coach made clear he wants the Predators to embrace an offensive style and play keep-away with the puck. He also wants the Predators to have fun and want to come to work every day.
"As a player, I know when I didn't have fun, I stunk," Brunette said.
Trotz added: "We play hockey, we don't work it."
The Predators may take a step back to go forward after stockpiling draft picks at the trade deadline. Trotz now must build on the Predators' youth and offensively skilled players as he takes over as Poile retires at the end of June as the NHL's winningest and longest-tenured GM.
Trotz said he may have been known as a defensive coach because of the rosters he worked with in Nashville, Washington where he won the Stanley Cup as a coach in 2018 and with the New York Islanders. But he made clear he plans to build a team that can play an offensive style.
"After all, we're in the winning and the entertainment business," Trotz said.
In Florida, Brunette coached a Panthers team that led the NHL with 337 goals and had the league's fourth-best power play.
The Predators just missed the playoffs for the first time under Hynes, who took over in January 2020 after Peter Laviolette was fired.
Brunette, who is from Sudbury, Ontario, played 16 seasons in the NHL with the last a one-year stint with Chicago in 2011-12. He finished with 268 goals and 733 points in 1,110 games split among six teams, including two separate stints in Minnesota. Brunette is one of 25 players selected in the seventh round or later to appear in more than 1,000 NHL games.
Upon his retirement, Brunette spent seven seasons with the Wild in various off-ice roles, including assistant coach and assistant GM, before being hired by the Panthers as an assistant coach in 2019-2020.
___
AP NHL: https://apnews.com/hub/nhl and https://twitter.com/AP_Sports
Teresa M. Walker, The Associated Press