Avalanche captain Gabriel Landeskog won't play in playoffs
Gabriel Landeskog just couldn't get his surgically repaired right knee ready for another playoff run.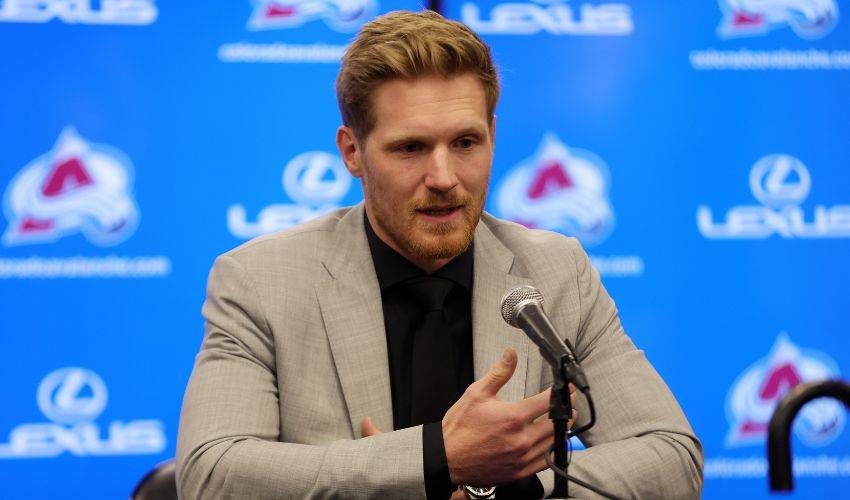 DENVER (AP) — Gabriel Landeskog just couldn't get his surgically repaired right knee ready for another playoff run.
That's why, on the eve of the postseason, the Colorado Avalanche captain made the announcement Thursday he would be watching his teammates defend their Stanley Cup title from the sideline.
"We've given it our best shot," said Landeskog, who missed the entire regular season following surgery in October. "It hasn't worked out."
Landeskog's injury stems back to the 2020 bubble season when he was sliced by a skate in a playoff game against Dallas. He said he suffered a cartilage injury on the bottom of his patella.
And while Landeskog can walk just fine, "when it comes to skating, just a different beast," he explained. "In the NHL, I mean, you've got to be able to do everything at top speed."
The 30-year-old forward from Sweden had surgery in March 2022, but was able to make it back in time for the playoffs, where he had 22 points in 20 playoff games on the Avalanche's Cup run last year.
Landeskog underwent a second knee surgery six months ago and was expected to miss roughly 12 weeks. But he has not been able to recover enough to get back on the ice for game action.
He didn't want his status hanging over the team.
"This was a tough decision to make," said Landeskog, who has six seasons left on a $56 million, eight-year contract signed in 2021. "Throughout this entire season, it's felt like the playoffs have always been the one thing that, no matter what, I'm not going miss that.
"Timelines kept getting pushed back and for a long time we just went away from timelines, because it just sets you up for disappointment and frustration."
Another surgery could be on the horizon for Landeskog. His injury could even linger into next season, too. But he remains adamant about this — he will return.
"When? I don't know," Landeskog said. "I'm trying not to look too far ahead. But I'm confident ... we'll get through this."
He envisions hanging around the team for their playoff run — rehab willing, of course.
"Being around the guys, I think would be good for myself, especially for selfish reasons," Landeskog said. "Just being around 25 of some of my closest friends that I have. So that will be good."
No looking back, either, about how taking the ice in the Stanley Cup playoffs last season might have affected things this year.
"There's never been a moment where I regretted anything, especially about last year's playoff run," Landeskog said. "I can say that and I feel strongly about that. I'd do anything to help this team win and especially to go all the way. That was very special."
He's still figuring out his role as captain now that he's sidelined.
"Obviously, nothing will change in terms of how I act around the guys or things like that," Landeskog said. "I just might need to get up to speed on some of their superstitions as they evolve here during the playoffs."
___
AP Hockey Writer Stephen Whyno contributed to this report.
___
AP NHL: https://apnews.com/hub/nhl and https://twitter.com/AP_Sports
Pat Graham, The Associated Press