Brady Tkachuk signs seven-year, $57.5-million deal with Ottawa Senators
The 22-year-old Tkachuk played in all 56 of Ottawa's games last season and led the Senators in scoring with 36 points.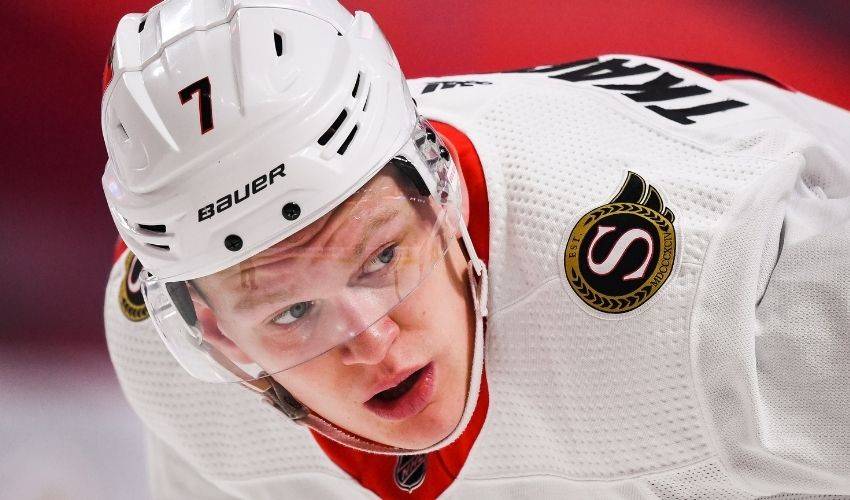 OTTAWA — Brady Tkachuk would have loved nothing more than to be playing with his teammates Thursday night, but knowing he would be joining them soon enough felt great.
Hours before their home opener Thursday against the Toronto Maple Leafs, the Ottawa Senators announced they had signed Tkachuk to a seven-year, US$57.5-million contract.
Tkachuk arrived at Canadian Tire Centre during the first period and was shown on the big screen flashing his trademark Frank the Tank shimmy during a television timeout where he was given a warm welcome.
"I'm just super happy to be here, super happy to be back in Ottawa," Tkachuk said. "It's kind of a crazy day and just words can't really express how happy and excited I am to be back."
Tkachuk's contract has an average value of $8.214 million annually.
He'll be paid $4 million this season, $6.5 million in 2022-23, $10.5 million in 2023-24, $10.5 million in 2024-25, $10.5 million in 2025-26, $8.5 million in 2026-27 and $7 million in 2027-28.
The 22-year-old was a restricted free agent and had not played for the Senators during the pre-season.
Negotiations started in the summer between the Senators and Tkachuk's agents at Newport Sports in Toronto, but it took the two sides meeting in Belleville this week to finally to come to terms.
Senators general manager Pierre Dorion admitted a few days had gone by with no communication and on Tuesday the organization felt it would be in the team's best interest to have Tkachuk here so Dorion called Craig Oster, one of Tkachuk's agents, and said "we've got to get this done Craig."
Dorion suggested the two sides meet halfway in Belleville where they were able to work on the bulk of the contract, phone calls ensued and things came to fruition Thursday morning.
There was no denying Dorion's excitement at having Tkachuk under contract long term, despite speculation the 22-year-old was looking for a bridge deal.
"He's the one that drives the bus for our team," Dorion said. "He brings us into battle every night and to get it done for seven years I think is a great thing for the organization."
The St. Louis native, who had been skating in Ann Arbor, Mich., admitted it was an emotional day. While on the phone with his agents, Tkachuk texted his family group chat to let them know the deal was done and he would be on his way to Ottawa. Tkachuk said there were some very special phone calls that he would remember for a long time.
"It was tough kind of being away, but now I'm just glad you know the business side is done with and now I don't have to think about that for a while," Tkachuk said. "I just get to be with, be with the group, be part of the team again and improve every single day and just try to do what I can to help win whenever I get back."
The feisty winger said he would likely be hanging out with his teammates after the game to catch up on all the news.
Tkachuk played in all 56 of Ottawa's games last season and led the Senators in scoring with 36 points (17 goals, 19 assists). He also led Ottawa with 44 points (21 goals, 23 assists) the previous season.
Tkachuk has been touted as the next captain, but when asked if the young winger would be given the "C," Dorion wouldn't commit either way.
"I think we want to see where everything goes here, we've got a lot of good leaders on this team."
Earlier this week the Senators announced its leadership group as Thomas Chabot, Nick Paul, Connor Brown and Nikita Zaitsev.
In addition to Tkachuk, the Senators also have defencemen Thomas Chabot and Drake Batherson signed to long-term deals, but Dorion admitted he was also thinking of the organization's future and the other young players such as Tim Stutzle, Josh Norris and Shane Pinto who will need contracts in the coming years as he worked on this negotiation.
"There'll be other pieces as we get better as this team strives, you know, to win a (Stanley) Cup that we're going to have to think about all these pieces, how we put them into place, and it always depends how the players perform, how we figure they're going to perform," he said. "So it's putting all these pieces together to make sure that we were building a winning team, building a Cup contending team, and these are always things that I'm thinking about."
While there's no denying the Senators are anxious to get Tkachuk back in the lineup they will be cautious.
The Senators play Saturday in Toronto, are back home Sunday to play Dallas and will then have a few days off before hosting San Jose Thursday night.
"We'll have a better idea, after a day or two of him skating when he will be able to play," Dorion said. "Let's not jump the gun. Let's see how he is (Friday) and then we'll make a decision that's good. We don't want this player getting injured just because we rushed him into the lineup."
This report by The Canadian Press was first published Oct. 14, 2021.
Lisa Wallace, The Canadian Press