Seattle Kraken a fresh opportunity for former Flames' captain Mark Giordano
Mark Giordano has known for a while that leaving the Calgary Flames was a possibility.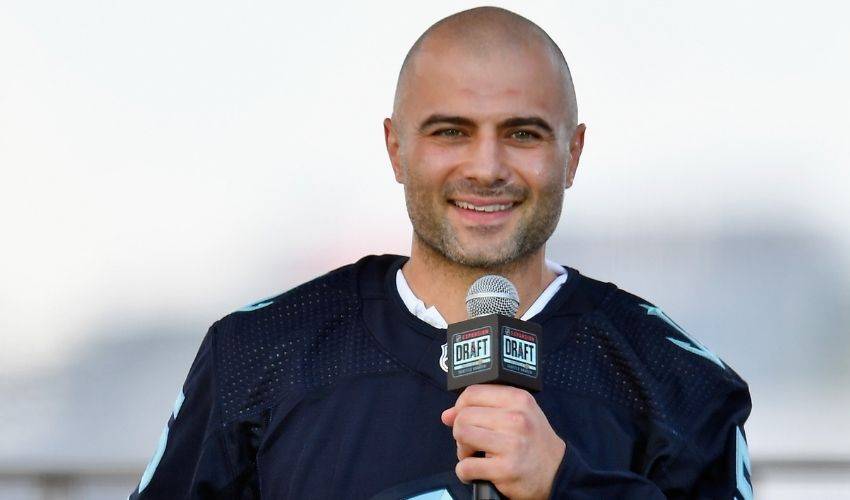 Mark Giordano has known for a while that leaving the Calgary Flames was a possibility. 
For weeks, he's regularly discussed the potential move with Flames general manager Brad Treliving. Still, the 37-year-old defenceman was "pretty emotional" Tuesday night when he received official word that he had been picked by the Seattle Kraken in the NHL expansion draft. 
He thought about his teammates in Calgary and how he'd spent his entire 15-season NHL career with the Flames. He thought about the uncertainty of joining a brand-new franchise, one where the roster hadn't yet been announced. 
"It was a weird last 24 hours for sure. But after the initial shock, I was excited to get out here and check out the city. And I've had a good day," Giordano, clad in a navy blue Kraken jersey, told reporters after the draft Wednesday.
"I'll just keep trying to move forward. It's going to be a new opportunity for me, something fresh and I'm going to turn that into a positive."
Giordano joked on a stage set up in front of Seattle's picturesque waterfront that it was the first time he'd been drafted by an NHL team. He entered the league as a free agent in 2008, signing with Calgary after a stint playing in Russia. 
The Toronto native has been the Flames' captain since 2013 and was awarded the Norris Trophy as the league's top blueliner in 2019. But his offensive production has dropped in recent years. He registered 26 points (nine goals, 17 assists) last season. 
Losing Giordano creates a big hole for Calgary both on and off the ice, Treliving said.
"I've said on countless occasions, to me, he's been the moral compass of this team for a long time. And him moving on is closing a really important chapter for this franchise," said the GM. 
"This is part of the cruel side of the business of hockey. I wish him nothing but the very, very best. And we miss him. Seattle got a great, great man today."
The Flames worked to try and ensure Giordano wasn't lost to the Kraken, Treliving added, but ultimately couldn't find a workable solution. 
"In order for this not to happen, it just, it was a price we couldn't pay," he said.
Seattle knows that with Giordano, it's getting a player who has a great reputation around the league, said Kraken GM Ron Francis. 
"Just the way he plays the game, and how he takes care of himself. And then you look at everything he does in the community," he said. "We get a chance to establish our culture from day one and that's certainly a guy that we want to be a part of that for everything he stands for."
Defenceman Jamie Oleksiak, Seattle's pick from the Dallas Stars, sees the former Calgary captain as someone who can help create something special within a newly formed team. He's played 949 regular-season NHL games, Oleksiak noted, and can set a precedent for the locker room. 
"His reputation speaks for itself. He's got a lot of class and he's achieved so much so I think he's someone that we can kind of rally around and can really bring the team together," said Oleksiak.
The Kraken had to choose one player from every current NHL club except for the Vegas Golden Knights, which entered the league in 2017-18.
Seattle opted not to select Carey Price from the Montreal Canadiens, although the star goalie was left exposed. Instead, the NHL's newest franchise picked 22-year-old defenceman Cale Fleury.
"I think any time you hear the name Carey Price, you have to consider it. And we did," Francis said. "So just as you go through your selections, you look through different things and what options might be available and what the cost is and at the end of the day, we decided to go in a different direction. But he's certainly a hell of a goaltender."
Even without Price, the Kraken's initial roster is stacked with talent, Giordano said.
"When you first see the picks, it's just amazing how many good players are available around the league," he said. "It was a great start today and we'll see what happens over the next couple months."
Seattle took forward Jared McCann from the Toronto Maple Leafs.
Toronto picked up the 25-year-old from Stratford, Ont., ahead of the roster freeze on Saturday, acquiring him from the Pittsburgh Penguins in exchange for forward prospect Filip Hallander and a seventh-round pick in the 2023 draft. McCann had 32 points (14 goals, 18 assists) for Pittsburgh last year.
From the Winnipeg Jets, the Kraken chose forward Mason Appleton. 
The 25-year-old from Green Bay, Wisc., has played all three seasons of his NHL career in Winnipeg, putting up 25 points (12 goals, 13 assists) last year. 
Defenceman Adam Larsson was Seattle's selection from the Edmonton Oilers. 
The 28-year-old Swede had 10 points (four goals, six assists) and 24 penalty minutes for the Oilers last year. Larsson has played 10 seasons in the NHL, splitting his time between Edmonton and the New Jersey Devils.
Both pending free agents, Larsson got a US$16 million, four-year deal and Oleksiak got $23 million over five years to sign with Seattle.
The Kraken also took forward Kole Lind from the Vancouver Canucks and Ottawa Senators goalie Joey Daccord.
Seattle took a total of 15 forwards, including New York Islanders winger Jordan Eberle, centre Yanni Gourde from the Tampa Bay Lightning and Brandon Tanev from the Pittsburgh Penguins. The club also picked 12 defencemen and three goalies. 
Eberle was in Seattle for the big reveal and took the stage wearing a Kraken jersey after his pick was announced by WNBA superstar Sue Bird. 
The new roster shows a lot of character, Eberle said.
"It's going to be a very competitive training camp and I think that's what you want," he said. "For everybody, it's a fresh start and it's a unique experience, but any time you get that fresh start, guys are going to try to earn spots. So you get that competitiveness in camp and I think that's what you build teams around."
The Kraken are set to become the NHL's 32nd franchise when the 2021-22 season opens this fall. The team announced Wednesday that it's first regular-season home game will take place against the Vancouver Canucks on Oct. 23. 
This report by The Canadian Press was first published July 21, 2021. 
Gemma Karstens-Smith, The Canadian Press