Canadiens down Maple Leafs in Game 7 as Toronto blows 3-1 series lead
Carey Price made 30 saves Monday as the Montreal Canadiens stormed back from a 3-1 series deficit to beat the Leafs 3-1 in Game 7.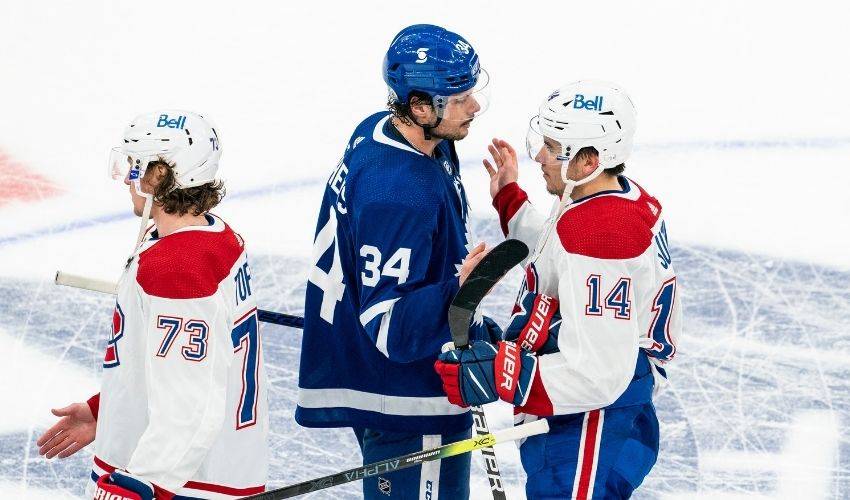 TORONTO — After so much playoff disappointment, so much agony for a tortured fan base, it was looking like this year would be different for the Maple Leafs.
First place in the North Division, veterans brought in to help navigate swings of emotion, and a commanding 3-1 lead in their first-round playoff series.
Instead it was — brutally — more of the same.
And now Toronto faces more uncomfortable questions in the wake of another post-season disaster, and the core of young stars that continues to stumble in the biggest moments.
Carey Price made 30 saves Monday as the Montreal Canadiens stormed back from a 3-1 series deficit to beat the Leafs 3-1 in Game 7 of a roller-coaster Original Six matchup.
"It's as hard as it gets," Toronto defenceman Morgan Rielly said. "The goals are higher than what we achieved.
"It makes the disappointment much worse."
The Canadiens, meanwhile, beat the odds and are off to the second round for the first time since 2015 after coming back to win a series down 3-1 for the third time in franchise history.
"We played Game 5, Game 6 the same way, we had our backs to the wall," Canadiens interim head Dominique Ducharme said. "It was just the same mindset, the same way to prepare.
"Our guys were in the right place, and even more confident than before because we just won those last two games."
Brendan Gallagher, Corey Perry and Tyler Toffoli, into an empty net, scored for the Canadiens, while Eric Staal added two assists.
The Leafs, who haven't advanced in the post-season since 2004 lost Game 1, but won three in a row to go up 3-1 on the Canadiens before Montreal took two straight in overtime to force the all-or-nothing showdown, got a late goal from William Nylander. Jack Campbell stopped 20 shots.
"Not really sure how to sum it up," said Leafs centre and NHL regular-season goal leader Auston Matthews, who scored just once the series.
"Extremely frustrating."
Montreal will now meet Winnipeg after the Jets registered a surprising sweep of Connor McDavid's Edmonton Oilers in the Canadian-based division's other series. Game 1 goes Wednesday at Bell MTS Place in Manitoba's capital.
The Canadiens, who hadn't faced the Leafs in the playoffs since 1979, lost the only other Game 7 between the teams in 1964 when Dave Keon's hat trick led Toronto to a 3-1 victory at the Montreal Forum.
The Leafs' last series win, and the last Game 7 played between Canadian teams before Monday, was 17 years ago — 6,250 days to be exact — against the Ottawa Senators in the Eastern Conference quarterfinals.
"We let an opportunity slip," Rielly said. "That makes the loss a lot worse than anything we've had to deal with before."
Toronto missed the playoffs seven straight years coming out of the 2004-05 lockout. The Leafs returned to the post-season in 2012-13 and led the Boston Bruins 4-1 in the third period of Game 7 before a stunning collapse.
There would be three more springs without playoff hockey to follow — Toronto bottomed out in 2015-16, but won the draft lottery and selected Matthews with the No. 1 pick — before a return in 2016-17. The young Leafs showed well in a hard-fought series against the Washington Capitals, but expectations were much higher the next two years when Toronto again lost to Boston in crushing seven-game defeats.
The Leafs were also eliminated from last summer's post-season bubble by the Columbus Blue Jackets in a five-game series that went the distance after the NHL schedule was postponed by the pandemic.
Toronto insisted the past was the past, but Montreal knew it was there.
"You're trying to create doubt in your opponent's mind," Gallagher said. "I don't know if they had it or not. 
"It gives you confidence knowing there was an opportunity."
The Leafs, who never led on the scoreboard after going up 3-1 in the series, hosted 550 fully vaccinated health-care workers inside the 19,800-seat Scotiabank Arena to watch Game 7 after getting a thumbs up from the provincial government.
Following a tentative first period, Montreal opened the scoring at 3:02 of the second on a sequence that started with a turnover by Mitch Marner, who hasn't scored in 18 straight playoff games, at the offensive blue line. 
The Canadiens headed the other way, and Gallagher snapped his first goal since April 1 after missing six weeks with a broken thumb on a shot five-hole on Campbell.
"The worst goal of my career happening in Game 7, it's not acceptable," said an emotional Campbell. "It's a straight-on shot in the NHL. It should be automatic save.
"No excuses."
The Leafs nearly tied it moments later when Price stopped Zach Hyman in tight before Matthews ripped a shot off the post on a 2-on-1.
The visitors would go up by two at 15:25 when Nick Suzuki's shot on a power play went off Perry in front for the veteran winger's second in as many games as Montreal struck on the man advantage for the third time in two contests after going 0 for 15 to start the series.
The Leafs, who finished 18 points ahead of the Canadiens in this year's 56-game campaign and haven't won the Stanley Cup since 1967, got a power play to start the third, but Price was there to deny Hyman.
The Montreal goaltender then thwarted both Nylander and Matthews with massive stops on another Toronto man advantage with under nine minutes to go in regulation.
"We gave (Price) one goal, almost like we knew it was going to be enough," Gallagher said. "It's just so easy playing in front of him because you know he's there to bail you out."
The home side pulled Campbell with 3:35 left, but a team that battled back from two-goal deficits late in both Games 5 and 6 before losing in OT saw its fading hopes dashed when Toffoli scored into an empty net.
Nylander added a team-high fifth of the series with 1:36 remaining, but Matthews and Marner were held to one total in seven games.
"Our guys played hard," Toronto head coach Sheldon Keefe. "I'm not gonna question our team's will or the commitment."
"I put a lot of pressure on myself be the best player every single night," Marner added. "I wasn't living up to my own standards." 
Already without captain John Tavares (concussion, knee), the Leafs also had to do without defenceman Jake Muzzin (suspected groin injury).
"It's tough losing key pieces," Matthews said. "The guys that came in did a good job."
Montreal took Game 1 of this series 2-1 on a night where Tavares was stretchered off the ice following a scary collision before being outscored 11-2 in losing the next three to fall behind Toronto 3-1, but fought back with a 4-3 overtime victory in Game 5 and a 3-2 OT decision 48 hours later.
The Leafs have now lost seven straight post-season series and eight straight contests where they could have eliminated an opponent.
That includes seven since 2018 with the well-paid core of Matthews, Marner and Nylander.
"We're devastated, disappointed," Keefe said. "We expected better of ourselves, felt we were capable of a lot more."
Instead it was just more of the same.
This report by The Canadian Press was first published May 31, 2021.
___
Follow @JClipperton_CP on Twitter
Joshua Clipperton, The Canadian Press