Golden Knights fire head coach Gallant after tumble from top of Pacific standings
Gerard Gallant began the year with his Vegas Golden Knights in first place in the Pacific Division and news he would be coaching in the upcoming NHL all-star game.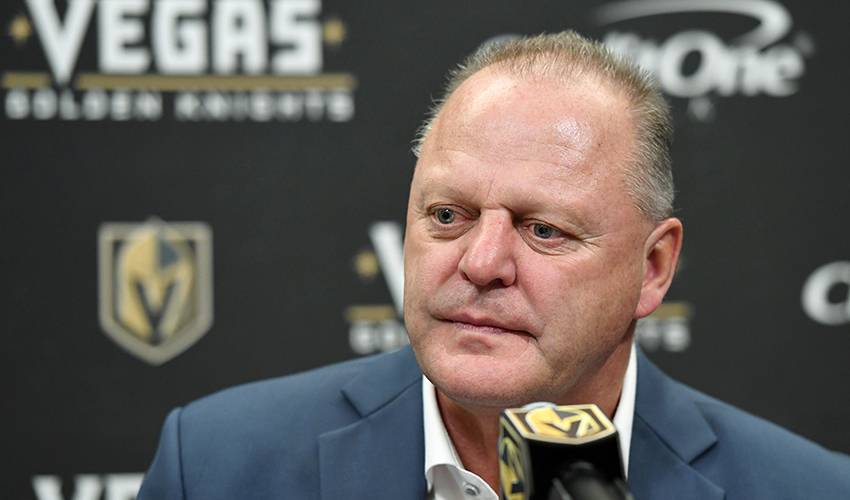 OTTAWA — Gerard Gallant began the year with his Vegas Golden Knights in first place in the Pacific Division and news he would be coaching in the upcoming NHL all-star game.
Two weeks later, he was the seventh head coach of the 2019-20 season to lose his job.
Vegas general manager Kelly McCrimmon announced Wednesday that Gallant, a popular coach who had led the expansion Golden Knights to the Stanley Cup final just two seasons ago, has been relieved of his coaching duties along with assistant Mike Kelly. The move comes after a four-game losing streak moved Vegas out of a Western Conference playoff spot.
Peter DeBoer, fired last month by San Jose, was named the new head coach.
"As a manager, sometimes you have a feeling that something isn't the way you need it to be or want it to be," McCrimmon told reporters Wednesday in Ottawa, where Vegas is set to play the Senators on Thursday night. "We feel we've underperformed a little bit, and certainly that's not to pile at the feet of Mike and Gerard, but sometimes you feel a change is needed so that's what went into the decision."
The Golden Knights are 8-6-1 in their last 15 games, but only three points out of first place in the Pacific Division. They are coming off a 4-2 loss Tuesday to the Buffalo Sabres that didn't sit well among players.
Vegas is the third team to change coaches after facing Buffalo.
"It's a crazy business. You never want to hear of a coach getting let go," Calgary coach Geoff Ward said from Toronto, where the Flames were scheduled to face the Maple Leafs on Thursday. "At the end of the day we're all in the coaching thing together. To see a good coach lose his job, it's never good to see it. I don't know the circumstances or whatever, but it's a tough, tough business. And you know, we see that time and time and time again. I feel for him for sure."
Ward officially took over behind Calgary's bench on Nov. 29 after leading the Flames to a 3-2 overtime win over the Sabres in place of embattled former coach Bill Peters, who resigned after it was disclosed he directed racist slurs at a Nigerian-born player in the minors a decade ago and kicked and punched players behind the bench in Carolina.
The reasons for Gallant's dismissal were far less clear. While McCrimmon said he is disappointed with the Golden Knights' losing streak, it wasn't the catalyst for the firing.
"It wasn't a specific block of games or a specific game," he said. "It's hard to put into words unless you've done these jobs. It's more just the feeling that you have that a change might be needed. I wish I could be more specific than that, but that's really how we felt. We thought about this a lot. It certainly wasn't something that we did in haste or something that we did based on the recent four games. It was a decision that was arrived at over time."
The Golden Knights (24-19-6) feel they can still meet their goals despite the move. Vegas will enter Thursday's game tied on points with Winnipeg for the second Western Conference wild-card spot, though the Jets have played two fewer games.
"We're like a lot of teams, we had really high hopes for the year, still have really high hopes," McCrimmon said. "We're in the unique position, we're right in the mix so this isn't a case where the bottom fell out and we were left with no choice. It was a situation where proactively it was our belief that this is what was going to be the best thing for our organization."
News of his firing hit Golden Knights players hard.
"I'm mad at myself for letting this happen," goaltender Marc-Andre Fleury said. "It's tough as a group, as a team to cost someone their job. There's so much respect towards them. They've always been very honest with us, respectful to the players and you're never going to hear a bad thing about them.
"I feel responsible for letting this happen."
A visibly emotional Nate Schmidt said he was caught off guard by the move.
"I'm just disappointed in myself that we didn't do more to keep him around," the defenceman said. "He's a great man and I loved playing for him. I just hope whatever happens here, he lands on his feet and somewhere where he's happy."
Fleury says it's now on the players to take responsibility.
"It's a good wake-up call for all of us," Fleury said. "Obviously it's easier to change two coaches than to change 15 guys. I think we need to hear the message loud and clear and turn things around and be better."
Gallant's firing comes less than two years after winning the Jack Adams Award as NHL coach of the year for his role in helping the Golden Knights reach the 2018 Stanley Cup final, where they lost in five games to Washington. They also made the playoffs last season before losing in seven games in the first round to DeBoer's Sharks.
DeBoer, who Gallant once called a "clown," was expected to arrive in Ottawa on Wednesday night or Thursday morning, in time to get behind the bench for the Knights' game against the Senators.
DeBoer is the second coach to be fired this season and join a new team after John Hynes went from New Jersey to Nashville. He is now with his fourth team as head coach after stints with New Jersey, Florida and San Jose.
"I think he's always been a coach that has a lot of respect from his players" McCrimmon said. "He relates well with players. He's an intelligent guy. Teams have always been very strong special teams. He's been to the Stanley Cup finals with two different teams, he's enjoyed a lot of success in the National Hockey League as a coach and I think with this opportunity he'll continue to do that."
San Jose and Vegas developed a rivalry after last year's first-round playoff matchup, with the Sharks winning the series 4-3. Fleury said the hiring of DeBoer caught him off guard.
"It was a little surprising when you first heard the news," said Fleury. "Pete's got lots of experience, been through a lot and brought his team to good battles with us the past couple of years. It's in the past now. He's part of the team, our team and we're going to make the best out of it."
— With files from John Chidley-Hill in Toronto
This report by The Canadian Press was first published Jan. 15, 2020.
Lisa Wallace, The Canadian Press
Note to readers: CORRECTS typo in para 8