'We move on': Flames head coach Peters resigns after racial slur allegations
After a firestorm of controversy amid allegations of racial slurs and physical abuse of players in previous jobs, embattled Calgary Flames head coach Bill Peters resigned Friday.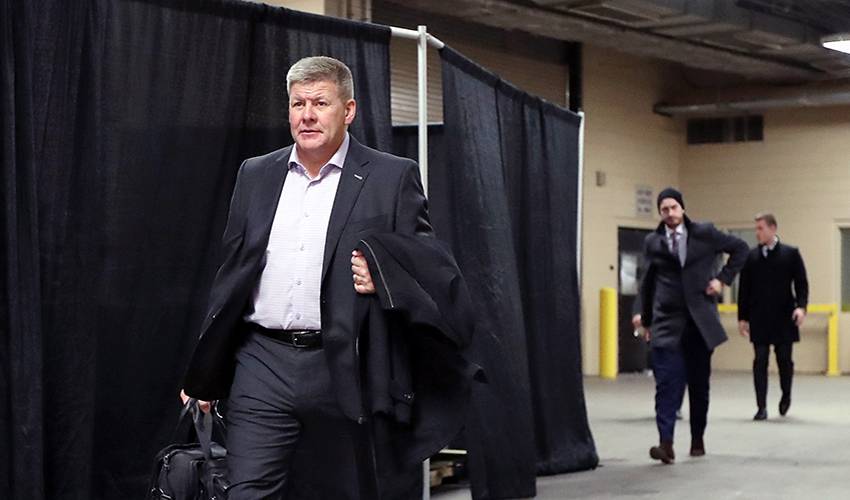 CALGARY — After a firestorm of controversy amid allegations of racial slurs and physical abuse of players in previous jobs, embattled Calgary Flames head coach Bill Peters resigned Friday.
General manager Brad Treliving made the announcement at a Calgary press conference saying Peters voluntarily sent him a resignation letter earlier that morning.
"This is the most difficult thing in my career," Treliving told reporters.
"The subject matter we've been dealing with over the last few days is difficult, it's hard, and it does not in any way reflect the core values of the Calgary Flames."
Geoff Ward will take over as interim head coach. Ward had been acting as caretaker head coach while Peters was sidelined during investigations into the allegations and led the Flames to a 3-2 overtime win at Buffalo on Wednesday.
"For me it really hasn't sunk in yet and it's going to take a little bit of time," Ward said after Calgary's first home practice since the controversy began.
"I'm still reeling from it myself. Our focus right now is trying to prepare to play the Ottawa Senators and all the other stuff for us has to stay in the background."
Peters' resignation comes after former NHL player Akim Aliu tweeted Monday night that he had a racial slur directed his way by a former coach in 2009-10 while a member of the American Hockey League's Rockford IceHogs.
The 30-year-old Aliu, a player of colour, never referred to Peters by name, but did reference Calgary's airport code "YYC" when writing about the alleged coach involved in the matter.
Then on Tuesday, former NHL defenceman Michal Jordan alleged Peters kicked him while the two were with the Carolina Hurricanes.
Peters issued an apology in a letter addressed to Treliving on Wednesday night.
The apology did not mention Aliu, who released his own statement on Twitter on Thursday calling Peters' letter "misleading, insincere and concerning."
Peters' resignation comes after a lengthy process that included investigations by the Flames and the NHL.
"If I've not met anyone's time agenda I apologize but it was more important to make sure we get all of the information."
Treliving said he personally found the allegations against Peters "repulsive" but the investigation had to be done fairly.
"I know everybody wants a really quick gavel to come into play. We had to make sure it was done thoroughly."
The NHL said in a statement that its review of the incident is ongoing and that interviews with "relevant individuals" including Aliu are scheduled.
Treliving did not say whether the Flames were still required to honour any part of Peters' contract. Peters was in the second year of a three-year deal that is worth a reported US$6 million, according to the website Capfriendly.com.
Forward Matthew Tkachuk said news of Peters' resignation was expected.
"I think that it was most likely the best outcome for what the team had put into their investigation and with the allegations and everything," Tkachuk said.
"I mean this investigation took however many days and I felt they did a good job of it."
Flames captain Mark Giordano said the past four days have been tough and the only escape for the players was on the ice.
"At the end of the day all we can do as players is move forward. We know in society there's no place for that and the decision, however they came to it, was made," he said.
"I think they did a good job."
The initial accusation from Aliu came while Calgary was on the ice in Pittsburgh facing the Penguins. Peters wasn't made available to reporters post-game.
Aliu told TSN on Tuesday that Peters used a racial slur repeatedly to complain about his choice of pre-game music. Two Rockford players confirmed Aliu's account to TSN.
A native of Three Hills, Alta., Peters is 198-175-64 in five-plus seasons as an NHL head coach with Calgary and Carolina. The 53-year-old's only trip to the playoffs was last spring's five-game upset at the hands of the Colorado Avalanche after the Flames finished second in the NHL's overall standings with 107 points.
Calgary was at 12-12-4, tied on points with Vegas for the second wild-card berth in the Western Conference, heading into Friday's games.
Friday's practice was upbeat with a playlist of songs that included Elton John's 'Tiny Dancer,' much to the amusement of onlookers.
"It sure wasn't me on the songs, let's get that straight," Ward said with a laugh.
"I mean Tiny Dancer doesn't really rev me up for practice. No offence to Elton John. It was just a gimmick to loosen the mood up."
This report by The Canadian Press was first published Nov. 29, 2019.
Follow @BillGraveland on Twitter
Bill Graveland, The Canadian Press