Calgary Flames sign former Oilers goaltender Cam Talbot to one-year contract
Players in the fold were more of a priority for the Calgary Flames than the open market when NHL free agency opened Monday.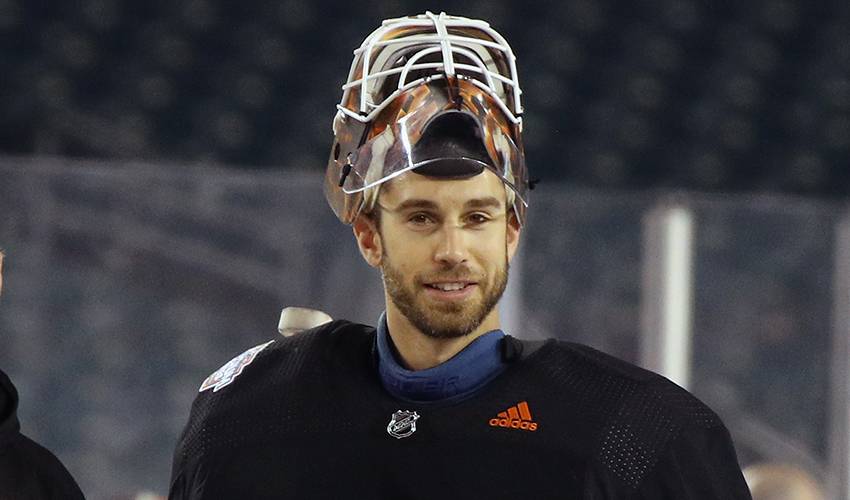 CALGARY — Players in the fold were more of a priority for the Calgary Flames than the open market when NHL free agency opened Monday.
Not blessed with copious cap space, and restricted free agent Matthew Tkachuk expected to command a gaudy price tag, Calgary's big move was signing goaltender Cam Talbot to a one-year contract worth US$2.75 million.
"Our internal business . . . takes priority one in trying to deal with our restricted free agents, Matthew Tkachuk at the top of that list," Flames general manager Brad Treliving said. "Our expectation coming into today was not to be making headlines. But that's OK. We've got a good team.
"We've got players we need to get signed to contracts. We've got beyond today and the rest of the summer to build on that."
Calgary finished atop the NHL's Western Conference with a 50-25-7 regular-season record. The Flames lost to the Colorado Avalanche in five games in the first round of playoffs.
Talbot's signing and Mike Smith inking a one-year deal with the Edmonton Oilers felt like a Battle of Alberta goalie swap.
Talbot, 31, was Edmonton's starting goaltender for three of his four years there. He was supplanted this past season by Mikko Koskinen.
The Oilers traded the Caledonia, Ont., netminder in February to the Philadelphia Flyers in exchange for goalie Anthony Stolarz in a salary dump.
Smith, 37, was also an unrestricted free agent after two seasons as a Flame.
Talbot joins 26-year-old David Rittich, who is coming off a breakout season platooning with Smith in Calgary's net.
Rittich, also a restricted free agent, is due for a raise on his $800,000 salary. His record was 27-9-5 with a 2.61 goals-against average and a .911 save percentage.
But Smith was Calgary's starter in the post-season and the team's best player in the playoffs.
"I think he's a big part of David's development over the course of the last two years, Treliving said. "A big part of this move is David Rittich.
"You're not bringing in Cam to replace David, but coming in here and supporting David. We think it's a good tandem."
Both Treliving and head coach Bill Peters have a relationship with Talbot from the 2016 world championship.
Treliving co-managed and Peters coached the Canadian squad that won gold with Talbot in net.
"Part of growing a young goaltender, which David really still is, is . . . making sure he's got the right support there," Treliving said. "Having said that, Cam's coming here looking for the net.
"It's going to make for a great competitive situation, but in the right way. I think the personalities are going to mesh and fit very well."
Talbot, six-foot-four and 200 pounds, was a standout for the Oilers in 2017 when the team reached the second round of the playoffs and lost in seven games to the Anaheim Ducks.
His GAA was 2.48 and his save percentage was .924 in that post-season. Talbot owns a career 138-112-24 NHL record with 20 shutouts. a 2.60 GAA and a .915 save percentage.
"He's a big guy, he's an athletic guy. There's a calmness to his game," Treliving said. "Cam will be the first one to tell you his year didn't go as he'd hoped it would have gone last year.
"I don't vouch to be the goalie expert here, but the people in our organization that know this spent a lot of time looking at Cam, as well as some other goaltenders, and felt some of the things technically, structurally that he maybe had some difficulty with, those are fixable areas."
Jon Gillies, 25, and Tyler Parsons, 21, are Calgary's goaltending prospects in Stockton. The Flames also signed 23-year-old Russian goalie Artyom Zagidulin to a one-year deal in April.
"I'd rather have too many than not enough," Treliving said. "Competition is a good thing."
The Flames also signed both defenceman Brandon Davidson from Taber, Alta., and forward Byron Froese of Winkler, Man., to one-year, two-way contracts worth $700,000.
Davidson, 27, has nine goals and 14 assists in 162 career NHL games with Edmonton, Montreal, Chicago and the New York Islanders.
Froese, 28, scored five goals and had 11 assists in 110 NHL games with Toronto, Tampa Bay and Montreal.
Former Flames forward Garnet Hathaway signed a four-year, $6-million contract with the Washington Capitals on Monday.
He had 11 goals and eight assists in 76 games for Calgary last season.
Donna Spencer, The Canadian Press