Blackhawks fire 3-time Stanley Cup-winning coach Quenneville
The Chicago Blackhawks have fired coach Joel Quenneville after a 6-6-3 start to the season.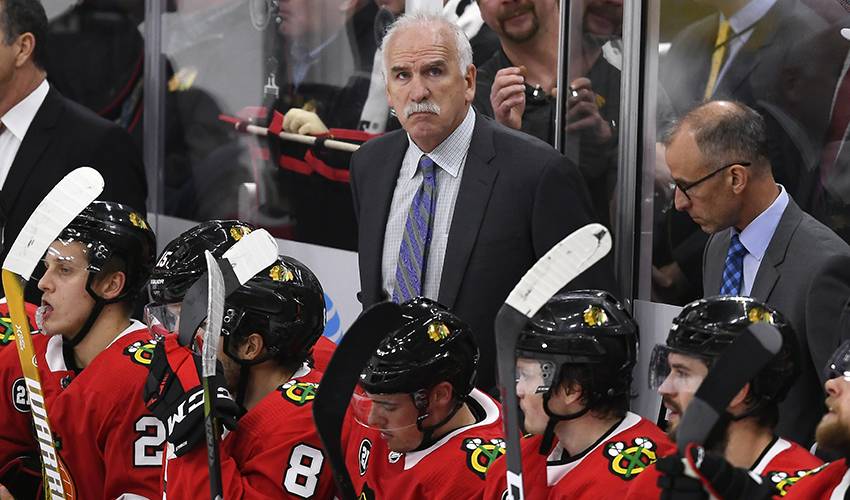 CHICAGO — Joel Quenneville knew the deal. After three Stanley Cup titles and nine playoff appearances with the Chicago Blackhawks, the longtime coach figured this was a big season for him.
"I only think we're in the winning business and we better win," Quenneville said on the first day of training camp.
Two months later, it was over.
The Blackhawks fired Quenneville on Tuesday, ending a wildly successful run that returned the franchise to the top of the NHL after years of heartache. Chicago has lost five in a row.
"This is certainly a very difficult decision," general manager Stan Bowman said in a statement. "But I believe it is in the best interests of the Blackhawks organization. We need to maximize each and every opportunity with our playoff goals in mind and create continued growth and development throughout our roster at the same time.
"After much deliberation the last several days, with great respect to what Joel has meant to the Blackhawks, we knew we had to make a change."
Assistants Kevin Dineen and Ulf Samuelsson also were let go. Jeremy Colliton was hired as the 38th head coach in franchise history, and Barry Smith, 66, moved from Chicago's front office to the bench as an assistant coach.
Colliton goes from Chicago's American Hockey League affiliate in Rockford, Illinois, to becoming the NHL's youngest head coach at 33. Blackhawks forward Chris Kunitz, defenceman Duncan Keith and goaltenders Corey Crawford and Cam Ward are older than Colliton, and defenceman Brent Seabrook also is 33.
"All of those associated with Jeremy strongly believe he possesses many of the tools that will make him a successful head coach in this league," Bowman said. "He has been very impressive as a communicator, a leader, and coach. He knows the Blackhawks system, understands our players and our culture and we believe he gives us the best opportunity to have success and grow as a team."
The 60-year-old Quenneville had another year left on a three-year contract extension he signed in 2016 that pays him $6 million per year, second highest in the NHL behind Mike Babcock in Toronto.
"He's a good friend, good coach, three Cups. He's going to go in the Hockey Hall of Fame," Babcock said Tuesday in Toronto. "I don't know what else you say about him. If he wants to work, he works."
Quenneville was the longest-tenured head coach in the NHL and the second coach fired in the past three days after the Los Angeles Kings dismissed John Stevens.
"It was pretty shocking this morning, actually. That's two (NHL coach firings) in (three) days," Vegas coach Gerard Gallant said before the Golden Knights faced the Maple Leafs on Tuesday. "Joel Quenneville's at the top of the coaching pedigree. It's too bad. It's a part of our business and we all understand that, but it's real tough."
Whenever Quenneville wants to get back to work, he likely will have plenty of suitors.
The former NHL defenceman has 890 wins in 22 years as a head coach with St. Louis, Colorado and Chicago. Scotty Bowman, Stan's father and a senior adviser with the Blackhawks, is the only man with more regular-season victories.
Quenneville took over Chicago four games into the 2008-09 season, replacing Denis Savard after the Hall of Famer was let go by former general manager Dale Tallon. What followed was an unprecedented run for one of the NHL's Original Six franchises.
Jonathan Toews, Patrick Kane, Keith and Seabrook blossomed with Quenneville behind the bench, and the Blackhawks won the Stanley Cup in 2010, 2013 and 2015. They also made it to the conference finals in 2009 and 2014.
"He's going to be an icon in Chicago for the longest time, the great things he's done for this organization, winning three Stanley Cups, so that will never be forgotten," Kane said.
Toews said the players learned of the move Tuesday morning.
"We've had some pretty crazy highs and you remember all the good stuff, so it's tough to see a coach and a friend like Joel go," the captain said.
The pressure on Quenneville began to ramp up when Chicago was swept by Nashville in the first round of the 2017 playoffs after the Blackhawks finished with the best record in the Western Conference. Then they missed the playoffs entirely last season for the first time in a decade.
After getting off to a 6-2-2 start this year, Chicago's play deteriorated. The power play, a persistent problem, ranked 27th in the NHL heading into Tuesday. The Blackhawks also are allowing an unseemly 3.73 goals per game.
Quenneville finishes with a 452-249-96 record with Chicago. He also went 76-52 in the playoffs with the Blackhawks for the best record in franchise history.
The dismissal turns up the heat on Bowman, who has made a couple of questionable moves that helped hasten the Blackhawks' decline. He traded Artemi Panarin to Columbus and Teuvo Teravainen to Carolina in part because of salary-cap issues, and each player has put up big numbers with his new club.
___
— With files from CP national hockey writer Joshua Clipperton in Toronto.
Jay Cohen, The Associated Press