Toffoli's extended hockey family continues to grow
Now playing with his fifth NHL team as a member of the New Jersey Devils, Tyler Toffoli is no stranger to making new friends.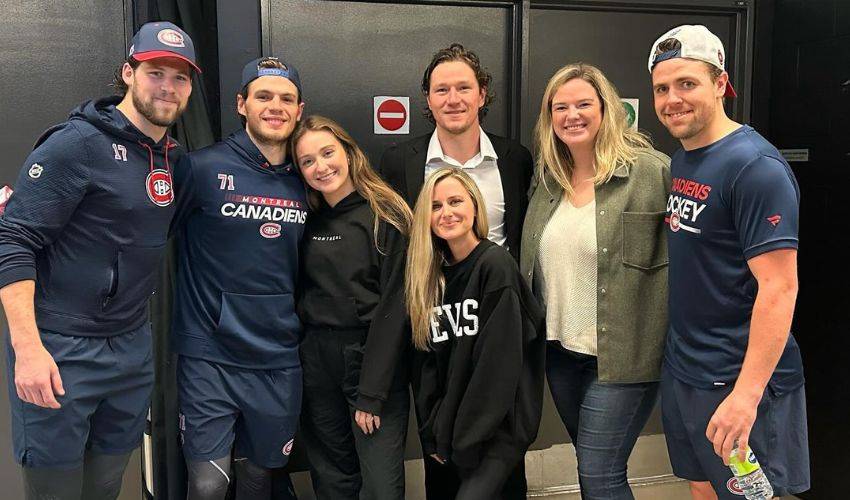 Feature Photo: IG / @catbtoffoli
---
Landing with the New Jersey Devils last June was an opportunity for 31-year-old Tyler Toffoli to join a young and formidable forward group.
It was also an opportunity to continue to grow his hockey family.
Prior to landing in New Jersey, the 2014 Stanley Cup Champion was drafted by the Los Angeles Kings in 2010 and was with the team for the better part of seven seasons before eventually suiting up for the Vancouver Canucks, Montreal Canadiens and Calgary Flames.
"Being able to make the friends I've made along the way with each team I've gone to has been amazing and has helped make me feel comfortable on and off the ice," said Toffoli.
The relationships, past and present, that he has made continue to help him feel right at home wherever he has played.
After Toffoli was traded to the Flames from Montreal on February 14, 2022, Canadiens defenceman and good friend Jake Evans went to the airport with his departing teammate to see him off to Alberta.
When he arrived in Calgary, former Kings teammate Milan Lucic, at the time also with the Flames, welcomed him at the airport in the middle of the night.
Lucic then prepared a meal for Toffoli and had him sleep over at his place.
"It's always nice being able to check in with all my former teammates and see how they are doing off the ice," said Toffoli.
"On the ice, you're always looking at the box scores to see how they play. But when I get to playing against them, that of course changes."
No truer example came this season in his first game back in Montreal, when Toffoli and his wife, Cat, were able to reconnect and take a quick photo with their "hockey fam" around No. 73 posting his first hat trick of the season in a 5-2 victory over his former club.
Despite the joys that come with expanding their friendship group, Toffoli has previously acknowledged the downsides that can come with the nomadic lifestyle he has grown to know over his 10-year NHL career.
After speaking to reporters after arriving in Calgary, Toffoli acknowledged the trade had been a bit smoother than going from Los Angeles to Vancouver. However, there are always details that need to be ironed out after coming to a new city.
"But, at the same time, it's still a change. There are still those little things I have to be worrying about with places to live and where I was living in Montreal," Toffoli said.
The movement, however, has not impacted Toffoli's on-ice performance. The five-time 20-plus goal scorer has settled in quickly in New Jersey while also putting on head-turning performances.
"Coming here to New Jersey has been awesome since day one," Toffoli told NHLPA.com. "Having it be a younger team has been fun to be around and exciting every day."
In his first 13 games with the Devils, Toffoli had a team-leading eight goals and was third on the team in points with 14.
For his part, Toffoli is on pace to eclipse last year's personal-bests numbers for goals (34), assists (39) and points (73), which he recorded with the Flames.
It did not take long for Toffoli's new teammates to take notice of his talents.
"He's very smart, composed, a great passer with an even better shot," said Devils defenceman Dougie Hamilton, now in his third season with New Jersey.
As Toffoli continues this season with the Devils, he embraces being the beloved veteran on the Devils roster. So far, he likes what he sees.
"You see the potential," Toffoli told the Locked on Devils podcast. "So, it's just a matter of putting everything together. I hope that I'm just another piece to the puzzle and can do some pretty special things here."