NHL, NHLPA, NHLAA and Sweet unleash a new era in sports digital collectibles with NHL Breakaway
The fan-focused approach centers around bringing together millions of NHL fans worldwide.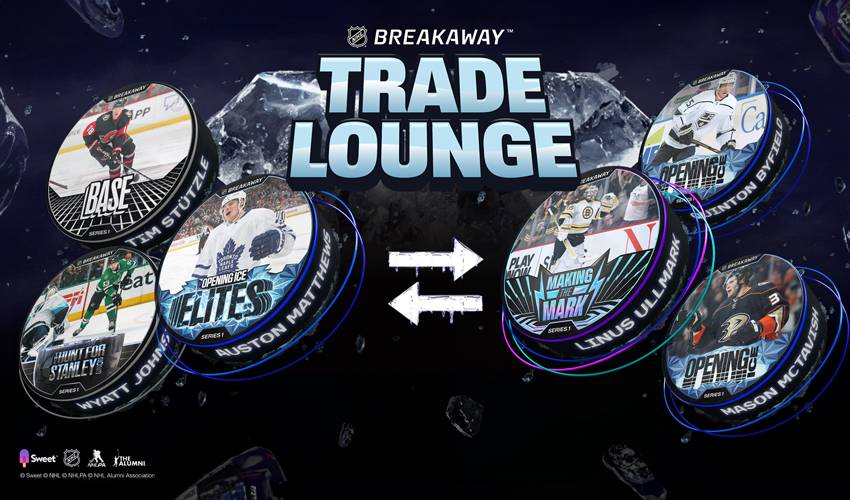 ---
NHL, NHLPA, NHLAA AND SWEET UNLEASH A NEW ERA IN SPORTS DIGITAL COLLECTIBLES WITH NHL BREAKAWAY
The fan-focused approach centers around bringing together millions of NHL fans worldwide with features such as the Trade Lounge, gifting, and uniquely packaged highlights, created exclusively with multiple camera angles and natural sounds of the game
NEW YORK (Nov. 15, 2023) – The National Hockey League Players' Association (NHLPA), National Hockey League (NHL), NHL Alumni Association (NHLAA), and Sweet, a leading platform for gamified digital collectible experiences, today announced the official launch of NHL Breakaway™, the official digital collectibles highlight community of the NHL, NHLPA and NHLAA for the NHL's community of fans.
Starting today, fans and collectors can collect, gift, trade, display and participate in set collections and challenges to earn exciting rewards. The NHL Breakaway platform delivers an immersive experience featuring some of the most recognizable and iconic highlights in NHL history, as well as unique features including:
The Trade Lounge: a hub of collector community interaction where fans can trade packs and highlights of their favorite plays or NHL Players with others in the community. Search and filter capabilities allow users to find highlights available for trade and view their personal trade history.
Public Profiles: creates a social aspect within the platform and allows fans and enthusiasts to showcase their fandom and passion for hockey by integrating unique collectibles into their NHL Breakaway profiles.
Gamification: introduces challenges for completing sets within categories like highlights and collectibles, team sets, and NHL Player sets with opportunities to earn rewards, such as real-life NHL experiences and exclusive packs.
"We've been committed to developing digital collectibles designed and customized for the NHL and wholly focused on connecting with hockey fans in the most authentic and engaging manner possible," said David Lehanski, NHL Executive Vice President, Business Development & Innovation. "NHL Breakaway is an unparalleled digital experience. The compelling graphics and highlights exclusively packaged with multiple camera angles and natural sounds of the game - such as a shot clanging off the goal post - bring collectors inside NHL arenas and make the digital pack opening a must-see experience."
Tom Mizzone, CEO of Sweet said, "In this groundbreaking partnership, we're not just launching a platform; we're forging a new era where gamified and social digital collectibles become a bridge to unforgettable experiences in the sport you love. By collaborating closely with the League and the Associations, we've harnessed the power of the NHL's extensive archive of iconic hockey highlights and integrated cutting-edge gamification, redefining the very essence of collectibles and offering fans a timeless journey through hockey's most unforgettable plays, players and teams – the ones we've witnessed and those yet to come."
"The team at Sweet has worked tirelessly to build NHL Breakaway into a game-changer for hockey fans and collectors," said Jasmine Lew, Senior Director, Business Operations & Associate Counsel for the NHLPA. "This evolving platform will showcase the amazing talents of NHL players to a world-wide fanbase in a fun and interactive way."
"Our goal each day at the NHLAA is to 'Honor the Past' by supporting our members while also celebrating the history of the game we love," said Glenn Healy, Executive Director of the NHLAA. "We are excited that NHL Breakaway is giving fans around the world the opportunity to add these cherished moments to their collections."
This announcement comes a few months after NHL Breakaway began accepting early adopters into the program, with those who got involved first being labeled "Founding Fans." The feedback from these early adopters will be used to shape the future of NHL Breakaway, ensuring it continues to appeal to all fans and collectors.
For more information, please visit nhlbreakaway.com.