NHL and NHLPA celebrate a decade of the Industry Growth Fund
More than $180 million invested to grow hockey on and off the ice.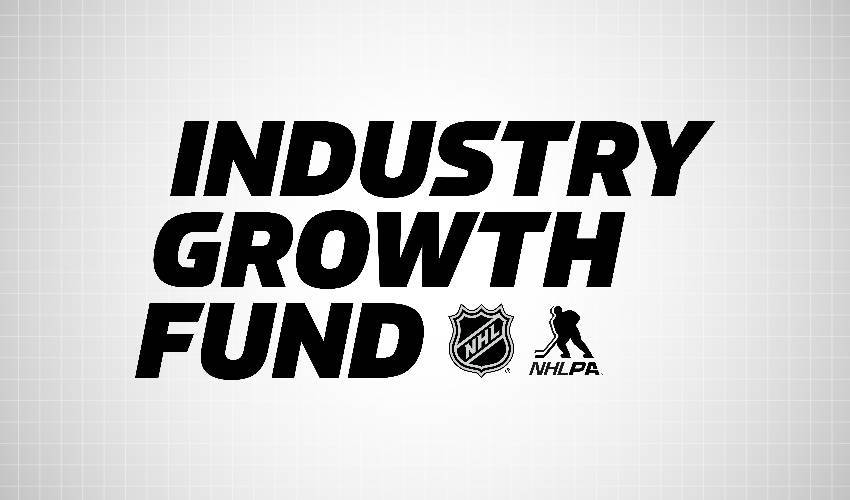 ---
NHL AND NHLPA CELEBRATE A DECADE OF THE INDUSTRY GROWTH FUND
MORE THAN $180 MILLION INVESTED TO GROW HOCKEY ON AND OFF THE ICE
Strategic Funding Dedicated to Inspire and Engage Next Generation of Players and Fans
Watch Video Timeline of IGF Investments
NEW YORK/TORONTO (Nov. 7, 2023) – The National Hockey League Players' Association and National Hockey League are celebrating 10 years of the Industry Growth Fund ("IGF"), which was established to create opportunities to help grow the game at all levels both on and off the ice.
Over its first decade, the IGF has contributed more than $180 million to develop programming, create initiatives, host events and provide education that drives awareness and brings hockey to communities across North America.
Established in 2013 as a part of the Collective Bargaining Agreement ("CBA") and supported by the NHL's 32 Clubs, the IGF was created to support and accelerate the development of NHL and Club business initiatives and projects that promote long-term fan development and increase participation at all levels of hockey with an emphasis on youth. A committee of three NHLPA representatives and four NHL owners oversees the IGF and focuses on building hockey awareness and avidity both in local Club markets and on a national level (in the United States and Canada) by subsidizing League-wide programs and local Club initiatives, reaching diverse audiences and offering unique hockey opportunities for players and fans.
Over the past 10 years, the IGF has achieved numerous milestones including: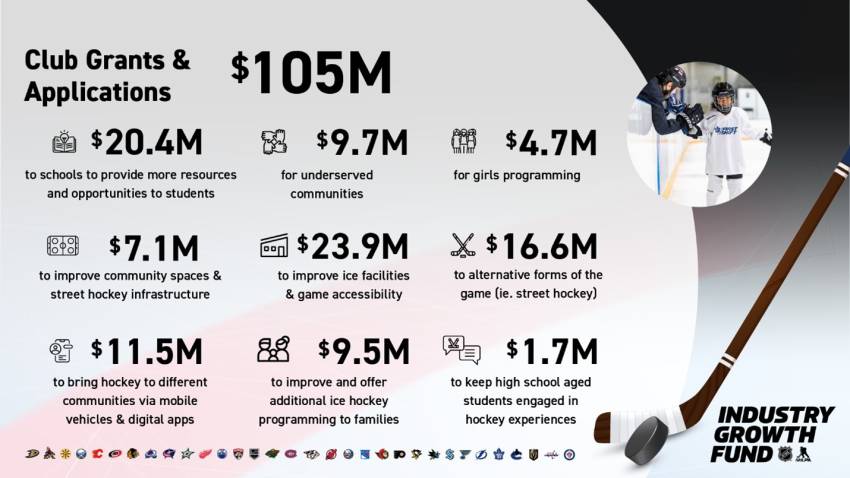 $105 million directed to NHL Club grant applications funding more than 230 hockey and ball hockey programs, along with rink development, fitness, education, life skills, virtual reality technology and other initiatives.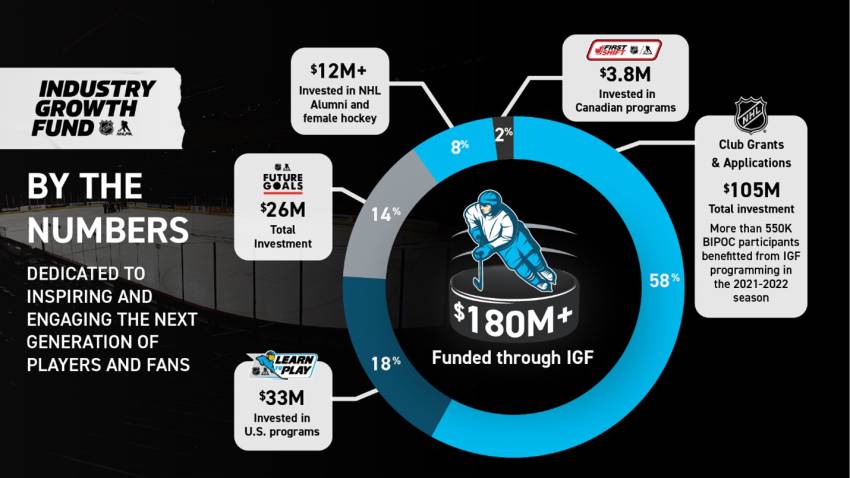 $45 million invested in DEI-dedicated programming, including NHL Club initiatives, Girls programs, Hockey is for Everyone funding and special projects.

$36.8 million invested in Learn to Play and First Shift hockey programs focused on generating interest in the game with female, BIPOC and other underrepresented fans.

$26 million dedicated to the NHL and NHLPA Future Goals program that leverages the game of hockey to teach critical science, technology, engineering, and math (STEM) skills to students grades 4-7.
"It has been incredible to witness the Industry Growth Fund's impact in grassroots and youth programming since its launch in 2013," said Rob Knesaurek, NHL Senior Vice President, Youth Development and Industry Growth. "More important, the IGF's success over the 10 years of its existence demonstrates how strategic investments allow for more opportunities to make our game more accessible to a diverse audience. Together with our Clubs and our partners at the NHLPA, we remain focused on exploring new opportunities globally to continue the momentum created in the past decade."
"The Players have been passionate proponents of the Industry Growth Fund since it was established with the NHL, and it is gratifying to see the many successes IGF has supported in the last 10 years," said Chris Campoli, NHLPA Divisional Player Representative. "As a leader in the youth hockey and community space, IGF programming seeks to create and develop new hockey fans, while continuing to build and manage relationships focused on growing the game on the global stage."
After a decade of inspiring fandom through national programming like Learn To Play and First Shift, the IGF is exploring future opportunities to engage fans through technology and digital solutions that can unlock new immersive experiences and innovative play spaces that will create more access and participation in hockey.
* * * * *
IGF SPOTLIGHT: Learn To Play, The Gold Standard
Inspired by Pittsburgh Penguins captain Sidney Crosby, the IGF's Learn To Play program debuted in 2014 and became a fundamental resource for growing the game at the youth level. Through an important partnership with USA Hockey, Learn To Play has registered 160,000 players in the United States. Together with Hockey Canada, the NHL/NHLPA Bauer First Shift program has registered 45,000 players, including more than 15,000 girls in Canada.


Crosby founded Little Penguins Learn to Play Hockey in 2008 as an introductory program for children ages 5 to 9 to learn basic hockey skills in a fun and safe environment. The Little Penguins program continues to set the standard for excellence in learn to play, engaging more than 13,000 kids, including Arizona Coyotes forward Logan Cooley, who participated in the program's inaugural season when he was five years old. Although Learn To Play isn't focused on producing professional players, Cooley fell in love with the game and was later selected with the 3rd overall selection in the 2020 NHL Draft by the Coyotes.
The Learn To Play experience is where my love for the game took off. The first time I ever stepped on ice was through that program, and honestly, it's pretty special. Everything Crosby has done for the city of Pittsburgh to help grow the game, it's really meaningful. I'm so happy I was a part of it, and it looks like it's going to continue to grow. There's great things going on with hockey in Pittsburgh, and it's because of him and the Learn to Play program."

–

Cooley
Throughout the next six months, the NHLPA and NHL will be sharing some of the unique stories and programs that showcase how the IGF is making an impact. To learn more about the Industry Growth Fund and how the NHL and NHLPA is helping grow the game of hockey, visit www.nhl.com/industrygrowth.
IGF RESOURCES