AstraZeneca announces multi-year partnership with NHL and NHLPA Hockey Fights Cancer initiative
First-of-its-kind partnership educates and empowers hockey community to face-off against cancer.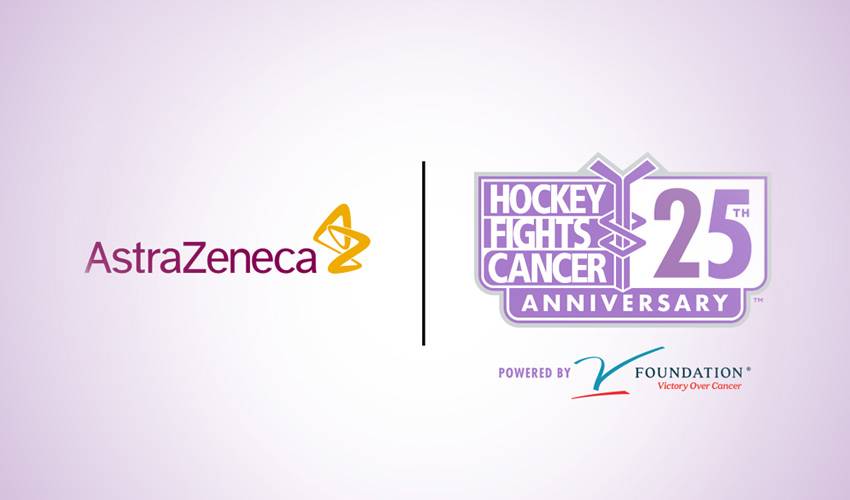 ---
WILMINGTON, Del., November 1, 2023 – AstraZeneca is teaming up as an official partner of Hockey Fights Cancer™, a joint initiative of the National Hockey League (NHL) and the National Hockey League Players' Association (NHLPA) powered by the V Foundation for Cancer Research to educate and empower NHL fans and the hockey community with simple steps for their health to face cancer with courage. AstraZeneca is proud to support Hockey Fights Cancer, which aims to give hope and inspire those who are living with, going through, and moving past cancer.
Through this multi-year partnership, AstraZeneca, the NHLPA, and the NHL will leverage the Hockey Fights Cancer platform to encourage fans to win at their own G.A.M.E: Gauge risk factors, Arrange a screening, Make a donation, Educate loved ones. With these steps, fans can win for their health and team up with friends, families and their communities to do the same.
"At AstraZeneca we are driven by our ambition to one day eliminate cancer as a cause of death. To achieve this, we engage with partners who share our vision and approach on fighting cancer with the same tenacity that we do," said Mohit Manrao, Senior Vice President, Head of US Oncology, AstraZeneca. "Hockey Fights Cancer is the longest-running professional sports program focused on supporting those with cancer, making it a powerful teammate to equip millions of fans with simple steps to take control of their G.A.M.E."
Every time an NHL Player scores a hat trick (three goals in a single game) during the 2023-24 NHL season, including the 2024 Stanley Cup® Playoffs, AstraZeneca will donate $5,000 to the Hockey Fights Cancer fund of the V Foundation, with a donation goal of up to $500,000. The V Foundation is a top-rated charity dedicated to funding innovative cancer research.
"As part of commemorating 25 years of the Hockey Fights Cancer initiative, it is fitting that we partner with AstraZeneca, a global biopharmaceutical leader, to help raise awareness in the fight against cancer, and support cancer patients and families around the world," said Kyle McMann, NHL Senior Vice President, Global Business Development. "Our strategic partnership will give AstraZeneca the powerful reach of our national rightsholders to engage our passionate fans in the Hockey Fights Cancer mission and strengthen our connection with them around the globe."
"The members and staff of the NHLPA, the NHL, teams and fans have all worked tirelessly over the past 25 years to join together to raise money and awareness for cancer research through the Hockey Fights Cancer initiative," said Devin Smith, NHLPA Senior Director, Marketing & Community Relations. "It is tremendous that we are adding AstraZeneca, an industry-leading partner, in the fight against cancer. Their involvement strengthens the ability for the Hockey Fights Cancer team to make an impact on the lives of patients all around the world."
Stay tuned for more information throughout the NHL season on this exciting partnership, including stories honoring patients and their support systems, NHL team-based activations, and ways for fans to get involved in this worthy fight.