NHL, NHLPA commemorate 25 years of Hockey Fights Cancer initiative
AstraZeneca named an official partner of Hockey Fights Cancer.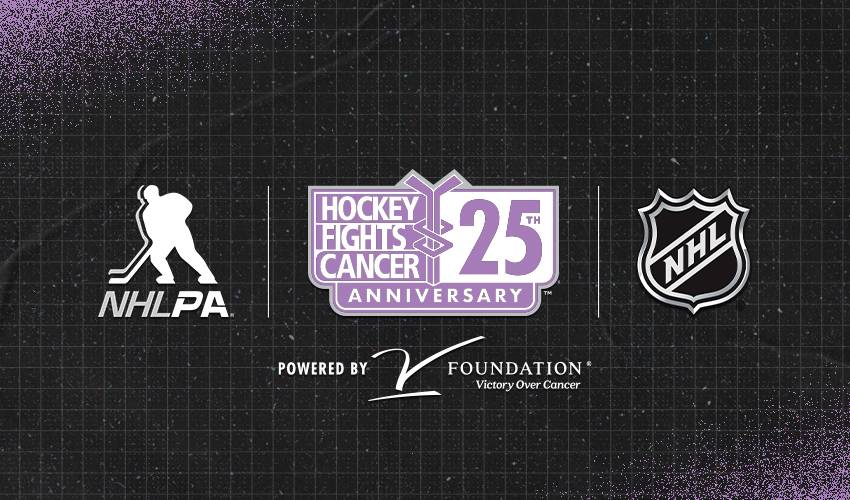 ---
NHL, NHLPA COMMEMORATE 25 YEARS OF HOCKEY FIGHTS CANCER INITIATIVE, POWERED BY THE V FOUNDATION FOR CANCER RESEARCH
AstraZeneca Named An Official Partner of Hockey Fights Cancer
American Cancer Society and Canadian Cancer Society return with Stanley Cup® Hope Lodge Tour and 'HFC Assist'
NEW YORK/TORONTO (Nov. 1, 2023) – Hockey Fights Cancer™, a joint initiative of the National Hockey League (NHL) and the National Hockey League Players' Association (NHLPA) powered by the V Foundation for Cancer Research, begins today. Through its first 25 years, this annual campaign has raised over $32 million and touched the lives of millions, offering support, raising awareness, and standing with those affected by cancer.
Hockey Fights Cancer's legacy is built on the unification of the hockey community to inspire hope and courage at both the national and local levels. Moving forward, the combined strength of the NHLPA, NHL and the V Foundation will dramatically increase the program's fundraising pace for cancer research of all cancer types, ultimately working towards achieving Victory Over Cancer®.
After a quarter-century of changing the game in the fight against cancer, the anniversary campaign will feature a League-wide moment on Nov. 30, kicking off a season-long extension of the campaign for the first time. This year's initiative has a commitment to activations at select tentpole events, Hockey Fights Cancer ambassadors, 25 years of inspirational storytelling shared on League platforms on the 25th day of each month, as well as a 25th giving campaign that will see 10 cancer organizations receive a $25,000 gift to bolster their impact.
Additionally, AstraZeneca, a global biopharmaceutical leader, has been named an official partner of Hockey Fights Cancer. This first-of-its-kind partnership will empower the hockey community with simple steps for their health to face cancer with courage. AstraZeneca has a bold ambition to one day eliminate cancer as a cause of death and together, with Hockey Fights Cancer, will encourage fans to win at their own G.A.M.E: Gauge risk factors, Arrange a screening, Make a donation, Educate loved ones.
As part of this multi-year partnership and in honor of this year's 25th anniversary of Hockey Fights Cancer, AstraZeneca also will be the presenting sponsor of the NHL Hat Trick Challenge, donating $5,000 to the Hockey Fights Cancer Fund of the V Foundation for Cancer Research for every hat trick scored throughout the 2023-24 NHL season, with a total donation goal of up to $500,000.
"Hockey Fights Cancer has united the National Hockey League family for a quarter-century," NHL Commissioner Gary Bettman said. "Twenty-five years since its inception, Hockey Fights Cancer remains essential because the battle hasn't ended -- rather, it continues to change and evolve. And the efforts of the NHL and NHLPA change and evolve with it, as they have with our strategic collaborations with The V Foundation and ESPN, and with AstraZeneca, to enhance Hockey Fights Cancer's mission to support patients and accelerate life-saving research."
"The NHLPA is excited to be reaching the 25th year of our Hockey Fights Cancer initiative with the NHL, while bringing the V Foundation and AstraZeneca on board this year and continuing our work together with the American Cancer Society and Canadian Cancer Society," said Marty Walsh, NHLPA Executive Director. "As a cancer survivor, I am honored to join the Hockey Fights Cancer team, along with the Players, the League and the Clubs, as we continue to raise funds for research, increase awareness and provide further support to those who are dealing with this terrible disease. The hockey community is one that is committed to fighting cancer together."
The V Foundation's mission is to fund game-changing research and all-star scientists to accelerate Victory Over Cancer® and save lives. Since it was founded in 1993, the V Foundation has funded more than $310 million in research grants at the 72 NCI-designated cancer centers and other exceptional institutions in North America – including some top-ranked Canadian cancer centers. When you give to the V Foundation, 100% goes directly to cancer research; an endowment covers all administrative expenses.
"We are thrilled to launch this impactful partnership with the NHL and NHLPA, and for the inevitable advancements that will come as a result of cancer research funded by Hockey Fights Cancer," said Shane Jacobson, CEO of the V Foundation for Cancer Research. "This is a historic moment for the V Foundation and provides a meaningful opportunity for fans, all 32 Clubs, broadcast partners, and sponsors to accelerate cures that save lives. Together, we will fund game-changing breakthroughs that move us closer to winning our championship – Victory Over Cancer®."
"Cancer affects many families on a daily basis and ours is no different. Through tragedy comes inspiration, and we are proud to carry on the tradition of Hockey Fights Cancer and inspire hockey fans to continue to support the cause and the work being done by everyone to eliminate cancer from this world," said Nick Foligno, NHLPA member and Chicago Blackhawks forward. "On behalf of my family, my brother, Marcus, and all the players in the NHL, we want to thank everyone who has supported the Hockey Fights Cancer initiative."
The life-changing work with the American Cancer Society and Canadian Cancer Society, partners of the NHLPA and NHL in patient services, continues this season with the fifth year of the Stanley Cup® Hope Lodge Tour with the Stanley Cup set to visit five Hope Lodge locations across the U.S. and Canada, as well as the return of the 'HFC Assist' program. Youth hockey teams are encouraged to sign up for 'HFC Assist' to lend their efforts to the cause and receive resources, including a toolkit with best practices and thought starters for fundraising. To date, hundreds of youth hockey teams have hosted their own Hockey Fights Cancer events with proceeds continuing to support the American Cancer Society and Canadian Cancer Society.
Continuing the tradition, all 32 NHL Clubs will host a Hockey Fights Cancer in-game awareness night this season with original storytelling, special ceremonies, and fundraising efforts for local charities.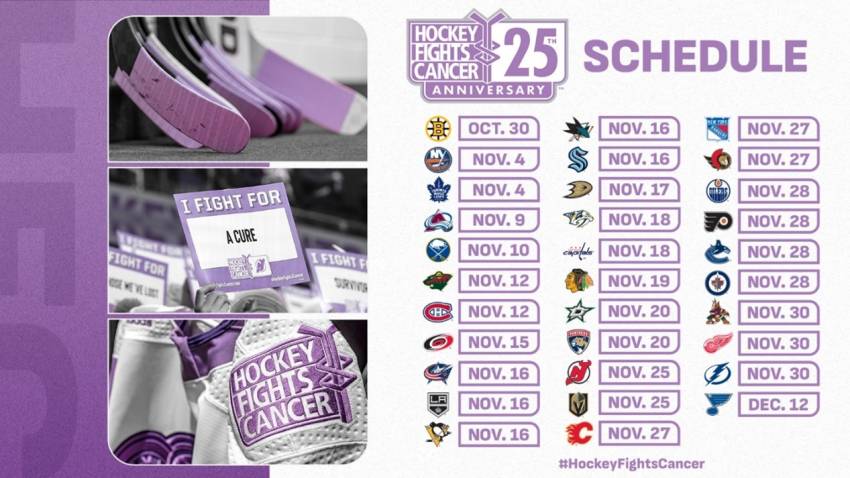 Fans can purchase official Hockey Fights Cancer merchandise online at NHLShop.com and NHLShop.ca and donate to the NHL and NHLPA's Hockey Fights Cancer initiative powered by the V foundation by visiting HockeyFightsCancer.com.
For all Hockey Fights Cancer news, follow @NHL and @PR_NHL and join the conversation by using the official hashtag #HockeyFightsCancer.