Veleno eager for return to familiar surroundings with 2023 Global Series
Prior to playing professionally for the Detroit Red Wings, Joe Veleno honed his skills with the Malmö Redhawks of the Swedish Hockey League.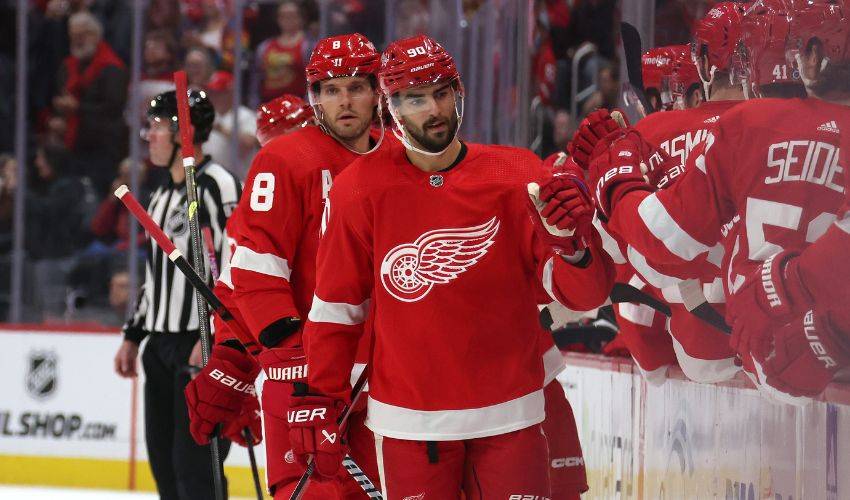 Feature photo: Getty Images
---
This November, Joe Veleno will be back in familiar surroundings when the puck drops on the 2023 NHL Global Series in Stockholm.
The 23-year-old and his Detroit Red Wings teammates will be joined by the Minnesota Wild, Ottawa Senators and Toronto Maple Leafs in a slate of regular-season games at Avicii Arena from November 16 to 19.
Veleno will be returning to the Scandinavian nation, where he played with the Malmö Redhawks of the Swedish Hockey League in 2020-21 while on loan from the Grand Rapids Griffins of the American Hockey League. Veleno appeared in 46 games with the Redhawks, scoring 11 goals and 20 points.
"The SHL is a very good league," said the forward who was drafted 30th overall by the Red Wings at the 2018 NHL Draft. "It's a great league for some players who want to come over and play in North America."
"It's one of the best pro leagues in Europe for learning how to play the game the right way. It's a very defensive league, so you don't see guys putting up big numbers, but I thought it was good for myself to work on my game, building that 200-foot game. It was great hockey."
Veleno, who hails from Kirkland, Quebec, has equally high praise for the country and its people.
"It was during COVID when I played, but luckily, things were still open, so you had the opportunity to go out for dinner and explore a little bit," said Veleno. "I'm really happy that I'll get that opportunity to get back to Sweden. It should be a fun experience for all of us."
Veleno, fluent in English, French and Italian, has kept in touch with a few teammates from his time with Malmö – a city located a six-hour drive south of Stockholm.
He is hoping to catch up with some familiar faces during his time Global Series experience.
"I hope I can see some of the guys, the friends that I made during my time in Sweden. I'm sure they are looking forward to seeing me over there and I can't wait to see them."
The Red Wings have had numerous Swedish stars don their jersey over the years, a list that includes hall of famer Nicklas Lidstrom, Henrik Zetterberg, Tomas Holmstrom, Niklas Kronwall and Johan Franzen, just to name a few.
This year's roster includes Swedish-born players, Jonatan Berggren and Lucas Raymond.
Talk of participating in the Global Series has been an ongoing locker-room topic since preseason games got underway.
"All of us here are looking forward to this experience, especially the Swedes on our team," said Veleno. "It should be fun."
Veleno knows what he and his teammates can expect in terms of how they will be welcomed from the moment they arrive in Sweden's capital city.
"The people are so genuine there, very welcoming, and they love their hockey. I have nothing but good things to say about the hockey and the people. It's a beautiful country. It is going to be a lot of fun."