Borgen's confidence at an all-time high with Kraken
Will Borgen feels right at home in his third season with the Seattle Kraken.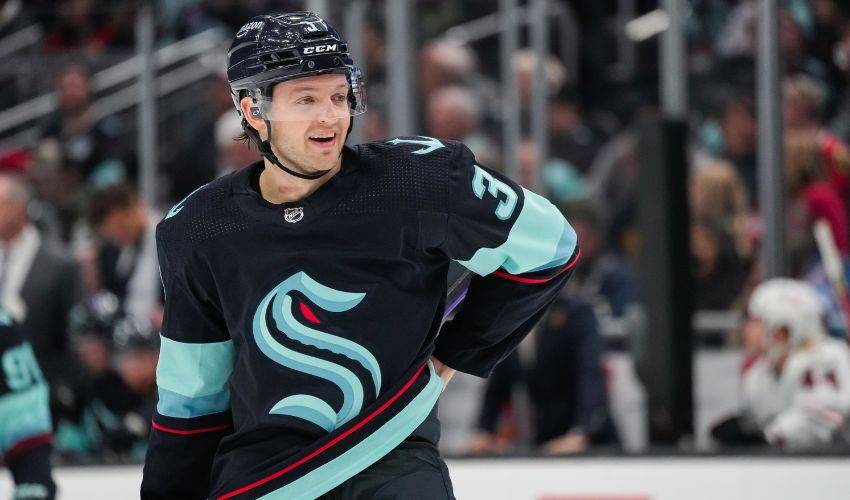 All photos courtesy of Getty Images
---
Will Borgen was a big hit for the Seattle Kraken last season.
Not only did the 26-year-old have an NHL career-best season offensively by setting personal highs in goals, assists and points – but the defenceman's 203 hits also ranked second on the Kraken.
The Minnesota native was one of 12 NHL players in 2022-23 to accumulate more than 200 hits while also posting 89 or more blocked shots.
"For me, personally, making the opening night roster and being on the ice for the first game was a great feeling. Being in the lineup consistently gave me a lot of confidence and I wanted to build on that throughout the year."
The Kraken finished the 2022-23 season with 100 points (46-28-8) in 2022-23 and extended their franchise playoff debut to the Second Round.
Borgen, originally selected 92nd overall by the Buffalo Sabres in the fourth round of the 2015 NHL Draft, was not surprised to see Seattle turn heads in the postseason.
"Team-wise, we knew we had a good team even though we lost a bunch in our first year," recalled Borgen, who was claimed by Seattle from Buffalo during the 2021 Expansion Draft.
"The games were close, and we knew we had the ability to be better. One of the pivotal points last year was when we went on a seven-game road trip and won every single game. That was a big thing where we knew that when our whole team was going, we were a tough team to play against. It isn't really a bunch of superstars, but we were just hounding teams, going at them every single night and that showed us that we could play with anybody."
It's something that Borgen has found out about himself as well.
In the early part of Seattle's inaugural campaign, the defenceman was routinely a seventh or eighth defenseman. He did not appear in a game with Seattle until November 27, 2021.
When the 2022 trade deadline came and went, departures among the Seattle defensive corps opened the door for Borgen to play a more regular role.
He has not looked back since.
"We are all just guys who work hard and that resonates with me. I'm not a skill guy. I'm an effort guy."
Borgen's efforts earned praise from the Kraken coaching staff last season for his play alongside defensive partner, Jamie Oleksiak.
"That's a challenging role to grow into for a young defenseman, and for a pair. Those two did a nice job over the year. Once they went together, they continued to grow and create better chemistry. They were effective," Kraken head coach, Dave Hakstol, said at an end-of-year interview as he continued to praise Borgen's progress.
"He's got room to grow within his game. … We really feel like he's coming out of a positive year, a good year performance-wise and taken a nice step forward for us."
The defenceman's motivation is evident in the path he took to full-time NHL duty.
From 2017 to 2020, Borgen skated in 140 games with Buffalo's American Hockey League affiliate in Rochester. Prior to turning pro, Borgen played three collegiate seasons with St. Cloud State where he was named to the National Collegiate Hockey Conference's All-Rookie Team in 2016 and selected as the conference's best defensive defenceman in 2018.
Borgen's confidence has never been higher than it is now.
"The biggest thing was playing a full NHL season. I think that was my proudest moment. It's a long season and it's a grind, so that was something new, but it certainly meant a lot to get that opportunity and to make the most of it."
Playing in Seattle has been an ideal fit, on and off the ice, for the player who earned bronze with the United States at the 2016 IIHF World Junior Championship and was named to the 2018 U.S. Men's Olympic squad in Pyeongchang.
"It was a blast making the playoffs, which I hadn't done before, and the fans just loved it. There are sweet rinks to play in on the road, but it is one of the nicest places to play, if not the nicest. It is a beautiful city too. I've been to pretty much every sporting event – NFL, MLB, NCAA, MLS – in Seattle, too. There is so much to see and do. I couldn't ask for a better place to play and call home."
Fortunately for Borgen, he will be able to call Seattle home for a while longer after signing a two-year contract with the team