Enterprise, NHL and NHLPA renew North American partnership
Enterprise has been an NHL and NHLPA sponsor since the 2009-10 NHL season.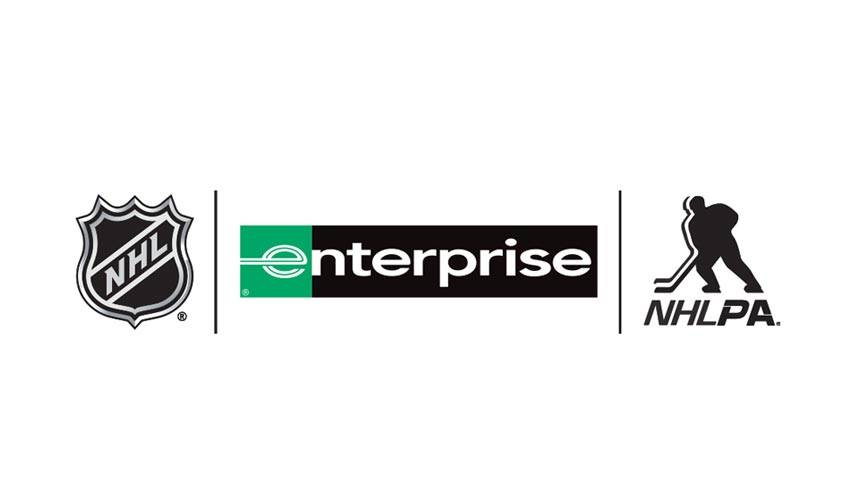 ---
ST. LOUIS (Oct. 5, 2023) – Enterprise, the National Hockey League Players' Association (NHLPA) and the National Hockey League (NHL®) today announced a multiyear extension of their North American partnership.
Enterprise is the flagship brand of Enterprise Holdings – one of the world's leading mobility providers, which has been an NHL and NHLPA sponsor since the 2009-10 NHL season.
"Our longstanding partnership with the NHL and NHLPA has created an incredible platform for us to reach new mobility audiences across North America," said Kyle Sanborn, Vice President of Global Brand Strategy & Marketing Activation at Enterprise Holdings. "We've built a strong relationship with NHL fans, and we are eager to continue to grow that connection and use this opportunity to showcase the breadth of our offerings across the mobility landscape."
In addition to maintaining its exclusive status as the official rental car partner of the NHL and NHLPA, Enterprise is also retaining non-exclusive rights in the used vehicle sales, car sharing and ride sharing services categories to reinforce its vison to be the world's best and most trusted mobility company and promote its wide range of business lines, including Enterprise CarShare®, Commute with Enterprise® and Enterprise Car Sales®.
As part of the partnership extension, the Enterprise brand will continue to have a national marketing presence across all League touchpoints, including the NHL's digital and social channels, camera-visible in-arena inventory during games and events, and broadcast integrations across TNT and ESPN.
"From the start of our relationship in 2009, Enterprise has been a blue-chip partner demonstrating a strong commitment to serving NHL fans and communities across North America," said Jason Jazayeri, NHL Vice President, Business Development. "We're thrilled to extend our partnership with Enterprise while continuing to collaborate on innovative marketing programs that will deepen their connection to our passionate fanbase."
"Over the years, our partnership with Enterprise has been instrumental in connecting players and communities all over North America," said Devin Smith, NHLPA Senior Director of Marketing & Community Relations. "With our renewed partnership, we are excited to continue to have players working closely with Enterprise on a variety of unique and impactful marketing and community-based programs."
The brand will maintain local market partnerships with a number of NHL Clubs and will continue to activate around NHL tentpole events like the NHL Winter Classic®, NHL® All-Star Game, NHL Stadium Series™, and Stanley Cup® Playoffs games.
"We will continue to work with the NHL and NHLPA on opportunities to support the growth of the game and to positively impact communities in which we have local partnerships," said Sanborn.
Enterprise Holdings delivers innovative mobility solutions through a broad portfolio of business lines and services designed to help meet the evolving needs of its customers. For more than 65 years, Enterprise has been an industry leader in shaping the future of mobility.
Enterprise-branded business lines include Enterprise CarShare and Car Club; Enterprise Fleet Management®; Enterprise Car Sales; Enterprise Truck Rental®; Exotic Car Collection by Enterprise®; and Commute with Enterprise (vanpooling).
These branded business lines are featured prominently in new creative, which will be a focal point of the brand's marketing presence throughout all NHL touchpoints.
For more information, visit www.ehi.com.