Lawson Crouse ready to step into veteran role with the Arizona Coyotes
The 26-year-old forward will be a key figure in the Coyotes' push to the playoffs.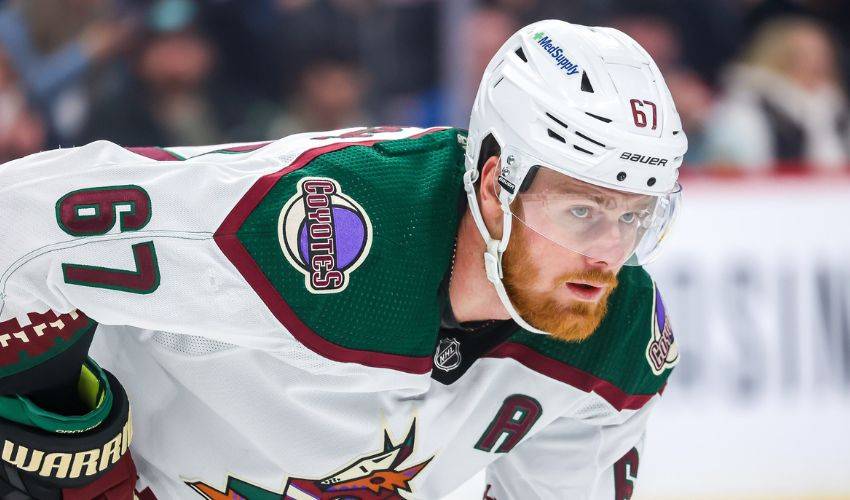 Feature photo: Getty Images
---
Lawson Crouse is hoping one of his biggest and most impactful contributions during the upcoming 2023-24 NHL season will go far beyond what shows up on the scoresheet.
Fresh off a campaign which saw the 26-year-old Arizona Coyotes forward post some career-best numbers, Crouse will once again be a key figure in the teams push for their first playoff berth since 2020.
But it is not just goals and assists that define his impact on the Central Division team.
Bursting with young talent, featuring names like Clayton Keller, Nick Schmaltz and Matias Maccelli, the steady veteran presence of Crouse will be crucial for the team's development into a Western Conference contender.
"It's crazy to think it's going to be my eighth season, and obviously, there have been a lot of highs and lows throughout my career, but one thing we've always had in Arizona is a great group of teammates and coaches. I'm really grateful for that over the years. I think just those experiences I've had over my time in the NHL, you just settle into that role of mentoring the new guys that come in."
The team's young corps has an ideal mentor in Crouse.
Selected 11th overall by the Florida Panthers at the 2015 NHL Draft, Crouse was acquired by Arizona via trade on August 25, 2016.
Dubbed "The Sheriff" by the Coyotes and their fans for his physical play, the winger is playing some of the best hockey of his career. If all goes to plan, Crouse will skate in his 500th NHL game this season.
"I still remember my rookie year as if it were a couple of years ago," he said with a laugh. "It is crazy how time in this league goes, but it just makes you appreciate every season and not take anything for granted."
And, for Crouse, it also heightens the want to help others, including those who are in the early phase of their NHL lives.
"These players have the mindset of continuing to learn and continuing to grow. You learn a lot of things in this game at a young age and you're supposed to grow up very quickly. … You are forced to mature a lot faster than most other people. In the end that's good, but you still have things to learn along the way. Anything I can do to help these guys, I'm happy to be in that role. The ultimate goal is to help one another be better teammates and better players. Our whole team is great with that."
Crouse, who has 423 regular-season games to his name, will look to build off an exciting offseason, one that included a gold medal experience in May.
Part of Team Canada's entry at the 2023 IIHF World Championship held in Latvia and Finland, Crouse, who also struck gold with his country at the 2015 world juniors, contributed nine points (including six goals over 10 games).
Off the ice was equally as busy for Crouse, who tied the knot with his now wife, Claire, in July.
"I got married, which was a great day for us, to share that with our family and friends. I also got to play and win gold with Canada, so, it was a memorable offseason for sure."
Crouse is hoping the 2023-24 NHL season ends up being a memorable one for both himself and his Arizona teammates.
He is optimistic about what the Coyotes can achieve.
"I'm excited about the future of this team," said Crouse. "I'm just in awe of the talent the younger guys have, and their love for the game. That's a great thing to have for a group that wants to make a push and continue to get better. Each year, you lose friends through trades and offseason signings, but the players we have, we are all focused on taking the next steps. I think I can speak on everyone's behalf and say that we are excited for this year and itching to get going."
Crouse and the Coyotes will have a unique start to their season, making history as they head to Australia as part of the NHL Global Series. The two preseason games, both against the Los Angeles Kings, will be the first ever NHL games played in the Southern Hemisphere. The pucks drops in Melbourne on September 23.