From Makar to Bedard, stars were shining bright at BioSteel NHL CAMP
The four-day event saw 30 NHL players participate in on- and off-ice training in Halifax, Nova Scotia.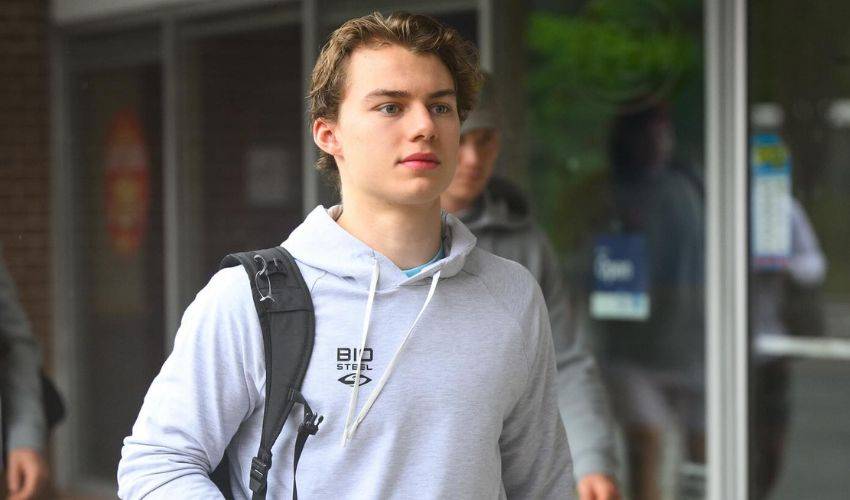 Feature Photo: IG / @BioSteelSports
---
It's a sure sign a fresh season of hockey is around the corner.
After skating alongside some of the biggest names in the game, Colorado Avalanche defenceman Cale Makar and Connor Bedard, the No. 1 NHL Draft pick of the Chicago Blackhawks, are ready to get the 2023-24 season rolling.
This year's edition of the BioSteel NHL CAMP – a four-day event where 30 players and prospects participate in both on- and off-ice training ahead of the upcoming NHL campaign – featured some of hockey's top talents. The group also included the likes of four-time Ted Lindsay Award recipient Connor McDavid and his Edmonton Oilers teammate and 2020 Ted Lindsay Award recipient, Leon Draisaitl. Avalanche captain Nathan MacKinnon and Toronto Maple Leafs captain, John Tavares, were also in attendance.
The annual gathering has become an offseason staple for dozens of NHL players, with this year's event taking place in Halifax, Nova Scotia.
For Makar, taking part is the ideal way to ramp up his training and competitive edge ahead of NHL training camp.
"I love coming to camps like this," said Makar, whose hardware haul includes a Stanley Cup, a Calder Trophy, a Norris Trophy and a Conn Smythe Trophy. "It's fun watching all these guys up close, in person, and seeing what they do in practice, whether it's just a 2-on-2 drill or a 2-on-1. Seeing some of the little tendencies that guys have that make them unique, I find it really cool to be able to just come to this camp and basically find out."
The 24-year-old will look to play his part in getting the Avalanche back into the Stanley Cup Final.
Makar is eager to see a repeat of the 2021-22 campaign when Colorado raised the Staney Cup. He likes what he sees in the team's roster, returning faces and new additions – the latter including forwards Miles Wood, Jonathan Drouin and Tomas Tatar.
"I feel we put ourselves in the best possible spot to have a chance again," said Makar. "The guys we picked up are hard-working guys, who are going to be reliable guys every night. It should be a fun one."
Bedard, the much-heralded first overall pick at the 2023 NHL Draft, is hoping for the same.
The 18-year-old has been the talk of the hockey world for some time. Tabbed as a generational prospect, similar to the likes of McDavid and Sidney Crosby, the Original Six club gets a player who posted 71 goals and 143 points with the Western Hockey League's Regina Pats last season.
Bedard had the chance to speak with McDavid throughout the camp and received a wealth of helpful advice from the first overall pick in 2015.
"He's obviously one of if not the best players in the world. So that's someone that I've been able to kind of be a sponge with and ask some questions," said Bedard. "I think for myself and [McDavid] as well, we both just kind of love the game so much. There's obviously pressure from the outside, and I want to do well, I'm hard on myself and I expect a lot from myself."
Makar, who is set to begin his fifth NHL season, also offered what he could to the young prospect.
"Guys can get pointers and stuff like that, but you also want a little bit of independence," offered Makar, when speaking of Bedard. "Going through it yourself and kind of seeing how you read and react to different situations through your first year."
Bedard will no doubt play a key role in helping the Blackhawks work their way back to the postseason. Chicago's most recent playoff appearance came in 2019-20 when they were ousted in five games by the Vegas Golden Knights.
"I think the pressure goes away in my mind when you're just doing what you love, and obviously hoping to be playing in the league I've dreamed of playing in for 18 years now."
It will be a one-step-at-a-time approach for Bedard, with his first order of business being training camp.
"I just want to live in the moment right now and prepare myself best for camp," said Bedard. "Obviously, we've got our rookie games coming up here, which is pretty exciting."
Exciting is also how he views the NHL city which he will call home for the majority of the calendar year.
So far, Bedard, who won a slew of hockey awards before and after his junior days, has been blown away by the Windy City.
"I was there for a few extra days, and it was fun skating with some of the guys. It's a really cool city, not only sports, but with the history too. It was awesome. I really had a lot of fun. I'm pretty excited to get down there for camp."
And when he does, he can soon work on the next phase of his blueprint for NHL success.
"Your dream and lifelong goal is of course to play in the NHL and be an impact player, and that's what I want to do."