Adam Lowry tees off to assist local charities
The forward took to the links alongside Jets teammate Josh Morrissey at the Rogers Legends of Hockey Charity Skins Game.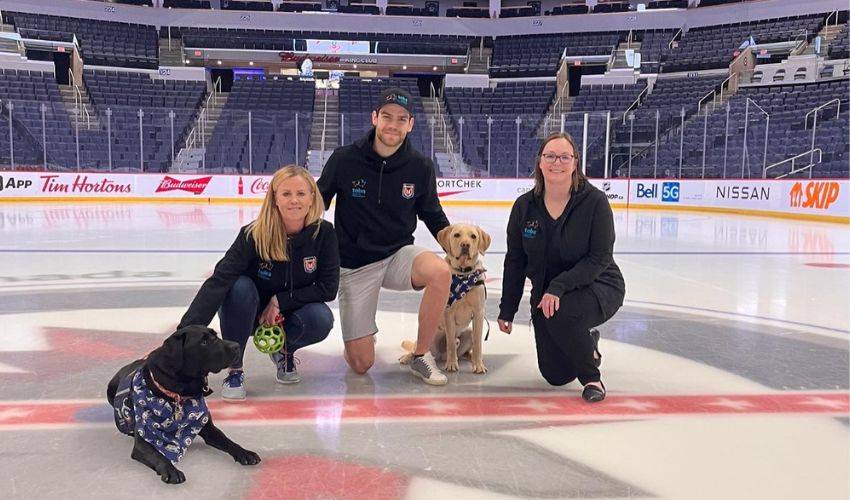 Feature Photo: IG / @tobacentremb
---
Playing in front of a packed house has never fazed Adam Lowry in the least. Trying to drain a four-foot putt with all eyes on him? That is a much different story.
On August 19, the Winnipeg Jets forward took to the links alongside his teammate, Josh Morrissey, at Canyon Meadows Golf and Country Club in Calgary at the Rogers Legends of Hockey Charity Skins Game as a part of the Shaw Charity Classic. The feeling Lowry experienced on the green was in stark contrast to his confidence on the ice.
"I was a lot more nervous with people watching me golf than I am in any hockey game," admitted Lowry.
"We're totally comfortable with that, but we're amateurs when it comes to golf. There is already enough pressure you put on yourself to make a putt, but then you add in the people watching and it takes things up a whole other level. … I'm pretty lucky because Josh is such a good golfer, and he makes it so easy. He had a ton of great shots and I just had to tap it in for him."
The event featured NHL players both past and present who combined to raise over $250,000 for local charities.
Stuart Skinner of the Edmonton Oilers was paired with former NHL goaltender Curtis Joseph to form team Puck-Stoppers, who made their mark on the 18th hole. Skinner walked in the final putt after being set up with an impressive shot by Joseph for the duo to split $120,000 between the Alberta AdaptAbilities Association and the Wilderness Youth Challenge Program.
Lowry and Morrissey, representing team Whiteout, raised $30,000 for Emma House YYC, Big Brothers Big Sisters of Medicine Hat and the Calgary Public Library Fund. They also raised $40,000 for the Autism Asperger's Friendship Society and the Providence Child Development Society. Calgary Flames defenceman MacKenzie Weegar, who was paired with soon-to-be Hockey Hall of Famer Mike Vernon, also garnered $20,000 for the Center for Suicide Prevention after he birdied hole 13 during the tournament.
Ahead of the event, Lowry, Morrissey, Skinner and Weegar, were also each given the opportunity to directly donate $10,000 to their charity of choice. Weegar selected Parachutes for Pets, a foundation that assists low-income individuals and their pets to stay together, while Skinner opted for the Ben Stelter Foundation in honour of the late young Oilers fan. Morrissey directed his funds towards the Alberta Children's Hospital Foundation's Elementary Mental Health Literacy Project, which works to improve mental health awareness among local youth.
Lowry selected the Toba Centre for Children & Youth – a Winnipeg-based charitable organization which aims to restore the health and well-being of those affected by child abuse. Opened in 2013, the Toba Centre (formerly Snowflake Place) remains Manitoba's only child advocacy center.
"I got aligned with them about a year and a half ago after a conversation with our owner, Mark Chipman," recalled Lowry. "I spoke with Christy Dzikowicz, Executive Director with Toba, and she asked if I would be willing to lend my name to the organization. They were in the middle of opening their new centre and it was a truly worthwhile cause, run by people who are passionate about helping others. Being in Winnipeg for a while now, it was time for me to get involved, step up in the community, and help shine a light on what they do. It's been great to learn about more what they do and the importance of their mission. I'm happy to put my voice behind it and help more people learn about the great work they do and what they do for our community."
The staff at the Toba Centre are equally as thrilled to have Lowry's support.
"Having Adam as an ambassador has been incredible for Toba Centre," said Dzikowicz. "Certainly, when you have a person with a significant profile like Adam does, it helps build awareness, but it really is so much more than that. Child abuse is an issue that has been kept in the shadows for far too long. And that secrecy is actually what allows abuse to thrive. So, when you have a guy like Adam stand up and remind people how important it is to talk about the issue and stand behind the kids who need our support, it is game-changing.
"Adam is just a really genuine, thoughtful and kind person. He has taken the time to really learn about what we do and about what kids and families go through. He takes the time to listen to people and approaches every situation in a really humble way. This is not just something he agreed to attach his name to, he has gotten involved in ways that many won't see but those who do are impacted in such an incredible way."
Beyond his charitable endeavors and his golf game, the veteran of 621 NHL games is ramping up ahead of training camp and is busy preparing for the Jets' first regular season game on October 11 in Calgary.
Coming off his best offensive NHL season to date, Lowry recalled the moments and experiences that played a pivotal role in unlocking that part of his repertoire.
"What I learned about my game was conversations, which date back almost two years ago, that I had with my teammates – conversations that opened my eyes about my game. It was one of those things where I never thought I'd have the chance to represent Canada, but I did get that opportunity at the world championship in Finland. I got to play with the puck a little more, where I wasn't designated into my typical checking role. My puck skills were a little better than I believed in. Some of my teammates told me, 'You can hold the puck a little more, you don't have to make the safe play.'"
The result for Lowry was a 2022-23 season in which he notched 36 points over 82 games with a season-high 126 shots taken. The 30-year-old forward also recorded 46 blocked shots and 161 hits. In five playoff games, he posted four goals and five points.
"Last year I started to take a step forward offensively. I think that area of my game is going to be important because we lost some scoring out of our lineup. You like Vegas and the depth and contributions they had throughout the lineup, that's so critical to have that from top to bottom. That's one thing you work on in the summertime, how you can do more to contribute when you get those opportunities. Knowing that your teammates see that and encourage you to embrace it. … that means a lot. You don't want to be arrogant about your abilities, but sometimes we underestimate our own capabilities."
Just like on the golf course, Lowry is happy to chip in wherever, however and whenever he can.
"Any time the summer wraps, you get that excitement going, to get back and see the guys, get the camaraderie back. We have a lot of fun at the rink and away from it. Winnipeg is a great place to play, and I enjoy going out there and competing with my teammates."