Kyle Okposo determined to lead Sabres back to the playoffs
An offseason of reflection has the Sabres captain focused on helping his teammates perform their best.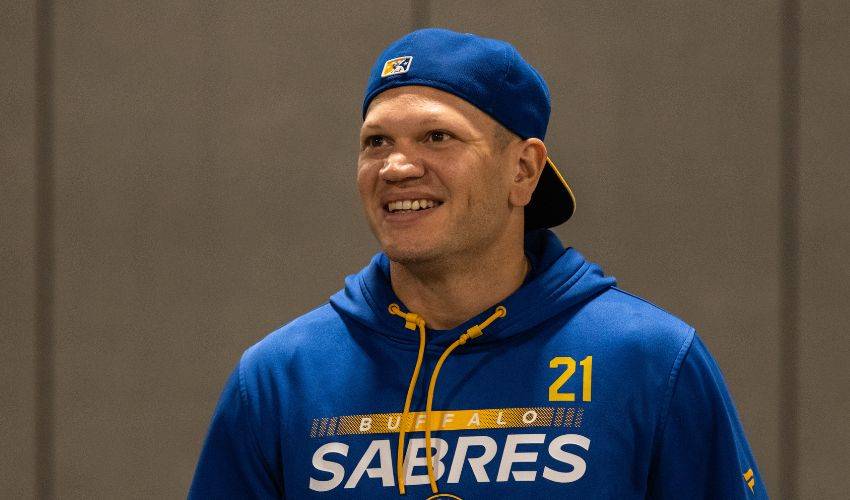 Feature photo: Getty Images
---
When the leaves start to change colour, Kyle Okposo is typically spotted in blue and gold with a hockey stick in his hand, but this offseason, the Sabres captain found himself exchanging his stick for a magnifying glass.
Before beginning his 16th NHL season, the 35-year-old sat down with his two oldest kids on a few occasions to play a game of Clue – a popular murder mystery board game.
"We went to northern Minnesota for five days as a family and we all kind of just checked out," said the forward, who was born in St. Paul. "I had the phone off for extended periods of time. It was nice to be there, to recharge, and be together. I hadn't played Clue since I was a kid, but my older two were just ecstatic that we could do that. It was enjoyable to stay present and unplugged from the pressures of the world today and the fast-paced nature of society."
That slower pace will soon give way to a higher tempo and the demands of an 82-game NHL season.
Okposo, along with his Sabres teammates, will look to solve the team's playoff puzzle, specifically, how the Atlantic Division squad can make it back into the playoffs after a 12-year drought.
"When I look at this season, I look at all the talent we have and all the potential that is there. That's what I'm most excited about. We don't know how good we can be. … I'm very optimistic heading into the season and that's not something I take for granted."
Okposo, who signed with Buffalo as a free agent in 2016 and was named captain last October, has given plenty of thought to the expectations for both the team and himself.
"I think the first thing I look at is the possibilities, the things that I think we can achieve together. It's been daunting in Buffalo for the last number of years. When I came here seven years ago, I thought we were closer to becoming a really good hockey team than we were. That journey hasn't been easy, but it's something that I've tried to take in stride and also help our team become what we want it to be."
Okposo, who posted 11 goals and 28 points in 75 games the past season while recording 14:40 TOI/GP, is focused on everyone, himself included, coming into camp with a positive mindset and belief that this is the season for the club to make its first playoff appearance since 2011.
"One thing I want to continue to focus on is I want to play better than I did last season. I'm going to make sure I'm ready to go and that will allow me to have a bigger capacity to help others."
It will be one of the first messages the New York Islanders' 2006 first round draft pick shares with his teammates ahead of the season.
"I want to make sure that everybody is in the best frame of mind. When you go to work, if you aren't in a great mood or not ready to do your job to the best of your abilities, you're not going to perform as well. That is any job. It gets amplified by what we do because it's performance based. As captain, I want to make sure the guys have all the tools they need to be in the best place mentally to perform.
The 2023-24 campaign could also mark some notable personal milestones for Okposo. He currently sits 16 games shy of 1,000 NHL games and is only eight points away from reaching the 600-point mark.
Individual goals are somewhat of an uncomfortable topic for the forward who has recorded 91 of his 230 NHL goals in his 455 games played in Buffalo.
"I don't love to talk about myself or the milestone aspect, but when you start to get closer to 1,000 games, you look at the list of the guys who have done it and you see your peers that have achieved that in a similar timeframe as you. I have a lot of admiration and respect for the players on that list. It's very special. If you asked me six years ago when I went through my really bad concussion if I was going to reach that number, I would have said there wasn't a chance I would get there."
His primary goal still remains getting the Sabres into the playoffs – not only for the team he captains, but also for the fans in the place he calls home year-round.
"It's hard to put into words, but Buffalo has been perfect for my family for where we are at in our lives. Everything has been so convenient for us. My oldest is nine and my youngest is three, with two other ones in between, and this has been a phenomenal place to raise a family. The community has been so supportive, and people are just so nice. It's been a perfect environment for us to be in. I've seen the transformation in the city and how the fans feel towards our team. It's been fun to watch that shift since I've been here."