Carl Soderberg takes life lessons learned on the ice into his next chapter
After nearly 600 NHL games and a long professional career, the 37-year-old will shift his focus to pursuing higher education and spending time with family.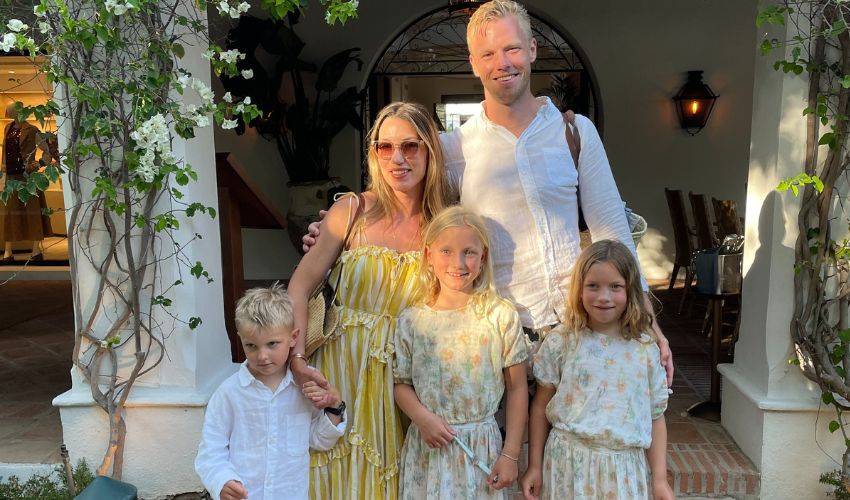 Feature photo courtesy of Carl Soderberg
---
Whether it was on NHL ice, playing in Sweden or suiting up for his country in international tournaments, Carl Soderberg made the most out of every hockey experience.
After playing in nearly 600 NHL games with four different teams, followed by two seasons with the Malmö Redhawks of the Swedish Hockey League, Soderberg officially announced his retirement from the game on August 1.
"It was the right time," the 37-year-old told NHLPA.com. "I feel very fortunate to have played as long as I did, now I'm ready to move on to the next chapter in life."  
The past few days have provided the native of Malmo, Sweden, time to look back on an NHL career that started in 2013.
Originally selected 49th overall by the St. Louis Blues in the 2004 Draft, Soderberg was traded to the Boston Bruins in 2007. His first NHL action did not come until the 2012-13 season when he played in six games with the Original Six club.
"First of all, when I came to Boston, I was hoping to make the team," he recalled. "I was fighting for a job. I came late in the season my first NHL year. I played pretty well, and I also got to play in the finals. I felt like I belonged in the team, and I wanted to stay with the Bruins as long as I could."
Following three years and 161 games with the Bruins, he was traded to Colorado in June 2015 for the first of two stints he would have the Avalanche. Soderberg also made stops in Arizona and Chicago before returning to Colorado. He played in his last NHL game with the Avalanche in May 2021.
"I came to the league late. I was 28, so I was proud that I was able to play as many games as I did because that doesn't happen very often, coming to the NHL at that age. That's one thing that stands out for me. I also got to play with some amazing teams and teammates. I´m thankful for those memories. In Boston, we made the final in 2013 and that was a great experience even though we lost. Everywhere had something good about it, including the last couple of seasons playing in Colorado."
In 104 games with Malmo, including one season as captain, Soderberg recorded 67 points, including 36 goals.
The gifted playmaker with strong defensive skills and a high hockey IQ achieved many of his successes despite being legally blind in his left eye, the result of an errant stick in a 2006 game.
Still, Soderberg found a way to excel after the career-threatening injury.
"It cost my career a little bit. I missed a little more than a year and after that, I didn't know if I was going to be able to keep playing or not at that point. I came back, a little insecure, but I felt better after a couple of years. Time heals and you learn how to play with one eye. You have to live with it and adapt, but now it's natural for me. I was happy and proud that I was able to come back and play good hockey and be given a chance."
Soderberg also had the honour of wearing the colours of Team Sweden on the international stage. He played in the 2005 World Junior championship, 2016 World Cup of Hockey and won gold at the 2017 World Championship.
Donning the Tre Kronor jersey remains one of his fondest hockey experiences.
"I was lucky enough to play for my country on a few occasions. Those are great memories. Every time you see that jersey you understand just how meaningful it is to play for your homeland. Those were proud moments for me."
Now, Soderberg will take some time to reset from hockey and focus more on family and further education.
"I'm looking forward to spending more time with family. The kids are getting older. Our oldest one is nine and the other two are seven and six. I've missed a lot of moments in their lives so I'm looking forward to being more present at home. My wife, Caroline, has been with me throughout my whole career. She has been amazing supporting me in my career and a hero at home".
A career in hockey, off the ice, is one of Soderberg's goals.
"First of all, I want to reset. You live in a bubble for 20 years, every day thinking and living hockey. My body needs to heal. I'm going to keep working out and stay in good shape. I take pride in a healthy lifestyle and will explore new ways to keep my body fit. I'm looking forward to start studying this fall. It will be in economy, entrepreneurship, and leadership. This will be my first step in exploring a new career within hockey."
While he plans to be involved in hockey off the ice, Soderberg remains grateful for the life lessons learned over his playing days.
"I'm excited to move on to a new stage in life now. I'm thankful for all people I've worked with and for the great teammates I've played with. I know the game has given me a great foundation to be successful."