As the first NHL player of Thai descent, Siegenthaler hopes to see hockey grow in Asia
Jonas Siegenthaler is deeply grateful for the backing he receives from the Asian fan base.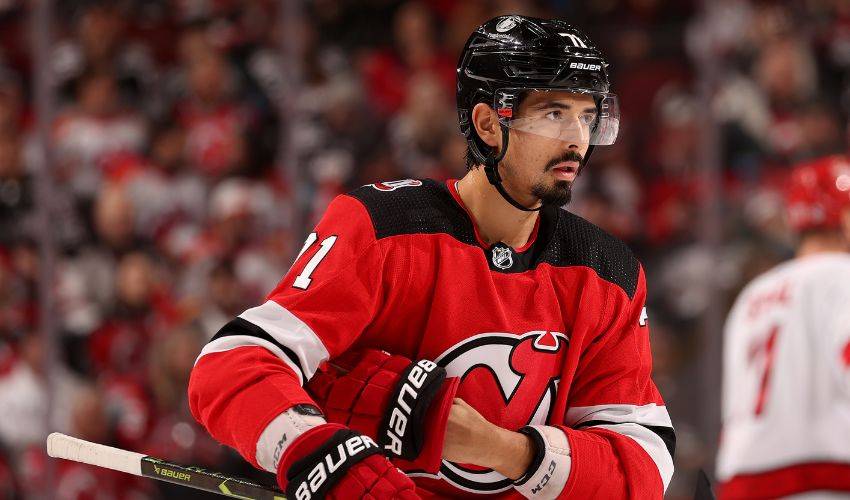 Feature photo: Getty Images
---
Making a world of difference is a big deal for Jonas Siegenthaler.
As the NHL's first player of Thai descent, the 26-year-old New Jersey Devils defenceman is aware he is in a unique position to be a role model for Asian youth to help others embrace the game.
"For me, it's important to bring hockey to Asia where it's not that big yet. It's always nice to have kids looking up to you and want to be like you one day."
Siegenthaler, who was born and raised in Switzerland, feels as deep a connection to the Asian country as he does with his European upbringing, even though he has only had the chance to spend brief periods of time in Thailand to this point.
The defenceman, who spent the first 97 games of his NHL career with the Washington Capitals before coming to the New Jersey Devils via trade in April 2021, has travelled to his mother's hometown, located in the Surin Providence of Thailand near the Cambodian border.
Siegenthaler's right arm sports several tattoos, including ink of a historic Zurich building. He also has one in Thai script just below his wrist.
Both are an homage to his unique heritage, something he is deeply proud of.
While there have been several NHL standouts who hail from his birth country of Switzerland – including current stars Roman Josi, Nino Niederreiter, Kevin Fiala, Timo Meier and Nico Hischier – Siegenthaler is optimistic the global reach of hockey can introduce more Asian youth to the game.
"I know a couple circumstances make it even harder for kids in Asia to get to know hockey or be financially able to play hockey. I hope things will turn around in the future."
Those kids have an ideal role model in Siegenthaler.
Drafted in the second round, 57th overall by Washington in 2015, the blueliner played in 70 games with the Devils in 2021-22 before he skated in a career-high 80 games and recorded 21 points with the team this past season.
Siegenthaler's game is built around a blue-collar approach, reflected in the 151 blocked shots, 20:09 TOI/GP and 101 hits he recorded in 2022-23.
"I just want to be hard to play against because I know my teammates are counting on me and the last thing you want to do is to let your teammates down. We have high standards here and each guy is fighting for each other."
Although New Jersey bowed out of the playoffs in the Second Round to the Carolina Hurricanes, Siegenthaler, who signed a five-year, $17 million contract extension in July, sees a bright future for the Devils.
"As a group, we are really tight on and off the ice. We really enjoy coming to the rink and getting to work together. One thing that really stood out is that we never quit. We were down two games in the First Round series against the Rangers and we never let our heads hang and always believed that we could turn this thing around, which we did. We just went out there and trusted our game and had fun."
Siegenthaler would like to see others like him have a similar experience at the game's highest level. It is why he is committed to playing his part in seeing that become a reality.
He is also deeply grateful for the backing he receives from the Asian fan base.
"Even though hockey isn't that big yet in Asia, I get to experience the support from there which makes me really happy."
Throughout the month of May, the NHL and NHLPA are celebrating Asian & Pacific Islander Heritage Month by highlighting the contributions and accomplishments of current and former players of Asian descent.