Career season for Brandon Montour topped off by Panthers' playoff run
The 29-year-old defenceman embraced the opportunity to play a larger role with the Florida Panthers this year.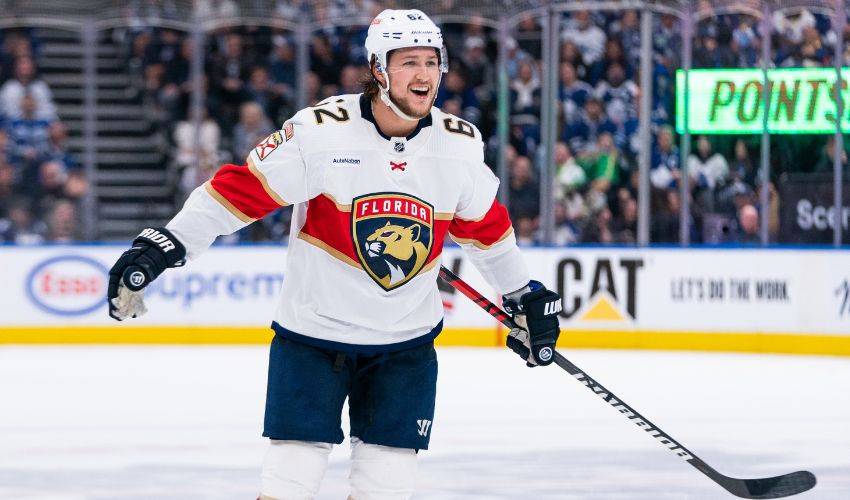 Feature photo: Getty Images
---
Brandon Montour has been turning heads this season for all the right reasons.
When the opportunity came for the 29-year-old defenceman to play a larger role with the Florida Panthers this year, he immediately embraced the chance he was given.
The end result has been a win-win for both team and player.
Montour posted a career-best 73 points in 80 games during the 2022-23 regular season and has carried that strong form into the playoffs where he sits third among defencemen in points with nine tallies.
"It's been really awesome to be part of this special group of players," Montour told NHLPA.com. "We have a great group of guys. Everyone enjoys each other, and we all want each other to be great."
After averaging 24:08 minutes of ice time during the regular season, he has upped that number throughout the playoffs, and has been a fixture in key situations, including scoring the game-tying goal in Game 7 against the Boston Bruins to send the First Round series into overtime, resulting in a Panthers series win.
Montour, who tied Jason Garrison and Aaron Ekblad for the most goals by a Panthers defenceman in a season with 16, was taken 55th overall in 2014 by the Anaheim Ducks, where he played 169 games before a trade sent him to Buffalo in February 2019.
He then played 112 games with the Sabres before the deal on April 10, 2021 , sending him to the Panthers.
"Knew he was a dynamic player," Montour's defence partner Marc Staal told the Canadian Press. "But being on the ice every day and playing with him, he does some pretty incredible things.
"We rely on him a lot for our offence. He's a big part of that. That pressure and responsibility was put on him. He just took it and ran with it."
The Panthers were left to claw their way back into the postseason picture after finishing fourth in the Metropolitan Division. The team has been labelled as longshots to go far in the playoffs, but the group has rallied around their underdog status.
Not that they see themselves in that light.
"As much as people say underdog … yes, we are a lower seed, but I don't think anyone in our room thinks we can't win on any given night," said Montour, who played an integral role in leading Anaheim to the Western Conference final in 2017. "We have full confidence in our group to be a great team."
Montour, who hails from Ohsweken, Ontario, on Six Nations of the Grand River, has felt the love from family and friends while getting to play some games close to home in the Second Round against the Toronto Maple Leafs.
It is one of many things that has motivated Montour throughout the 2022-23 season.
All that is left now is to cap off the campaign with a Stanley Cup..
No doubt he is up for that challenge.
"It's always about pushing yourself, striving to be better each game. No matter what happened in the game before, there is always room to improve, always ways you can find to contribute. And that's the goal you set for yourself each night you step onto the ice."
Montour played 29:00 in Florida's 3-2 overtime win against Toronto on May 7, as the Panthers now own a 3-0 series lead against the Maple Leafs. Florida has a chance to sweep the series on Wednesday evening.