Vincent Trocheck gears up for the postseason Hudson River rivalry
Trocheck is ready to bring his well-rounded game to the most meaningful matchups on the hockey calendar.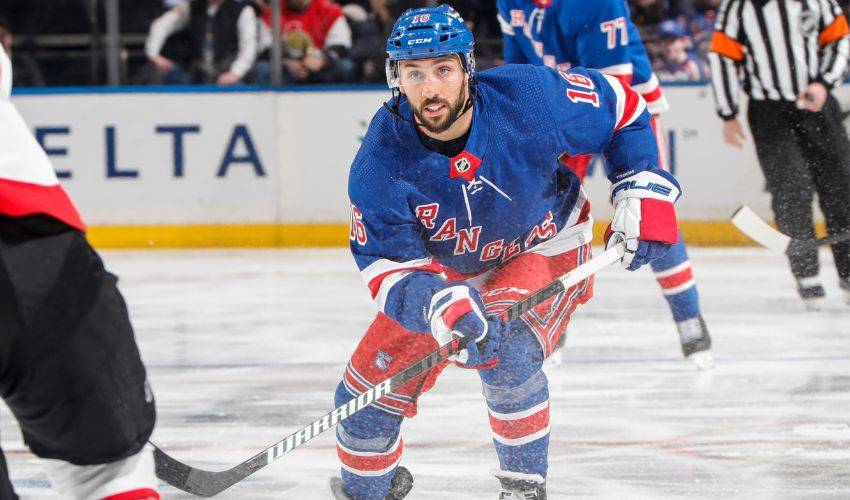 Feature photo: Getty Images
---
There is no need to ask Vincent Trocheck if he is ready for his first playoff experience with the New York Rangers.
"I'm looking forward to everything about the playoffs. That's the type of hockey that everyone, fans included, want to see," said the 29-year-old centre, who is set to face-off against the New Jersey Devils in the First Round of the Stanley Cup Playoffs.
Trocheck heads into the 2023 postseason with 33 Stanley Cup Playoff games to his name, including 14 last season with Carolina Hurricanes.
When the centre signed a seven-year contract as an unrestricted free agent with the Rangers last summer, it was obvious Trocheck was a welcome addition to the Original Six club.
"We just looked at a lot of different players, a lot of different options [at centre]," said Rangers general manager Chris Drury when the signing became official. "It's an important part of any hockey team and it's a hole we wanted to address. Just excited to have Vincent on board. He's a real good player, does a lot of different things. We're excited to have him."
In his first season with the Rangers, Trocheck, a 3rd round pick of the Florida Panthers in 2011, came exactly as advertised.
Offensively, he chipped in with 22 goals and 64 points in 82 games to post the second-best points total of his NHL career. Beyond those numbers, the Pittsburgh native posted a career-best 56.07 percent strike rate in the faceoff circle.
"My first season in New York was wild," said Trocheck. "The city and the fan base are extremely passionate about the team. I thought that was the biggest standout for me."
Now, Trocheck will look to take his playoff game to the next level as the Rangers enter the First Round.
"Any time you get to play for the Cup, you want to do every little thing you can to help the team. Those little details can sometimes make a huge difference in the outcome."
To date, Trocheck has made four playoff appearances, starting with a pair of games with the Florida Panthers in 2015-16, followed up by three consecutive playoff appearances with the Hurricanes from 2020 to 2022.
And fans of the Rangers will certainly want to see more of what No. 16 has in store this postseason, after his impressive first year with the Blueshirts.
Whether it happens to be lighting the lamp, setting up a teammate, stepping in front of a shot, or winning a key faceoff, Trocheck is ready to bring his well-rounded game to the most meaningful matchups on the hockey calendar.
"This is what we all play for. You really get up for these games and look forward to all the challenges that come your way."