Foes become friends as Garnet Hathaway settles into role with the Bruins
Hathaway was traded from the Washington Capitals to the Boston Bruins on February 23.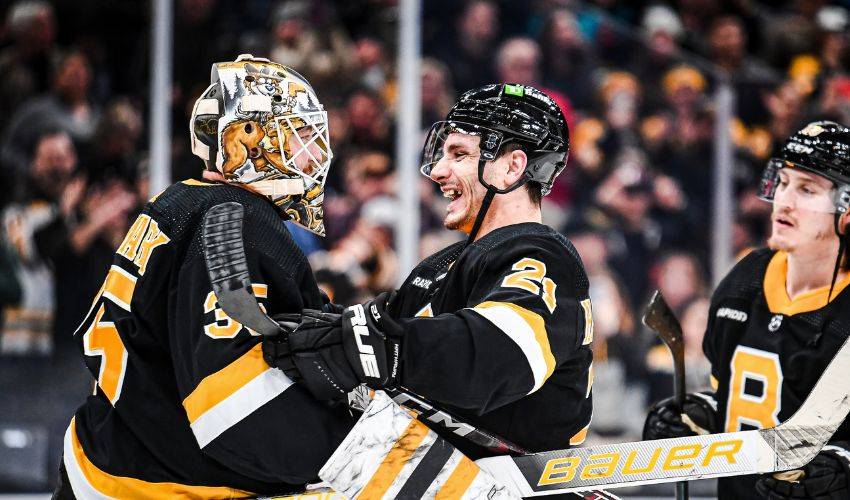 Feature photo: Getty Images
---
For Garnet Hathaway, it could have easily been an awkward conversation.
Sitting in a Vancouver hotel, Hathaway sat across from some familiar rivals after being traded from the Washington Capitals, along with blueliner Dmitry Orlov, to the Boston Bruins on February 23. The potentially tense conversation ended up being quite the opposite.
Knowing their past on-ice history, the 31-year-old forward figured their first meeting as teammates could be a little uncomfortable.
As it turned out, the interaction with the man voted the least enjoyable to play against in the 2022-23 NHLPA Player Poll was anything but unpleasant.
"In the meal room, Orly [Dmitry Orlov] and I sat down, and Marchy [Brad Marchand] came over and sat down," recalled Hathaway, of Marchand, the Bruins' ultra-competitive veteran forward. "Instantly, it was that mutual respect of having competed hard against each other over the years. We made a connection, a bond, in knowing we are now on the same team, and we can joke about those times. Obviously, he's really good at making light of situations, those difficult conversations that don't turn out to be that way at all."
Face-washes, back-and-forth banter and mutual trips to the penalty box were mentioned, all with big laughs.
"My mindset was, 'I played against these guys and competed really hard against a lot of them,' but I had a lot of respect for them and how they've handled themselves the entire season. Those scrums, battles in the corner and competitive mindsets … you have to create that situation in your mind where you know that they are going out there with the same energy and edge. Funny enough, it didn't take long for Marchy and I to look back on the games we played against each other. It came up quickly and it lightened the mood, and it brought guys into the conversation."
It also made Hathaway feel like he belonged right away.
A similar scenario unfolded the same day during a pre-game warm-up session at the hotel.
"It was really interesting, honestly, meeting the team on the road. I got into Vancouver with Orly around one in the morning after travelling all day, and we had a game the next day. The first time I really interacted with the majority of the guys was when we had a mandatory stretch/warm-up in one of the conference rooms in the hotel, to get guys moving before the game because there was no gameday skate. They were playing a game of two-touch with a massage ball, and I wasn't sure if I should hop in or not."
Eventually, Hathaway did.
"I knew some of the guys already, having trained with them during the offseason, but that had been almost four years. So, I hopped in. And from that moment, where they were encouraging me to jump in, that was just the beginning. I think because of the way I played against these guys, the way Orly played against these guys, we've earned a lot of respect in the eyes of the players on this team."
A message from one of the most respected players and leaders in the league also put Hathaway at ease.
"I can't say enough nice things about Patrice [Bergeron]. I really can't. From the moment I got traded, having a missed phone call from him telling me to reach out any time I want, even though they had a game in Seattle that day, since that moment, I felt part of the team, but he really is a leader who brings guys together and shows respect to everyone. He is a true professional and will also look you in the eye and tell you what he thinks. He sees the value in everyone, knowing that each player is important in chasing our collective goal. I really believe it's helped the team and organization be successful."
Hathaway is doing his part to see that success continue.
The veteran of over 450 NHL regular-season games has endeared himself to his teammates through his on-ice contributions. His combination of grit, energy, hard hits, blocked shots and timely offence – two of his three goals with Boston are game-winning tallies – has made him a valued member on a team that has broken franchise records this season.
It is the latest chapter in a career that Hathaway, at one time, did not expect to have.
Hathaway, who played on a line with future NHL standout Chris Kreider at prep school, spent four seasons at Brown University following high school. The undrafted free agent spent his first full pro campaign with Adirondack in the AHL before earning a two-way contract with the Calgary Flames.
The trade to Boston sparked a trip down memory lane for Hathaway.
"I take pride in the journey, to look back on the accomplishments and hard work, to not be so self-critical like most of us hockey players can do, maybe just for a minute, an hour, or a day, to appreciate how you got to this point. To look back on it, it's been a crazy journey, one that I wasn't sure would even get past the AHL level once I was there. I've tried to continuously improve myself as a pro over the years."
One of several reasons why the Bruins brought him into the fold.
"Being traded to the best team in the league, I think is something I take as a huge compliment for the work that I've put in and the career that I've had. To look back on it, I don't think I could have scripted it any better. But, at the same time, it's very unique, and it's my story."