NHLPA Goals & Dreams helps NHL alumnus Sandy McCarthy bring hockey to Délı̨nę
Délı̨nę Minor Hockey received 25 brand new sets of hockey equipment this month, courtesy of the NHLPA Goals & Dreams fund.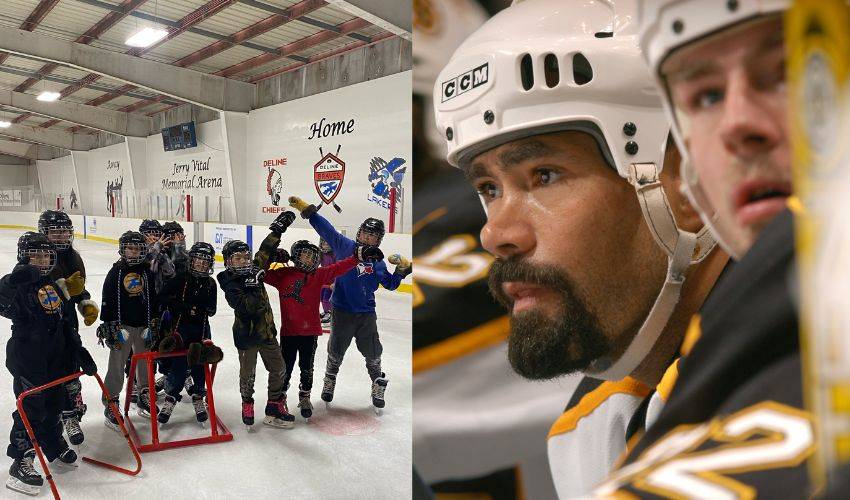 Feature photos courtesy of Sandy McCarthy & Getty Images
---
It is fitting that some of the discussions former NHL player Sandy McCarthy has had with the children of Délı̨nę Northwest Territories, focuses on their goals and dreams.
Nearly every day of the week, the rink in the remote northern community of 500 people is bustling with dozens of kids gliding around the ice as McCarthy, a veteran of 736 NHL games, joins them for hours of skating and instruction while consistently offering up words of encouragement.
"Those smiles are big every time they're on the ice," said McCarthy, who played for six different teams over his 11-year NHL career. "I always thought hockey was great at building self confidence. I always tell the kids that it doesn't matter what they want to do, as long as you try and put effort into it, you'll become good at it in time. It's important they have those goals and dreams. And they've proved that they do."
Délı̨nę, which translates to "where the waters flow," is a small community with a big passion for hockey. Last year, the community, touted as the birthplace of the game, replaced the rink's gravel surface with concrete, and held an opening ceremony for the facility.
With major improvements to the facility complete, it has become a focal point of Délı̨nę, a place to promote recreation and tourism in the region, and most importantly, for McCarthy, a home for kids to grow their love of hockey.
"I'm the coach and hockey director, a lot of things rolled into one," explained the 50-year-old, who holds a host of hockey related titles in the community. "We have a department that helps out with the other logistics of everything, but I'm pretty much at the rink every day, from about 10 in the morning until eight at night. It's more than hockey. The kids have a safe spot in the rink, and they spend quite a bit of time there. On weekends, we don't play hockey, we just open it up for free skating. We usually do that from one until about three, but it usually ends up being from one to six. The kids understand now that there is a safe place for them, and they can open up and be themselves."
McCarthy relishes in his roles in the town that lies on the western shore of Great Bear Lake and is 544 kilometres northwest of the provincial capital, Yellowknife.
"I've been friends with some of the leaders in the community for years. When you see how much the kids need something like this, it makes you stop and say, 'Wow.' It's great to see how happy they are. A lot of the kids didn't even know how to skate. They haven't had anything for many, many years. The biggest thing was when I was able to get them off the skating aids, and they started to skate on their own, you could see the excitement they had. It was thrilling for me."
McCarthy is just as thrilled in knowing more kids in the community will soon have a chance to experience hockey.
This month, Délı̨nę Minor Hockey received 25 brand new sets of hockey equipment, courtesy of the NHLPA Goals & Dreams fund, which launched in 1999.
Donations from the players' program have since benefited more than 80,000 disadvantaged children in 34 countries and assisted in the building and maintenance of hundreds of arenas worldwide. To date, NHLPA Goals & Dreams has donated more than $26 million to grassroots hockey programs around the world, making it the largest program of its kind.
"It's [the donation] going to be huge because I've had to turn a bunch of kids away since there isn't enough equipment," said McCarthy. "They are coming out to do the free skating on the weekends, but they want to play hockey too.
"The kids really want to play. I'm telling them that we get the gear, they're ready to go and the beginners can start practicing. They are all excited. It's funny, really. Every time they come to the rink, they'll ask me about the equipment. Some of the kids have asked me 50 times. So, it will be nice when that gear comes in. All they want to do is get out there and play with their buddies."
McCarthy has quickly become a popular figure in Délı̨nę.
Although his last NHL game came in 2003-04, the kids eventually discovered his NHL identity.
"They are curious. I've been out of the game so long, that at first, the kids didn't know who I was. They just knew I played hockey, and I could skate. But it didn't take them very long to look at their screens. They would tell me, 'You're not mean!' They got a kick out of some of what they were seeing on YouTube."
McCarthy is grateful for the new chapter of his hockey journey, one he had not anticipated being on.
His connection with the kids grows stronger by the day.
"One of the kids went out hunting ptarmigan and brought me back a bird. He said, 'I want you to have this.' For him, it was a huge gesture, and it was for me too. I had some pride in the fact that he was willing to give me some of his haul. It shows he does care for me and the program."
Another example of how Délı̨nę has been a life-changing experience for McCarthy.
"The first game with the new rink, we played against one of the other communities, and the rink was full. There was so much support. Everyone was just so excited to see the kids play. And now, we'll have 25 sets of new equipment from the NHLPA. All of it is definitely something that I will never forget … being in this community and being with these kids and families. Things are definitely different in this part of the world. You can see the love and caring everyone has for one another, and the importance of sharing with everybody. They are very rich up here, but in a different way."