NHL players gift Alex Ovechkin a piece of hockey history to celebrate historic achievements
Ovechkin received unique set of Gordie Howe items from NHLPA membership.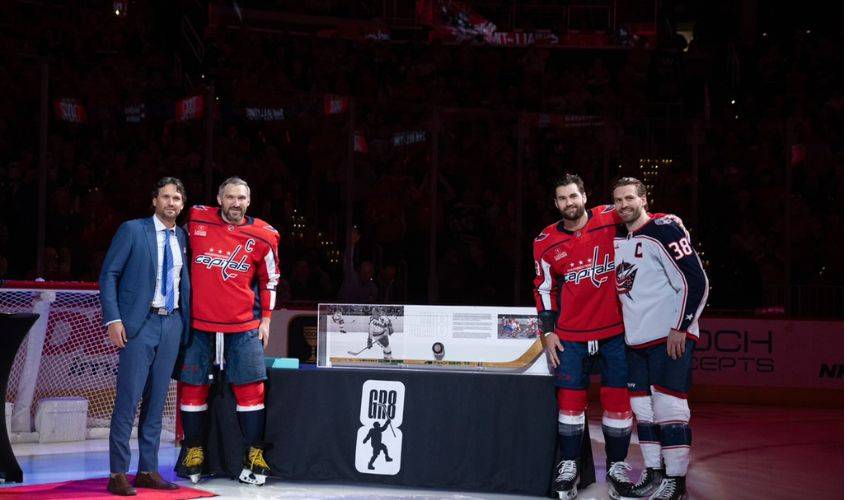 All photos courtesy of the Washington Capitals
---
Alex Ovechkin now owns a special piece of international hockey history, two artifacts from an NHL legend's history that will forever remind him of his own place among the all-time greats.
It is a fitting gift for a player who enjoys collecting goals as much as he does hockey sticks.
Earlier this season, Ovechkin overtook NHL icon Gordie Howe's record for most career goals with a single franchise (787) and soon afterward passed Howe for second in all-time regular season NHL goals (802). On Tuesday, during the Washington Capitals' pre-game ceremony honouring Ovechkin's achievements, Tom Wilson (Capitals teammate), Boone Jenner (Columbus Blue Jackets captain) and Ron Hainsey (NHLPA Assistant to the Executive Director), presented Ovechkin with a unique set of items acquired directly from the Howe family on behalf of all NHLPA members.
The NHLPA's purchase of the gift is being directed to the Howe Foundation – a legacy project set up by the four Howe children to honour Gordie and Colleen Howe.
Housed in a custom-built case are a souvenir stick and game-puck from Howe's only international hockey series, the 1974 Summit Series played between Canadian stars of the WHA and the USSR national team. The stick, autographed by the Soviet team, was originally presented as a gift by the team to Gordie Howe during the September, 1974 series.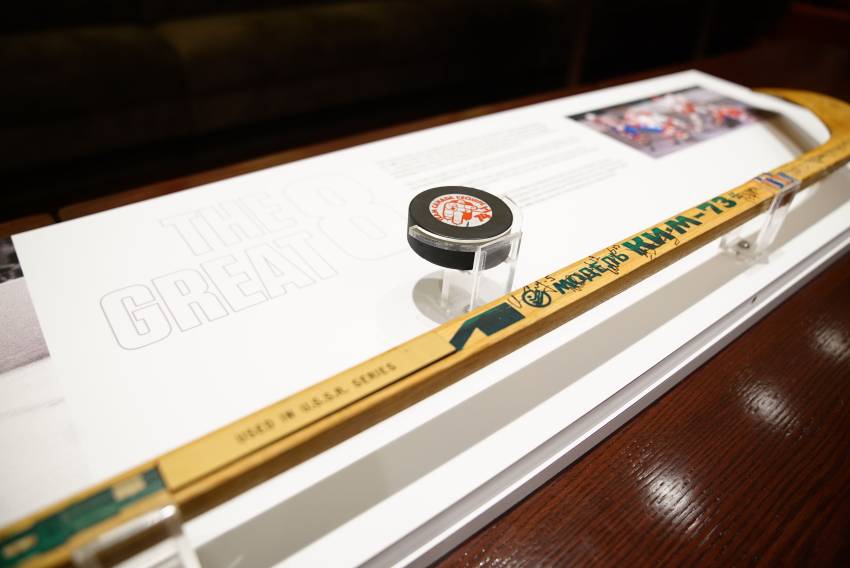 After years in the Howe family collection, the stick and puck were later displayed in the Hockey Hall of Fame in Toronto. Some of the autographs on the nearly 50-year-old stick include Boris Mikhailov, Alexander Petrov, Alexander Yakushev and Valeri Kharlamov. Encased with the stick, Ovechkin also received a Team Canada '74 game puck, which Howe blasted past Vladislav Tretiak during Game 4 on September 23, 1974, in Vancouver.
Both the stick and puck were later displayed in the Hockey Hall of Fame in Toronto.
Gordie's son and fellow Hockey Hall of Fame member, Mark Howe, who played 929 NHL games and 426 games in the WHA, spoke recently with NHLPA.com about the unique gift that was once a proud piece of his father's collection.
"The NHLPA reached out, came to us, about the idea of acquiring one of dad's sticks as a gift for Alex passing Gordie on the scoring list," recalled Mark, who played for Philadelphia, Hartford and Detroit over his 16-year NHL career. "The PA called and informed us that Alex loves collecting sticks, so we gave them a few options of what we had. Between Marty [Mark's brother] and I, we chose a few stick options for Alex and the NHLPA ended up selecting the one they thought would be best suited for the gift. Certainly, some things will never be for sale, to remain part of the history of Gordie Howe, but this is something special, without a doubt. To see a present-day peer of dad's receive this, it means a lot to our family. I know it would mean a lot to Gordie."
The Washington Capitals captain passed Gordie Howe for second on the NHL career goals list on December 23, 2022, scoring his 802nd NHL goal into an empty net with a late tally in the third period of Washington's game against the Winnipeg Jets.
After tying Howe earlier in the contest, Ovechkin ripped home a shot inside the blue line for the milestone marker. Teammates came off the bench to celebrate, as fans serenaded the star with chants of, "Ovi! Ovi!"
A video tribute from Mark Howe would follow moments after the goal.
"We want to congratulate you on such a fantastic achievement," Mark Howe said. "You've been a pleasure to watch."
And, as Mark Howe admitted, a pleasure to have avoided playing against.
"I would have defended him a little differently than the guys today," Mark said with a laugh. "He's so big and he has a great shot, one of the all-time great one-timers. When he sets up, especially on the power-play, for that one-timer – I scouted him for so many games – it is just flat-out wicked. I've watched that puck hit the corners, down high, down low, and everywhere else in between. That shot is so hard. I saw someone step in front of one and I thought, 'Dear Lord … I'm glad that wasn't me.' He's such a big and powerful player, in a physical presence type of way."
While there are plenty of differences between Ovechkin and Gordie Howe, including playing different positions (Ovechkin is a left-wing, Gordie was a right-wing), Mark does see some similarities between the pair.
"Mostly, in their size. When dad started playing in the 1940s, he was 206, 207 pounds – what he was for most of his career – and the other guys were 170-175 pounds. Both of them had a tremendous advantage, physically, over their competition. I always told dad – and he hated when I said it – that he was the most ferocious player I've ever seen. He did stuff I never dreamed of doing. Obviously, it was a different game than what I saw and the game today. There are similarities between Alex and Gordie, but there are differences too."
Another connection is the relationship with fans.
Mark, who was a long-time NHL scout following his playing career, has enjoyed watching the interactions between Ovechkin and Capitals' supporters.
"You can see the great relationship between Alex and the fans in D.C.," said Howe, who met Ovechkin for the first time last November in Detroit. "It's really nice to see. He gives back to the people, and they give back to him just as much. To me, that's really important."
When asked who from his own playing days Ovechkin reminded him of, Mark was quick to point to two Hall of Fame stars: one an offensive stalwart with an intimidating physical presence, the other known for his legendary one-timer.
"Jarome Iginla played a strong, physical, powerful game. He could score, and he could make plays. [The player] most similar [to Ovechkin] … it would probably be Brett Hull. They both knew how to get open and find that spot to get off that booming shot. Both had great one-timers and a tremendous scoring touch."
Having the chance to watch Ovechkin – who entered Tuesday's game only 76 goals away from passing Wayne Gretzky for the all-time NHL scoring title – continues to be a thrill for Mark.
Knowing that Ovechkin now has ownership of a treasured piece of hockey history is equally enjoyable. This was affirmed when Mark had the chance to meet Ovechkin earlier this season.
"[Before I] went to a game and I got to meet Alex, I remember seeing an interview with Alex and the person asked him if he knew much about Gordie Howe. Alex had a big smile and said, 'Who hasn't heard about 'Mr. Hockey?' Anybody that loves this game and has a passion for this game knows the names Gordie Howe, Bobby Orr, Jean Beliveau, Mario Lemieux, Wayne Gretzky, Mark Messier, the list goes on and on. Those names will live forever for the iconic people they are and what they did for the sport."