Kraft Hockeyville 2023 announces top 4 community finalists
The finalists are one step closer to receiving $250,000 in arena upgrades and winning a chance to host an NHL® preseason game.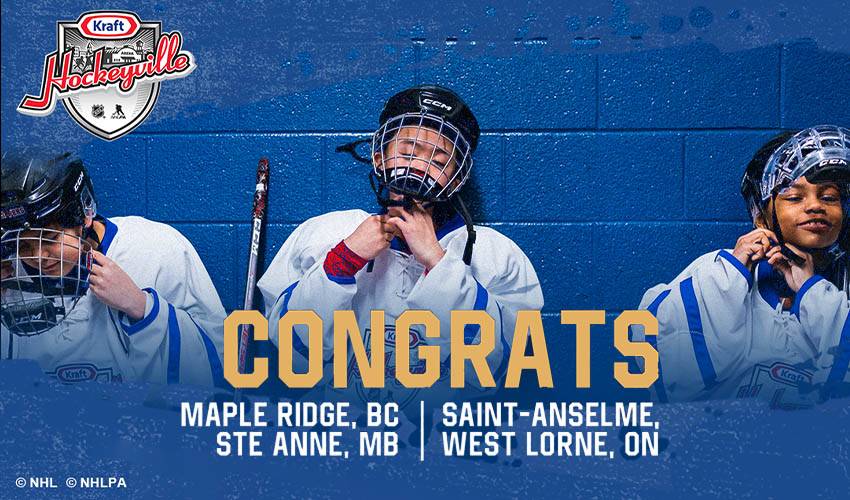 ---
TORONTO, ONTARIO -- Kraft Heinz, in partnership with the National Hockey League (NHL) and the National Hockey League Players' Association (NHLPA), has announced the Top 4 finalists competing for the coveted title of Kraft Hockeyville 2023. Those communities are (from West to East):
Maple Ridge, British Columbia (Maple Ridge Planet Ice)
Ste. Anne, Manitoba (Maurice Chaput Arena)
West Lorne, Ontario (West Lorne Arena)
Saint-Anselme, Quebec (Centre Sportif Bellechasse-Dorchester)
Over the last 17 years, Kraft Hockeyville has awarded $4.5 million to 93 communities to support Canada's aging sports and recreation infrastructure. The program is dedicated to building stronger, more connected, and inclusive communities across the country through the love of the game of hockey. The Top 4 community finalists are one step closer to cementing their place as part of the program's longstanding legacy, alongside most recent winners Sydney, Nova Scotia (2022); Elsipogtog First Nation, New Brunswick (2021); and Twillingate, Newfoundland and Labrador (2020).
In a very close competition, the Top 4 community finalists were selected based on their nomination stories and their ability to score additional rally points by engaging their community and demonstrating their passion and pride for the game of hockey.
"This year's program has once again reinforced the important role passionate hockey communities play in both growing the game and making it more inclusive and accessible for all Canadians," said Adam Butler, President, Kraft Heinz Canada. "We received thousands of entries from deserving communities and narrowing it to four finalists was certainly a challenge. This year's Top 4 finalists truly embody the heart and soul of hockey and now it's up to Canada to vote for the winning community."
The 2023 grand prize winner will have an opportunity to host an NHL® preseason game and receive $250,000 to be used towards arena upgrades, in addition to the coveted title of Kraft Hockeyville 2023. This year's winner, and each of the three runner-up communities, will also receive $10,000 worth of new hockey equipment for their minor hockey programs, courtesy of the NHLPA Goals & Dreams fund.
All Canadians from coast-to-coast can play a role in determining the winner of Kraft Hockeyville 2023 by voting for one of the Top 4 communities online at krafthockeyville.ca. Voting opens on March 31 at 9:00 a.m. ET and closes on April 1 at 5:00 p.m. ET. Votes per person are unlimited but can only be cast on the website during the voting phase. The winner will be announced live on Hockey Night in Canada the evening of April 1 following the conclusion of the voting phase.
For complete contest rules and programs details, and to learn more about the Top 4 finalists, including their stories, photos, and videos, please visit krafthockeyville.ca.
About the Finalist Communities
Maple Ridge, British Columbia (Maple Ridge Planet Ice)
The passion for hockey in Maple Ridge is what keeps the community thriving. When players finish their games, they find themselves in the stands cheering on other residents donning the "Rustlers" logo. Since 1998, Planet Ice has been the place where community spirit comes alive, whether it's hockey games, public skates, speed skating, or ringette. Maple Ridge is determined to keep Planet Ice the center of its community, and it's turning to Kraft Hockeyville for help. Winning Kraft Hockeyville would help accommodate a new generation of players and fans with renovated bathrooms and dressing rooms, new seating and more.
Ste. Anne, Manitoba (Maurice Chaput Arena)
Ste. Anne is a small town with a big love for hockey. That love for the game is growing by the day! This year, the community's minor hockey association set a record for registrations, with even more expected next year. Maurice Chaput Arena, known as the community's "winter home", is the gathering place for the growing number of players and fans, young and old. It is in desperate need of a new ice making system, with many in the community worried that without it, there won't be a place for the players to play next year. Winning Kraft Hockeyville would not only help Ste. Anne keep players on the ice, but honour the memory of Coach Neil, a fixture in the community whose recent passing has inspired residents to keep his legacy alive.
West Lorne, Ontario (West Lorne Arena)
West Lorne Arena has been a hub for the communities of West Lorne, Rodney, and Dutton since it was rebuilt after a fire in 1968. Since then, the arena has been full every Friday, Saturday and Sunday, with families either on the ice or supporting behind the scenes. That includes current NHL player Bo Horvat, who grew up at the arena. His family still supports first year minor hockey registrants through the "Gooday Lets Play" program. As the number of minor hockey registrants grows to record levels, the community is running out of space. Winning Kraft Hockeyville would help with a range of upgrades including a new front entrance with more accessible larger doors, new dressing rooms to accommodate more players and an expanded warm room for families and fans.
Saint-Anselme, Quebec (Centre Sportif Bellechasse-Dorchester)
If you are visiting Saint-Anselme and are looking for somewhere to go, Centre Sportif Bellechasse-Dorchester is the place to be. Fundraised by residents and built in 1978, it is the heart of the community and residents are determined to keep it that way. It's the home of community hockey and is also the venue for a variety of events including fundraisers, music shows, and kids day camps. Over the years, the town has come together to support renovations to its arena, but more needs to be done. Winning Kraft Hockeyville would help Saint-Anselme change their rink boards, seal leaks in the roof, upgrade the cooling systems, adjust the ventilation system and more. It's all in an effort to keep Centre Sportif Bellechasse-Dorchester a place where all residents are welcome and comfortable.