Increasing the visibility of women's hockey has Laura Stacey putting rivalries aside
The 28-year-old forward is a respected veteran on the international scene and the within the PWHPA.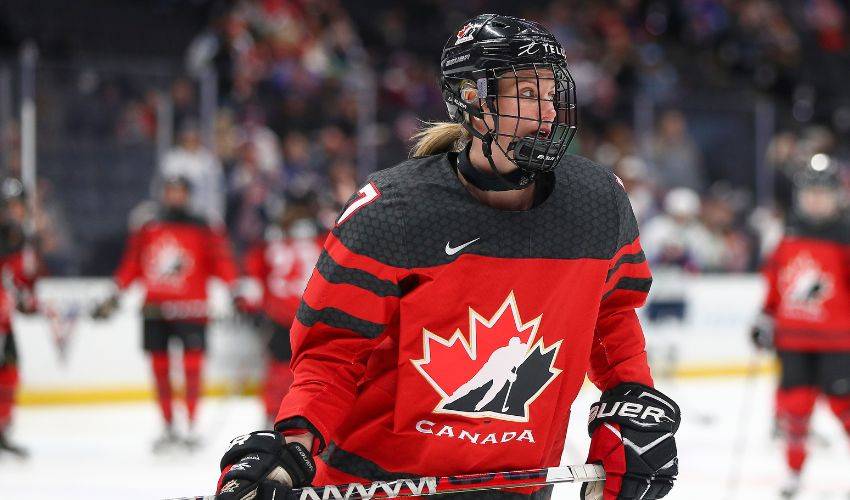 Feature photo: Getty Images
---
Her career has had its fair share of ups and downs, but a quiet resolve and winning attitude helped Laura Stacey strike hockey gold.
It was a shining moment for many reasons when Stacey looked down at her Canadian jersey and saw the gold medal draped around her neck at the 2022 Beijing Olympic Winter Games.
The road to the greatest moment in her hockey life was hardly an easy one for the player who made her Olympic debut at the 2018 Olympics where Canada earned silver.
Stacey first wore the maple leaf as a member of Canada's National Women's Under-18 Team eight years earlier. She had been cut from the National Women's Team four straight years before making her IIHF Women's World Championship debut in 2017.
Now a staple of the squad that recently stormed back from a 3-0 deficit to best the U.S. four games to three in the Rivalry Series, the 28-year-old is a respected veteran on the international scene and the within the Professional Women's Professional Hockey Association.
"It's crazy to say veteran leadership and crazy to hear that, to be honest," said Stacey, a great-granddaughter of late NHL legend King Clancy. "It has been a lot of ups and downs … it's not easy. It's not an easy career at times. You want to continue to improve and there are others that are doing the same, so I've definitely tried to wrap my head around that idea more. I ask myself, 'How can I provide that veteran leadership?' Or use what I've learned through my ups and downs and help those around me or the younger players who are going to experience some of the similar things."
Stacey, who contributed three assists in Canada's 5-0 win in Game 7 of the Rivalry Series, is not just solely focused on her national team role.
The former collegiate standout at the University of Dartmouth is also working alongside her fellow players to grow the women's game.
Stacey, who joined the PWHPA in 2019-20 and plays for the Montreal-based team during the league's Dream Gap Tour, is buoyed by the increase in awareness and support of women's hockey.
"One of the big things we've preached is visibility, getting the game out there, and how we can allow young girls to see it and dream it. That's the one thing I've been impressed with throughout the whole Dream Gap Tour, the Rivalry Series and women's hockey in general, people are starting to know what's happening, where the games are, buildings are jam-packed and the games are on TV. The viewership numbers are awesome, so I think we're making a lot of progress. Obviously, there's a lot of work to be done, and we want to have that league, but just seeing the young girls come out and tell you, 'That's awesome, I want to play here just like you,' that's why we're doing this."
Stacey, who has trained with Toronto Maple Leafs forward Mitch Marner in the offseason, is grateful for the widespread backing from NHL players.
"Their support means a lot. We work out with them, we train with them, they know what we do on a regular basis. They see how we train, and we see how they train, and we have as much respect for them as they do for us. It's a mutual respect and reciprocation."
Conversations between both sides, like the ones Canadian star Sarah Nurse had on ice with NHL players at the recent All-Star Game in Florida, put a smile on Stacey's face.
"It's not a female hockey player and a male hockey player talking. It's just two hockey players. At the end of the day, we do the same thing, and we do it the same way. We want to be better, we want to be successful. We have similar mindsets.
"They're great guys and their support has increased. It's always been there. Maybe it was just them not knowing how to support or where to support it, but the support is definitely there. We respect and support them a lot and having them on our side together on this is really important."
Just as it is with their U.S. rivals.
Whatever the stage, including the upcoming 2023 IIHF World Championship in April, the Canada-U.S. hockey rivalry remains one of sport's most compelling clashes.
Outside of that arena, players from both sides are a united front when it comes to their game and the push for a sustainable league.
"We're friends. We come to the PWHPA events and we're teammates, linemates and roommates. We spend a lot of time with them now. When we're playing in those PWHPA events, those rivalries are put aside because we are fighting for a common goal, to create a league and for the future of our game. When you play those PWHPA games, you want to win for the team you're on and the players who are teammates.
"The players change, the coaches change, but the rivalry won't ever change. We spend a lot more time with the Americans than we ever have in the past because we're trying to build this professional league."
Stacey and her Canadian teammates put the Rivalry Series triumph in the rear-view mirror not long after the hard-earned victory.
The next chapter, one that takes place next month in Brampton, Ontario, is now front and centre.
"Whenever there's any big win against the U.S., there's always a big celebration and we are excited about it, but the next morning it's back to work. It feels great to win, but at the end of the day, there's more we're searching for as a team, and it's a step along the way. The celebrations are big and exciting, and we're proud of those wins, but it's right back to work and the next day of learning and getting better."
An approach that continues to serve Stacey well.
"No matter how hard it is to get to where you want to be, the ups and downs along the way, no matter if you're feeling confident or not, when you slip that jersey on it brings you back to those childhood days when it's what you dreamed of and now you're really there