NHLPA Executive Board appoints Martin J. Walsh as Executive Director
29th U.S. Secretary of Labor joins the NHLPA after long career as labour leader.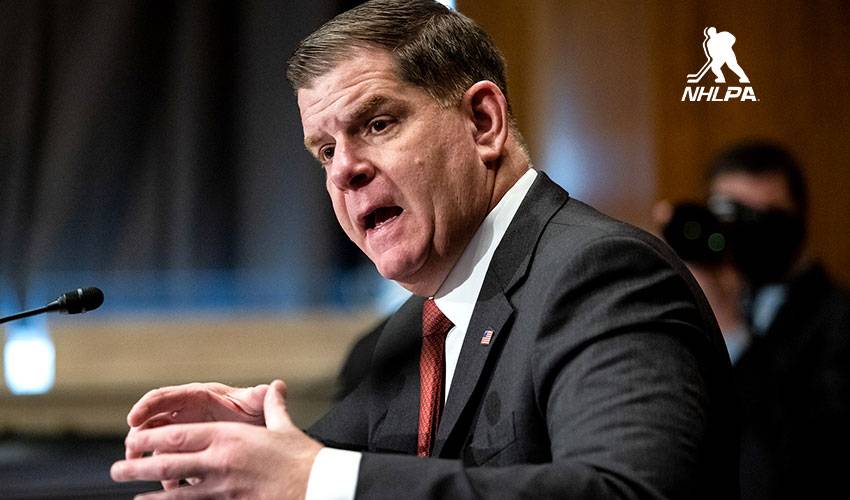 ---
TORONTO (Feb. 16, 2023) – The National Hockey League Players' Association announced today that the Executive Board has unanimously appointed Martin J. Walsh as NHLPA Executive Director, following its player-led Search Committee's recommendation of Walsh for the position after a nine-month effort.
Walsh, 55, comes to the NHLPA with a distinguished record of public service. Most recently, he served as the highest-ranking Labour official in the U.S. government, confirmed by the U.S. Senate as the 29th Secretary of Labor for the U.S. Department of Labor on March 23, 2021. Prior to joining President Biden's Administration, Walsh was the Mayor of Boston from 2014 to 2021. He also spent 16 years serving in the Massachusetts House of Representatives, having first been elected in 1997.
Walsh's time in government was preceded by a long history as a union member and labour leader. He followed in his father's footsteps when he joined Laborers Local 223 in Boston, at 21 years old, and he rose to the presidency of that union. In 2011, he was appointed as the head of Boston's Building and Construction Trades Council, which is an umbrella group of numerous local construction unions representing tens of thousands of working families. He stepped down from that position in 2013 to make his first run for Mayor.
"I am honored to have been selected as the Executive Director of the NHLPA. In accepting this offer I am committing to do all that I can to advocate on players' behalf," said Marty Walsh. "My years of experience in the labor movement and in public life has taught me that the job is never about me. It's about us. It's about the people we serve. So I look forward to working with players and the NHLPA staff to make the NHLPA the best and most effective team we can be to advance and protect the interests of our players and their families."
"We are excited to name Marty Walsh as the next Executive Director of the NHLPA," said Kyle Okposo, NHLPA search committee member. "Marty is a proven leader with a strong union background. His energy and ability to connect with players were immediately evident to the search committee. These were the very qualities we were focused on throughout our search for the next Executive Director. We look forward to the NHLPA's future under Marty's leadership."
After the process to seek Don Fehr's successor began in April 2022, the Search Committee retained the executive search firm of Russell Reynolds Associates and experienced outside counsel to assist in the search and selection process.
Walsh succeeds Fehr who has held the position since Dec. 18, 2010. He will step into his new position in mid-March. An introductory media conference with Walsh will be scheduled following his start date.
The 10-player Search Committee consisted of Ian Cole (Tampa Bay Lightning), Mattias Ekholm (Nashville Predators), Justin Faulk (St. Louis Blues), Sam Gagner (Winnipeg Jets), Zach Hyman (Edmonton Oilers), Kyle Okposo (Buffalo Sabres), Nate Schmidt (Winnipeg Jets), Kevin Shattenkirk (Anaheim Ducks), Jacob Trouba (New York Rangers) and James van Riemsdyk (Philadelphia Flyers).