Brandon Hagel credits linemates for breakout season with Lightning
The 24-year-old Hagel has teamed up with Nikita Kucherov and Brayden Point to form one of the league's most formidable forward lines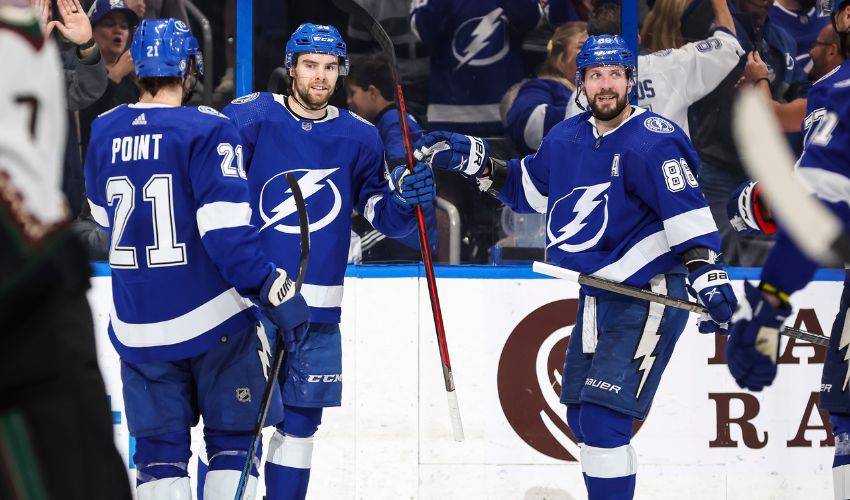 Feature photo: Getty Images
---
Brandon Hagel offers up two impressive reasons as to why the 2022-23 NHL season has been a memorable one for him so far.
The Tampa Bay Lightning forward cannot pinpoint a specific game, play or individual moment where he knew the current NHL campaign would be his best to date.
Instead, he serves up a pair of numbers, specifically, 86 and 21.
"Getting the opportunity to play with Pointy [Brayden Point] and Kuch [Nikita Kucherov] was something where you think to yourself, 'I need to make the most of it,'" said Hagel of his two teammates who don the jersey numbers 21 and 86, respectively. "Number one, you get to play with superstars and number two, you're bound to succeed. So, I wouldn't say I can recall a particular thing where I knew it could be a big year. It would be getting the chance to play with those two guys. I guess I'd put it that way."
The 24-year-old Hagel, who came to the Lightning via trade with the Chicago Blackhawks last March, has teamed up with Kucherov and Point to form one of the league's most formidable forward lines – a trio with the capability to overwhelm their opponents in a number of ways.
A two-time Stanley Cup champion and 2019 recipient of the Hart Trophy, Art Ross Trophy and Ted Lindsay Award, Kucherov, according to Hagel, possesses a versatile skillset with an ability to impose his will whenever he is on the ice.
"Kuch is a one-of-a-kind hockey player. He's unbelievable with the plays he makes, the things he can do with the puck. Basically, for me, it's about being ready all the time. I wish I could say I could incorporate something from his game into my own, but that would take me a little bit. He works just as hard outside of the games as he does in them. He has amazing skills. He's able to get that puck back, to go in hard on the forecheck, and if he has to dump the puck in, he'll do that too. That's what makes him so good."
Hagel has equal praise for his centre, Brayden Point – a two-time Stanley Cup champion who recorded 56 points in 46 playoff games during the Lightning's two championship seasons and is closing in on 200 career goals.
"Pointer, he tracks down pucks and his high speed is incredible. That's not something a lot of players can get to. He can go 100 percent and put the puck right through your legs or in between your stick … that's a great attribute to have."
As to where he sees himself fitting in, Hagel, a sixth-round pick of the Buffalo Sabres in 2016, relishes his role as a set-up man for his linemates.
"For myself, I've been as consistent as I can possibly be. I try to go 100 percent every shift and I think when I'm out there, I can complement these guys by being able to get the puck to them, and when I can get the puck on their stick, it's obviously a good thing for me and the team ... I really just look at doing things as simply as possible. It's been working well this year."
Self-confidence, not surprisingly, is at an all-time high for Hagel.
It was quite the opposite feeling, however, when he was dealt to the Lightning from the Blackhawks.
"When you first get here, it's a little bit different. Everyone is so nice and welcoming, and excited to have you here. At the same time, you're a little nervous. You have to find a place and fit into the lineup. As it went on, it became a huge confidence boost. I want to be here for a long time, so for that time, you want to do whatever you can to help this team win. That's what I want to do, to win and to contribute."
Hagel has checked both boxes.
His game plan for the rest of the regular season and beyond is simply doing what he has done to this point.
"If you want to continue to play with these guys, you have to contribute and help them out. It really is about being consistent every night and being the best version of myself. I think that's what got me to this point."
Whenever he has had to deal with adversity, Hagel looks to his mother and father for inspiration. His parents, Dwayne and Nicole, played a major role in his rise to the NHL ranks.
"My parents, I give them a lot of credit. I always wanted to be the hardest working player out there and I got that from them. If you have that approach every night, good things will happen. I went through some ups and downs in my career, where things didn't always go my way – not being signed, not being drafted – so there was a little edge with myself, that I know that it's never over and I can always continue to push and work as hard as I can every day. That eventually got me to the NHL and I always go by what I see in my parents. They go to work and give 100 percent every day, and they gave me the ability to play hockey. So, when I go on the ice, I want to be like them. That's what they did to get me here."
It certainly shows in Hagel's game.
He is looking forward to building on his breakout campaign.
"Being in Tampa, it's been great how things have worked out. I'm glad I landed here."