Tage Thompson continues to be inspired by wife's brave cancer battle
Rachel remains cancer-free, now four years after she was told she had chondrosarcoma.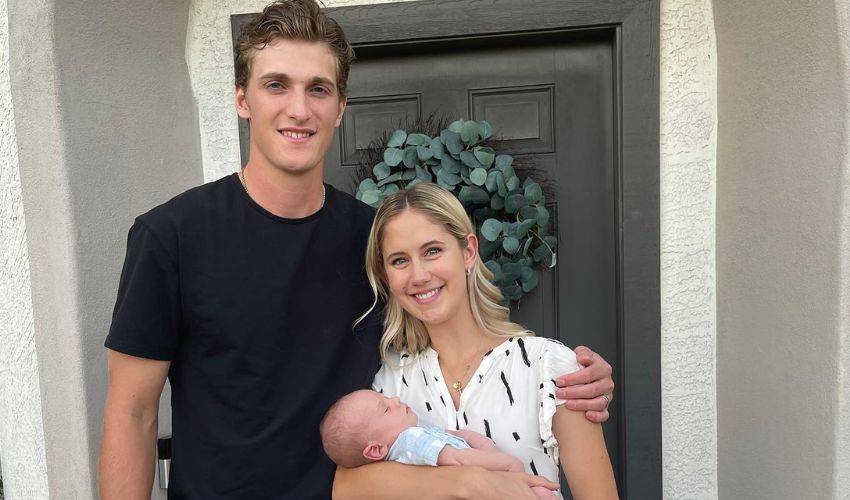 Feature Photo: IG / @Tommer97
---
Rachel Thompson continues to be an inspirational force for her husband, both on and off the ice.
It was a phone call Tage Thompson will never forget; the life-changing one he received nearly four years ago.
Out for dinner with his Buffalo Sabres teammates, the forward picked up the phone when he saw it was his then girlfriend on the other end of the line.
The couple had been anxiously awaiting news on the biopsy Rachel had undergone on her right leg a little less than a month before.
It certainly was not the news they had hoped and prayed for.
Rachel was told she had chondrosarcoma, a rare type of cancer that usually begins in the bones but can sometimes occur in the soft tissue near bones, according to the Mayo Clinic.
The surgery that was performed the next day would eventually provide reason to celebrate: Rachel is now cancer-free.
Provided the next scan in the summer of 2023 comes back clean, future examinations will not be required.
"I think the biggest takeaway is how positive she was during her battle," recalled Tage. "She was always looking at the silver lining."
The 26th overall pick of the St. Louis Blues in the 2016 NHL Draft has channelled Rachel's positivity into his performance on the ice.
After enduring a difficult road to a roster spot as a full-time NHL player, Tage, who turned 25 on October 30, has emerged as a dynamic offensive player for the Sabres.
Following a breakout 2021-22 campaign where he scored 38 goals and posted 68 points, Tage has had an equally impressive start to the 2022-23 campaign.
Dealt to the Sabres as a key piece in the 2018 trade that saw Ryan O'Reilly move to the Blues, Tage is on pace to have another career-best campaign.
His teammates, including Alex Tuch, have high praise for what he brings to the ice and in the locker room.
"Tage is one of the most competitive guys I've played with," said Tuch. "He comes into the rink every day wanting to be the best version of himself, both as a teammate and a player. Tage loves scoring goals, but he's a very selfless person and teammate."
Qualities that are very much part of his non-hockey life.
Looking back on those days when he and Rachel were struggling in several ways, the Arizona native remained grateful for the widespread support they continue to receive from family, friends and supporters both far and wide.
"Both of our families were very supportive during her battle which gave us strength, too. My teammates, our friends, so many people have been there for us."
Life is indeed good these days for Tage and Rachel, who first met on his 19th birthday.
This past July, they welcomed a son, Brooks.
One month later, Tage inked a seven-year, $50 million contract extension with the Sabres.
"The best thing about being a dad so far is just being able to watch him grow and hopefully getting to share the same memories I had with my dad with him. It's also given me a greater appreciation for all that my parents have done for me and a better understanding for how much they love me."
Grateful is a word Tage, whose father Brent played in 121 NHL games, uses often.
Faith played a big part in pulling the couple through their darkest moments.
"I think people should know that both her and my courage during that time came from relying on God. Knowing he has a plan and that all things work together for good."
Individually and together, Tage and Rachel are maintaining an optimistic outlook – comfortable and confident in their ability to handle the ups and downs of life in the arena and beyond.
It is a formula that continues to serve them well.
"There will always be hurdles in life, but we can always count on one another to get through whatever it is."
The Buffalo Sabres held their Hockey Fights Cancer night on November 12. Hockey Fights Cancer Month, a joint initiative between the NHLPA and NHL which runs throughout November, is a reminder of what Rachel went through, and what countless others are currently dealing with.