Annual NHL/NHLPA Hockey Fights Cancer Campaign Begins Today
American Cancer Society and Canadian Cancer Society Return as Charity Partners.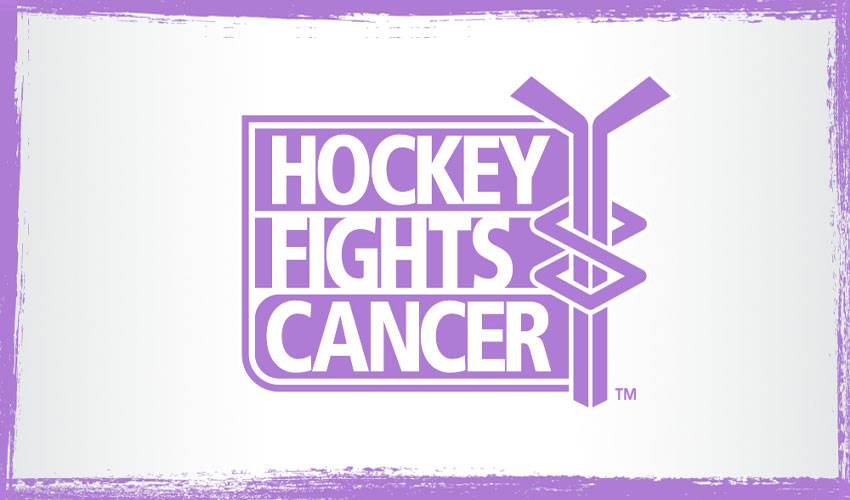 ---
ANNUAL NHL/NHLPA HOCKEY FIGHTS CANCER CAMPAIGN BEGINS TODAY
American Cancer Society and Canadian Cancer Society Return as Charity Partners
Fan Sweepstakes Is Back for the Cause -- Visit HockeyFightsCancer.com/NHLAllStar to Donate and Enter for a Chance to Win* a Trip to the 2023 NHL All-Star Weekend

NEW YORK/TORONTO (Nov. 1, 2022) – Hockey Fights Cancer™, a joint initiative of the National Hockey League (NHL) and the National Hockey League Players' Association (NHLPA), begins today. The annual campaign, now in its 24th year, has raised more than $32 million, uniting the hockey community in support of cancer patients and their families since 1998. The month-long initiative will feature Club activations, special events, observances, and stories from people around the hockey community.
Returning for the sixth season are esteemed national organizations, the American Cancer Society and Canadian Cancer Society, as official charity partners of Hockey Fights Cancer. Donations raised will continue to provide people living with cancer and their families with accommodations, meals, transportation, activities, and emotional support. To date, donations have provided the equivalent of more than 500,000 nights in lodges, transportation equaling more than 600,000 rides, and funding to support a 24/7 helpline for patients and caregivers.
"It meant a lot to me to see my teammates and the larger hockey community offer their support in what was a difficult time for me and my family," said Oskar Lindblom, San Jose Sharks forward. "Every year with the League's Hockey Fights Cancer initiative, it's a reminder of the battles I went through. But it also shows the incredible amount of support and the network we have to help others out and continue to spread awareness, raise funds to help others in their fight and be able to tell the unique stories of all who have been affected by this disease."
"It was a hard time for me and my family after being diagnosed with cancer, and I know a lot of people who have gone through a similar experience with loved ones," said Shea Theodore, Vegas Golden Knights defenseman. "I was fortunate thanks to early detection in 2019, but the diagnosis certainly changed my life. It means a lot for the NHL and NHLPA to support those affected each year."
After a successful launch in 2021, the fan sweepstakes contest is back as another way fans can contribute to the cancer-fighting cause. Fans are encouraged to visit HockeyFightsCancer.com/NHLAllStar to donate and enter for a chance to win* a once-in-a-lifetime experience at the 2023 NHL® All-Star Weekend in Sunrise, Fla. All donations will go to the National Hockey League Foundation and the NHL Foundation in support of Hockey Fights Cancer and will continue to help people affected by cancer.
Continuing the tradition, each of the 32 NHL Clubs also will host a Hockey Fights Cancer in-game awareness night with original storytelling, special ceremonies, and fundraising efforts for local charities. Youth hockey teams that want to emulate NHL Clubs and Players are encouraged to sign up for 'HFC Assist' at HockeyFightsCancer.com to receive a kit that includes lavender stick tape, HFC helmet decals, and information on how to host a fundraiser. To date, hundreds of youth hockey teams have hosted their own Hockey Fights Cancer events with proceeds continuing to support the American Cancer Society and Canadian Cancer Society.
Back for its fourth year, the Stanley Cup® Hope Lodge Tour also begins this month and will include visits to five Hope Lodges in the U.S. and Canada. Fans can purchase official Hockey Fights Cancer merchandise online at NHLShop.com or join the conversation online using the official hashtag #HockeyFightsCancer. Fans can donate to the NHL and NHLPA's Hockey Fights Cancer initiative by visiting HockeyFightsCancer.com.