Devan Dubnyk announces retirement after 12 NHL seasons
Dubnyk was a Masterton Trophy winner and Vezina Trophy finalist for 2014-15 season.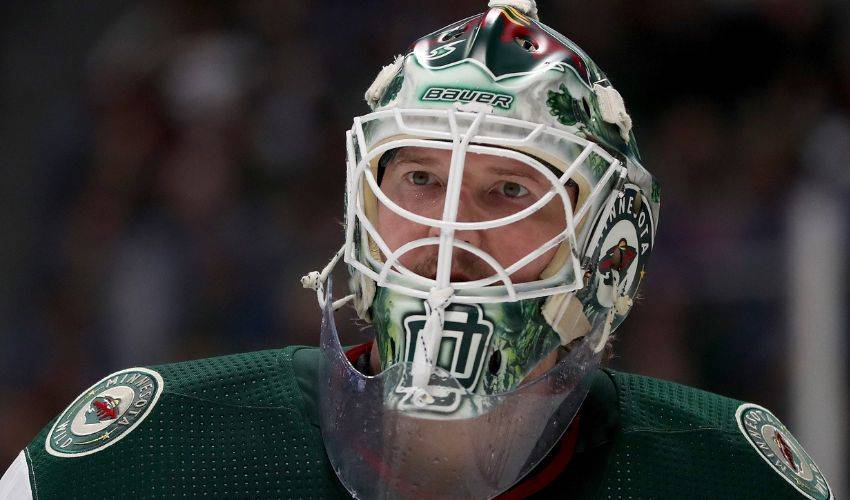 Feature photo: Getty Images
---
TORONTO (Oct. 29, 2022) – Goaltender Devan Dubnyk has officially announced his retirement from the National Hockey League (NHL) today following 12 NHL seasons and 542 regular-season games.
Born in Regina, Saskatchewan, Dubnyk was drafted 14th overall in the 2004 NHL Draft by the Edmonton Oilers. After playing in five seasons with the Oilers, his NHL career made stops with the Nashville Predators and Arizona Coyotes before he landed with the Minnesota Wild where he played for six seasons prior to splitting his final season between the San Jose Sharks and Colorado Avalanche. Dubnyk won 253 games in his career, recording a 2.61 GAA and a .914 SV% to go along with 33 regular-season shutouts.
Dubnyk played his junior hockey career with the Kamloops Blazers of the Western Hockey League. Over four seasons, he recorded 83 wins, 15 shutouts, a 2.69 GAA with a .912 SV%, and he was named the CHL Scholastic Player of the Year (2004).
Following his junior career, Dubnyk spent the next four seasons in the minor leagues. He played the 2006-07 season with the Stockton Thunder of the ECHL where he posted 24 wins, a .921 SV% in 43 games played and was selected to be an ECHL All-Star. Over the next three seasons, Dubnyk played 128 games in the American Hockey League with the Springfield Falcons – third most in franchise history for a goalie.
The 6-foot-6, 224-pound goaltender made 21 saves in his first NHL appearance on Nov. 28, 2009, with the Oilers in Vancouver against the Canucks. Less than a month later, Dubnyk earned his first career start on Dec. 21, 2009, versus the St. Louis Blues. He enjoyed his first career win later that season versus the Detroit Red Wings on March 19, 2010, when he saved 31 of 33 shots in the Oilers' 3-2 shootout win. In 2010-11, Dubnyk recorded 12 wins, a .916 SV% and his first two career shutouts in 35 games. His workload increased to 47 games in 2011-12 as he recorded 20 wins with a .914 SV%, followed by his best season with the Oilers in 2012-13 when he posted a .920 SV% with a 2.57 GAA in 38 games.
On Jan. 15, 2014, Dubnyk was traded from the Oilers to the Predators for Matt Hendricks before he was subsequently traded to the Montreal Canadiens. After finishing the prior season with the Hamilton Bulldogs in the AHL, he signed with the Coyotes on July 1, 2014. It was in Arizona where his breakout 2014-15 season began. Following 19 games with the Coyotes, Dubnyk was traded to the Wild on Jan. 14, 2015 – almost exactly one year after his trade from the Oilers. In Minnesota, Dubnyk played in 39 games and posted an exceptional 1.78 GAA with a .936 SV% and five shutouts, along with four wins in the playoffs. His overall numbers in 2014-15 added up to a record of 36-14-4 with career-best marks in GAA (2.07), shutouts (six) and SV% (.929), which led to him finishing third in Vezina Trophy voting, fourth in Hart Trophy voting and he was named to the NHL Second All-Star Team for the season. Dubnyk won the Masterton Trophy in 2014-15 for his perseverance, sportsmanship and dedication to hockey. In 2016-17, Dubnyk set a career-high in wins (40) and posted a 2.25 GAA with a .923 SV% in 65 games as helped the Wild once again reach the playoffs. For four straight seasons (2015-2019), he played in at least 60 games with the Wild.
From 2014-2015 to 2018-2019 Dubnyk was one of the top goalies in the league, placing first in games played (317), second in games started (309), third in wins (174), third in GAA (2.35) for goalies with a minimum of 100 games played during that five-season stretch, and tied for fourth in shutouts (23).
He was traded to the Sharks on Oct. 5, 2020, where he played 17 games, prior to being traded to the Avalanche on April 10, 2021. Dubnyk played in his final five NHL games with the Avalanche in 2021, and he earned his final career win on May 1, 2021, versus the Sharks – three days prior to his 35th birthday.
Over his 12-season NHL career, Dubnyk recorded five-straight seasons (2014-15 to 2018-19) of more than 30 wins, one 40-win season (2016-17), and he was a three-time All-Star (2015-16, 2016-17, 2018-19). In Minnesota Wild franchise history, Dubnyk finds himself atop the leaderboard in most key goalie categories. He ranks second in Wild franchise history in games played among goaltenders (328), second in games started (321), second in wins (177), tied for second in SV% (.918), second in GAA (2.41), second in shutouts (23), first in playoff games played (26) and first in playoff wins (8).
Internationally, Dubnyk represented Canada at the World Championship in four consecutive years (2010-2013), and he was a part of gold medal-winning teams at the World Junior Championship (2006) and the Spengler Cup (2012).
Dubnyk resides in Edina, Minnesota, with his family, and he currently works as an analyst with NHL Network.