Rookie Brandt Clarke credits older brother Graeme for on-ice success
Brandt says he wouldn't be where he is in hockey without his older brother, Graeme.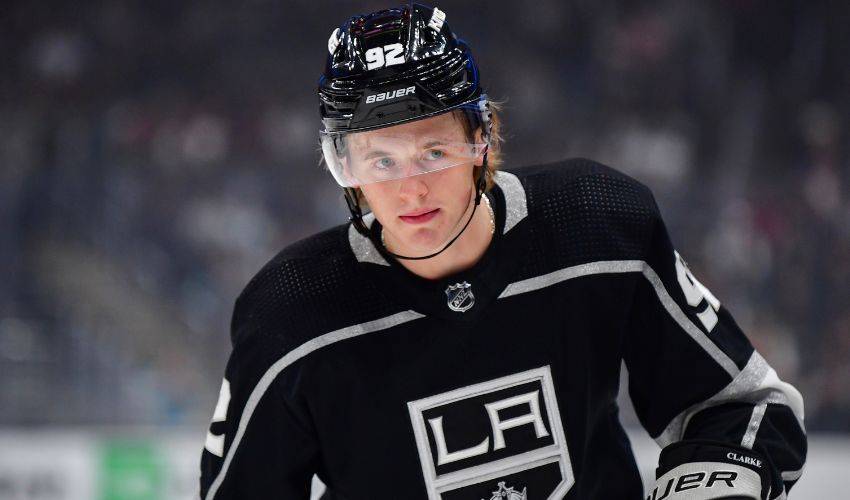 Feature photo: Getty Images
---
If it wasn't for a certain right winger nearly two years his senior, Brandt Clarke doesn't believe he would be where he is today.
While his own merits and talents have played a huge factor in getting him to this point, Clarke, selected eighth overall by the Los Angeles Kings in the 2021 NHL Draft, points to a familiar face as an equally important reason for his ascent to hockey's biggest stage.
"I wouldn't be where I am in life without him," said Clarke, of his older brother, Graeme, a 2019 3rd round draft pick of the New Jersey Devils. "He's helped me so much. He did everything I wanted to achieve first. He came into the OHL and then went through the NHL Draft. I got to follow his lead and he showed me the ropes. He's helped me a lot in my career."
Although he is only a handful of games into his NHL life, the 19-year-old defenceman looks to have a long and prosperous big-league career ahead of him.
Having already recorded two assists with the Kings, the younger Clarke is no stranger to scoring. After posting an outstanding season with the Don Mills Flyers of the Greater Toronto Hockey League, Clarke was selected fourth overall by the Barrie Colts in the 2019 Ontario Hockey League Priority Selection.
In his first campaign with Barrie, he notched six goals and 32 assists in 57 games. With his older brother in tow as a teammate, Brandt then took his talents to Slovakia for his pre-draft season to play on loan with HC Nove Zamky, where he produced five goals and 10 assists in a 26 games.
"It was fun. It was upsetting because COVID meant fans weren't allowed to be in the stands to watch the games – I hear the fans are really vocal, they have drums and they're loud the whole time – so that was disappointing. We were in a small town, but people were lining up and cheering us when we were getting on the bus to play a road game. Seeing the passion of those fans was really cool. That whole experience was something I never thought I'd have, especially at a young age, so it was really cool for me. I'll remember it forever and I made a lot of friends there, guys I still stay in touch with. I'm really happy that I got to do it."
Another hockey highlight came shortly after the European experience.
Clarke returned to North America and helped Canada capture gold in the 2021 IIHF Under-18 World Championship, scoring seven points, including two goals with a plus-12 rating in seven games.
The skilled defenceman had a memorable second year with Barrie in 2021-22, posting 59 points in 55 games while wearing the 'C' on his sweater.
"It's a lot of responsibility and you can't take days off. You have to lead by example. I'm very vocal, but I also have to bring it, too. I talk a lot in the dressing room but if I'm not backing up my words and bringing my best every night, anything I say brings a lot less weight. There is a lot of pressure, but I felt I did a good job and I think my teammates would say that as well. We had great chemistry and energy whenever we stepped on the ice. We were always ready to go."
That hasn't changed for Clarke.
A taste of the NHL life before his first game, along with a chance to be around some of the league's other young talents, further fueled his hope of reaching the show.
"I was in Los Angeles before coming out to the [NHLPA Rookie] Showcase, and being out on the ice, seeing the talent of the young guys and the veterans, it was great to be around that. We have a great group in LA, and getting to know the guys, talking to them … they're really great people. I'm very happy."
Clarke will be even happier the first time he takes a shift against a particular Pacific Division rival.
"I can't wait to play against Erik Karlsson. I've been watching him for years. I skated with him a couple of times because he still skates in Ottawa in the summers. Just being on the ice with him was amazing. We'll be playing San Jose a lot, so just seeing him across the ice will be pretty cool after watching him over the years."
And when that does happen, Clarke will remember the right winger who played a part in making that a reality.
"Even at home, whether it was ping-pong, or on the ice in summer skates, we [Brandt and Graeme] always take it to another level when we're up against each other. That competitive atmosphere has always been fun and helped us in our hockey careers. Like I said, I wouldn't be here without him."