Barclay Goodrow brings his two-time Stanley Cup champion veteran presence and rescue dog advocacy to New York
The 29-year-old forward has never altered his game plan for success.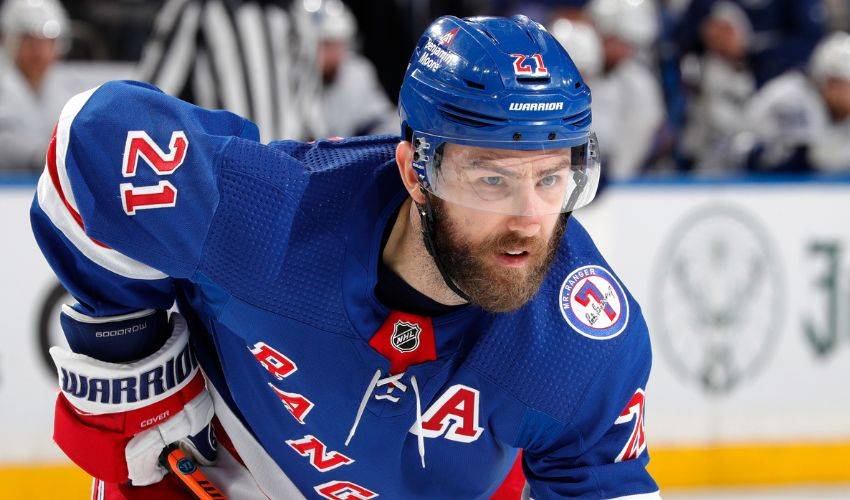 Feature photo: Getty Images
---
Barclay Goodrow continues to make an impact simply by being himself.
Whether it was his time wearing the captain's sweater for the Brampton Battalion of the Ontario Hockey League, turning heads as an undrafted forward, winning two Stanley Cups, or more recently taking on a veteran role with the New York Rangers, the 29-year-old Goodrow has never altered his game plan for success.
When Goodrow was traded to the Rangers last July from the Tampa Bay Lightning, it provided him with an opportunity he had thought a lot about in recent years.
"For myself, I went from two pretty good veteran teams in San Jose and in Tampa, to coming into a younger team last year," noted Goodrow, who had his best NHL offensive season in 2021-22, which included posting 33 points. "I'm counted on as a leader and as an older presence in the room, a role before I came here that I really wanted. I wanted to expand my leadership and embrace that role more. I'm the type of person where it takes a little bit of time for me to get comfortable in my surroundings. I think last year, as the season went on, I became more of the guy I envisioned myself being here."
Coming off a season in which the Rangers made it all the way to the Eastern Conference Final before bowing out in six games to the Lightning, Goodrow and his teammates are dialed-in on going further this time around.
The right-winger, who was named one of the team's alternate captains last October, believes the Original Six squad is up for the challenge.
"I think the biggest thing I learned over my time playing hockey is that everyone is a different person, and everyone is a different player. Everyone has their own way of doing things. Leadership - there are many different forms of it. There are things one leader does that another one doesn't, yet they can be equally effective. I learned from my days in junior that if you are one of the leaders on the team, or the captain, like I was in junior, you don't need to be something you're not. You need to do what you do to the best of your abilities, just as other leaders do it with their own style. I think it's that collective approach, everyone bringing something different to the table, that makes the biggest difference with leadership and what you do to help the team find success."
It's something the forward, who's just kicking off his seventh NHL campaign, has done at every level of the game.
After five seasons in the OHL, Goodrow capped off the final season of his junior career with 67 points (33 goals, 34 assists) in 63 games, including a league-leading seven shorthanded goals. His efforts caught the eye of the San Jose Sharks, who signed Goodrow on March 6, 2014.
Starting the 2014-15 campaign with Worcester in the American Hockey League, Goodrow made his NHL debut on October 30, 2014. He scored his first NHL goal in a 5-2 win against the Edmonton Oilers on December 9 of that year.
After spending the majority of the next two seasons in the AHL, Goodrow spend his 2017-18 campaign with the Sharks, finishing with 14 points (seven goals, seven assists) in 47 games and leading San Jose in face-off percentage (58.8) among forwards with at least 250 attempts.
After being traded to the Lighting in February of 2020, the Toronto native was a key contributor to Tampa's Cup run in 2020. One of his five postseason helpers came on Anthony Cirelli's series-clinching overtime tally against the New York Islanders in Game 6 of the Eastern Conference Final.
Winning his second straight Stanley Cup championship with the Lightning in 2020-21, Goodrow made his way to the Rangers via trade in July 2021. Five days after arriving in New York, he inked a six-year contract with the club.
"Coming in this year, I feel right at home. All the younger guys have another year under their belts, so it's been great. It's a very tight-knit group. We have a lot of fun together and everyone is on the same page. You can see that in the run we had last year, and I think that team-first approach was a big reason why we went as far as we did. We're just building on that for this season. We set pretty big expectations for ourselves this year. We're working hard to see that they come true."
When he isn't using his Swiss army knife-type set of tools on the ice, Goodrow and his wife, Madison, are enjoying the New York life.
The couple, along with their two rescue dogs, Harlee and Norman, get the most out of the great outdoors when time permits.
"If it was up to my wife, we'd probably have a lot more dogs," said Goodrow. "We've fallen in love with rescue dogs, and we have two of our own. We started out with fostering and that grew into adopting. Now that we have two, I think we're set. You see a lot of rescue dogs on social media who need to find homes, and you hope that people see that, and they consider adopting them. It's been great for us. They don't know how you played, whether you won or lost, they are just happy to see you, and that's a great feeling. We'll try to find parks in the area, so there are lot of outdoorsy things to do, where we can take the dogs and just get out and relax. We're pretty low-key people, but we do like the outdoors."
On the ice, Goodrow will stick to his long-standing script as a player, leader and teammate, whose actions speak volumes about his unwavering blueprint for success.
"I've never been the most vocal guy, but I just let my hard work and will to win show on the ice. I let that do the talking."