Beniers and Wright lead Seattle Kraken's rookie class
Drafted a year apart, Beniers, 19, and Wright, 18, have the skills to make a major impact on the second-year club.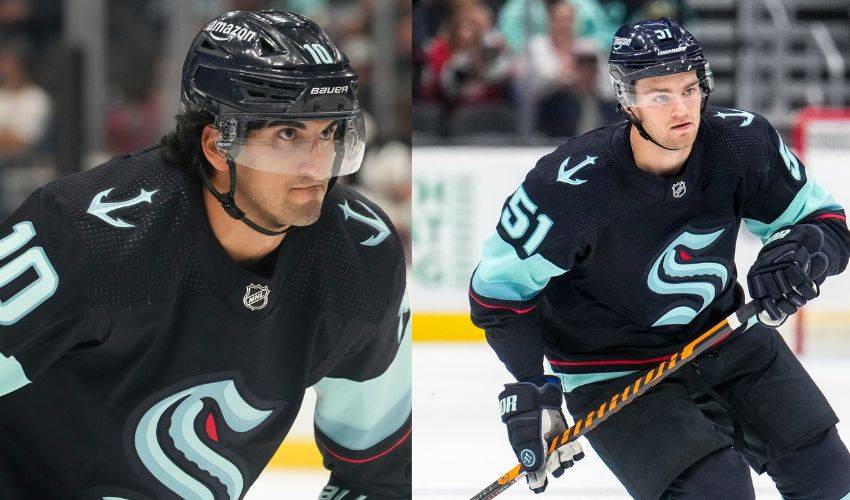 Feature photo: Getty Images
---
Matty Beniers and Shane Wright are thrilled to get things going as teammates.
The two rookies are on the path to becoming the toast of the Pacific Northwest in the NHL, a pair of young talents ready to help the Seattle Kraken make some noise in the Western Conference.
Drafted a year apart, Beniers, 19, and Wright, 18, have the skills to make a major impact on the second-year club.
And make no mistake, they are up for the challenge.
"Super excited," Wright told NHLPA.com at the annual NHLPA Rookie Showcase last month. "What a great group of guys. A lot of them reached out to me, to congratulate me on being drafted by the team, which meant a lot. Getting that support is really appreciated."
Beniers, the first draft pick in Kraken history, played in 10 games with the team last season, contributing nine points.
The Massachusetts native, who has four points through Seattle's first four regular-season games this year, got to participate alongside Wright at Rookie Showcase.
"I'm obviously excited about this year," said Beniers. "Hopefully, getting a full year this time around. I got a little taste of it last year. There are some new guys that they've brought in, and some really good draft picks. Having Shane here is pretty exciting. Everyone's goal is obviously to win a Stanley Cup but talking to the guys at the end of last year, after having a tough season, everyone is determined to make it a good season this time. Everyone is ready to go."
The pair hadn't crossed paths before becoming teammates but do share mutual friends, including Buffalo Sabres defenceman Owen Power and Columbus Blue Jackets forward Kent Johnson. Power and Johnson skated with Beniers at the University of Michigan in 2021-22 and with Wright for Team Canada at the truncated World Junior Championship in December 2021.
Beniers reached out to Wright via text not long after Wright was selected fourth overall at the 2021 NHL Draft. The two got to know one another on the ice and away from the rink at the Seattle development camp in July, and then again at Rookie Showcase.
While their paths to the NHL were different, their ability to be difference makers is very much the same.
The focus for both is on the standings, not personal stats.
"I don't really look at things from a milestone, goals or points type of way," said Wright. "I really have to take it one game at a time. … I want to stay there after the nine games. I want to be a good teammate and have as much of an impact on the team as I can. That's my main goal."
As it is for Beniers.
"Walking into that locker room for the first time, the first thing you noticed is how great these guys are and how committed they are to winning. For me, I didn't know anyone except for Ryan [Donato]. You don't know what to expect, but everyone made me feel welcome right away. That's a huge part of what makes you feel comfortable and confident on the ice. Once you feel that comfort on the ice, it translates to on the ice, that same feeling."
He views his two U.S. collegiate seasons with the Wolverines as a major turning point in his hockey life.
It's the time and place, he noted, where his view of the game dramatically changed.
"I always tell people that was where I was able to find what type of hockey player I was, to really improve," noted Beniers. "Those two years there, it went from, 'I love hockey. I enjoy playing it,' to, 'I really have a shot at this.' That changed my perspective. We worked really hard as a group there. We weren't great at the start, but our whole team was determined to turn things around and do well. I think we all took big steps as players because of that. It was a great experience and from talking to the other guys there, it was for them too."
Both Beniers and Wright are eager to see the same outcome on the NHL stage.
The pair of young forwards are quick to praise their respective families for helping them realize their big-league dreams.
Wright grew up in Burlington, Ontario, about an hour's drive west of Toronto.
"It's meant the world to me, my family's support. "They've always been there every step of the way, supported me and sacrificed so much to help me get to where I am. They are my biggest fans, and they always inspire me to go out there and do my best."
Beniers marveled at his parents' willingness to go the extra mile, sometimes literally, to show their support.
Last season was a perfect example.
"My parents went to Calgary for my first NHL game, but their flight got delayed and they changed routes, to be at my second game in Seattle. They've been all over the place to see me and that means a lot. Every hockey player would say this, but I wouldn't be anywhere without my family, all of the work they put in – the little things – to help me when I was younger. Getting me to the rink on time, making those long drives and sacrificing their own time, it means the world."
Support won't be hard to come by in Seattle.
Neither will the motivation to help the team succeed.
"Seattle is an unbelievable city," said Wright. "Being there for the development camp, getting to know the city a little more and visit some of the sites was awesome. I was training with some of the guys over the summer as well, so to get to know them, build those relationships and friendships, and get ready for the season, that was really important and a lot of fun, too. Now, you want to channel all of that into doing what you can to help the team do well."
A sentiment shared by Beniers.
"It's a great position to be in, to be part of this team. The guys are all dialed-in for making this a good season. When you see that optimism and commitment, it pushes you even more."