Matt Duchene strikes all the right chords in Music City
The Nashville Predators forward has an affinity for country music that dates back to his days growing up in Haliburton, Ontario.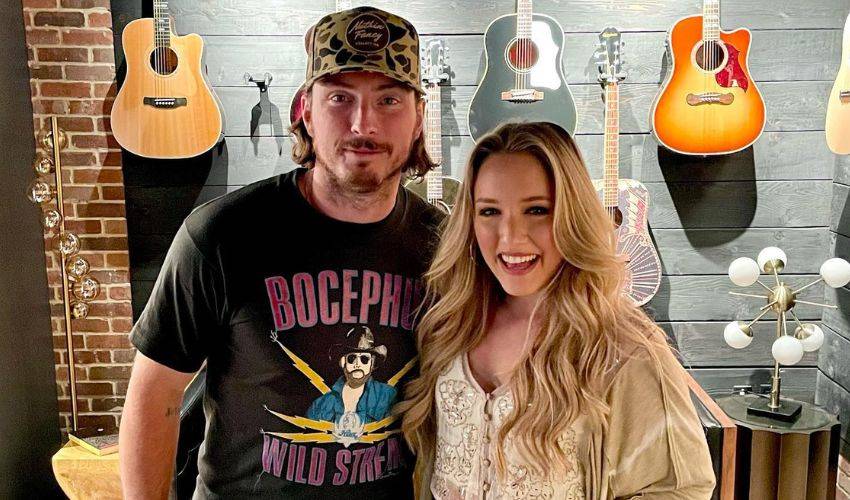 Feature Photo: IG / @matt9duchene
---
Whether it's striking the right chord or hitting all the high notes, Matt Duchene always leaves the crowd wanting more.
The Nashville Predators forward has an affinity for country music that dates back to his days growing up in Haliburton, Ontario, about a three-hour drive from Toronto.
The 31-year-old, now in his 15th NHL season, has carried that passion throughout every stop on his big-league career, including Nashville, his hockey home for the past four years.
So, when he recently had the chance to take to the stage in the Music City, Duchene gladly accepted.
"That was a very rare appearance for me," said Duchene. "With our kids, the hockey season, there's not much of a chance to get to do things like that, so it was really great to be able to do it."
Duchene's live performance at Gibson Garage, a popular spot that sells guitars, offers lessons, and hosts live shows, didn't disappoint. His wife, Ashley, was among those in the crowd cheering him on.
Duchene, who teamed up with country star Emily Ann Roberts and her band for his one song, shared a clip of his talents on his Instagram page.
"The whole thing was just amazing. The venue was incredible. They have a backstage area that is so cool with so many unbelievable guitars, old ones, newer ones, Keith Richards' old amp – it was awesome just performing there and get to do all of that. It was fun to get up there and do that with some pros."
If he had to choose a Predators teammate to join him on stage, Duchene opted for defenceman Dante Fabbro.
"I don't know if anyone else can sing, but Dante plays a bit of guitar – we've actually played a little bit together – so I would go with Dante."
Duchene's connection to country music has been well-documented over the years.
During his playing days with the Ottawa Senators, Duchene took to the stage at a bar inside the Canadian Tire Centre with the James Barker Band to perform a cover of Morgan Wallen's 'Whiskey Glasses,' one that came after a 4-3 overtime win.
He also played guitar onstage with country music star Lee Brice during the 2016 NHL All-Star Game festivities in Nashville. He performed with a borrowed guitar for a pair of songs.
Duchene, who played his first NHL game on October 1, 2009 with the Colorado Avalanche, found hitting the NHL ice to be more nerve-wracking than any of his times on stage.
"I was way more nervous for that first game," said Duchene, who inked a seven-year deal with the Predators on July 1, 2019, and was presented with a team-themed custom guitar at his introductory press conference.
His love of music and musical talents has received rave reviews. The most heartwarming reaction came from his son, Beau.
Duchene served up a clip of himself playing guitar and singing 'Shallow' (a song featured in the movie 'A Star Is Born') to Beau, one that ends with a big smile and equally big laugh from his young son.

The third overall pick in 2009 continues to hone his vocal and musical talents, including through a unique opportunity that came his way not too long ago.
"I'd love to do more of what we did at Gibson Garage. I think there will be a time and a place for that. During the pandemic, I had some time to sit down and wrote a song and recorded it at my buddy's studio. One of my best friends is the drummer for Thomas Rhett's band. He actually got most of their band together to record it with me. So, it was pretty fun to do that with guys who know what they are doing.
"I learned how to play guitar from my dad growing up, so I wanted to do that song and give it to my dad for Father's Day. I did it that year and there were some serious waterworks from my dad. It turned out really well. I don't know if I'll ever do anything with it, but it was fun to go through that process and go through that experience."
For now, the player who could very well have a music career waiting for him after he hangs up his skates, will look to play his part in bringing a Stanley Cup to Music City.
The thought of achieving that goal is music to his ears.
"I love singing and playing the guitar, but the focus is on hockey. We have great fans and we'd love to give them a championship."