Kraft Hockeyville doubles as homecoming for Jake Allen
For Montreal Canadiens goaltender and New Brunswick native, Jake Allen, the game ranks among his most cherished hockey moments.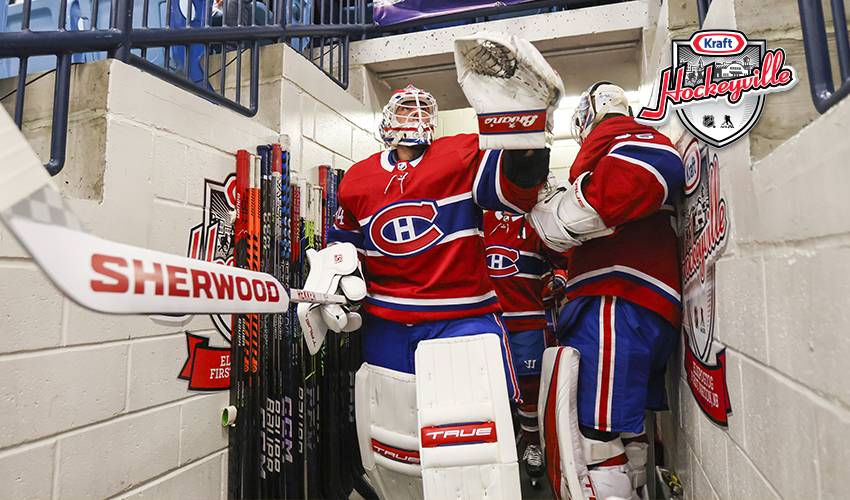 Feature photo: Getty Images
---
It was game on, times two, for Kraft Hockeyville this year.
After being postponed due to the COVID-19 pandemic, two NHL preseason games between the Montreal Canadiens and Ottawa Senators saw the puck drop on October 6, 2022, at the Steele Community Centre in Gander, Newfoundland and Labrador, and two days later on October 8 at the J.K. Irving Centre in Bouctouche, New Brunswick.
A partnership between Kraft Heinz Canada, the NHLPA and the NHL, the games were hosted by the 2020 and 2021 Kraft Hockeyville winning communities: Twillingate, Newfoundland and Labrador, and Elsipogtog First Nation, New Brunswick.
A fishing village with a longstanding love of hockey, Twillingate's ice rink, George Hawkins Memorial Arena, was originally an aircraft hangar located in Gander, Newfoundland and Labrador. The structure was disassembled and reassembled in 1967 for Twillingate to give the community the rink and roof that still stands there today. To keep the arena running, it required numerous important repairs. The community rallied together to showcase their hometown pride and bond with hockey, leading to their Kraft Hockeyville winning bid in 2020.
As Elsipogtog First Nation mourned the tragic loss of Craig Sock and Seth Monahan, two beloved members of their community, people united in their memory with the goal of winning Kraft Hockeyville and to rebuild their community rink. Their story inspired Canadians from coast to coast, who voted them the Kraft Hockeyville winner in 2021.
In addition to their NHL preseason game, each of the communities also received $250,000 in arena upgrades and $10,000 worth of youth hockey equipment from the NHLPA Goals & Dreams fund.
For Montreal Canadiens goaltender and New Brunswick native, Jake Allen, the game in his home province, which included an alumni exhibition contest, and the numerous events surrounding them, rank among his most cherished hockey moments.
"This is so important for the community," the 32-year-old netminder told NHLPA.com. "For me, additionally, to be able to help support this community, as a New Brunswicker and a Montreal Canadien, is a great honour. I saw firsthand what Hockeyville is doing for that region, the local arena and the people. You can see the excitement in the area, with the alumni game, and our game on Saturday. This is an event that will change their lives and spirits as well. It really is a big deal."
Allen, not surprisingly, is a popular draw every time he comes to New Brunswick.
This summer, the Jake Allen Classic hit the links in New Brunswick for its sixth edition. The event, which raises funds and awareness for several local organizations and causes, also offered a meet and greet with the man behind it all.
Established through Program 34, Allen's nonprofit organization founded in 2016, the Classic is a huge draw for fans, friends, businesses and surrounding communities. He also mentors fellow netminders across the province through the Jake Allen Fantasy Goalie Camp for Bantam AAA youth.
"There aren't many of us in the NHL, but it's nice to show them that this is possible, to play at a high level," said Allen, who won the 2019 Stanley Cup with the St. Louis Blues. "Whenever I talk to kids, it's more or less just a positive message. I think of myself as a kid in their shoes. Being a major junior player as a kid was a big deal. I remember those feelings of how cool it would be to play Canadian junior hockey.
"Just to have those aspirations and beyond, as someone local, I want to leave them with a positive thought, that anything is possible, hockey or otherwise. Whatever they want to achieve, they can achieve it. A lot of kids have asked me whether they should leave to pursue sports, but I stayed local, and it worked out for me. I want to give them an encouraging word and see them smile."
Which is what the 34th overall draft pick of the St. Louis Blues in 2008 saw time and again during his most recent interactions in New Brunswick.
Allen, who came to the Canadiens in a trade on September 2, 2020, was just as thrilled to see an NHL game in his home province as were those who packed the arena.
"For some of these kids, you never know. Some might not ever see an NHL game, so for them to see it, up close and live, for those boys and girls who play the game or who are hoping to, this can hopefully inspire them. With the new rink being repaired, it's a perfect opportunity for kids to further their love of the game."
The new rink Allen speaks of is the Chief Young Eagle Recreation Centre, which was badly damaged by a fire two years ago.
The $250,000 Elsipogtog First Nation received to repair the building, along with the $10,000 equipment donation from NHLPA Goals & Dreams, will have significant short-term and long-term impacts on the community.
"It's a simple way of life here and we don't need a whole lot in front of us to keep us happy," offered Allen. "We're very proud and kind people, and we are passionate about hockey. I would say it's more Habs territory than most NHL teams, but there are Leafs and Bruins fans too. There is just a real love of the game in New Brunswick, which I see every time I'm here. There is a deep and rich hockey history here. It's a smaller province, but there are tremendous hockey roots."
Allen, who will play in his ninth NHL season in 2022-23, continues to help them grow.
While this trip home is unlike any other that he's experienced with a hectic schedule, multiple appearances, and more, it's undoubtedly one of the most satisfying.
"It's been a whirlwind, but it's great. My parents are coming to Montreal next week, so I will get to see them. It was nice to have them in the stands to watch this game. They enjoyed the chance to see me play in a community rink in New Brunswick, wearing an NHL jersey. My grandma was there too. I'm sure she was nervous, but it was a special moment for all of us."
One Allen knew would be from the moment he landed in New Brunswick.
"Every time I come back in the offseason, just walking into New Brunswick, it's a great feeling to be home. There is always something special to see. I think I've learned to appreciate it more as I've gotten older. It's a sneaky, hidden gem of a province in Canada. I know that I'm biased. Most people that come here as tourists really enjoy their time. This whole event with Kraft Hockeyville, it really was a great experience."