Owen Power ready to live out childhood NHL dream with Sabres
Selected first overall in the 2021 NHL Draft, the blueliner has drawn comparisons to Tampa Bay Lightning veteran, Victor Hedman.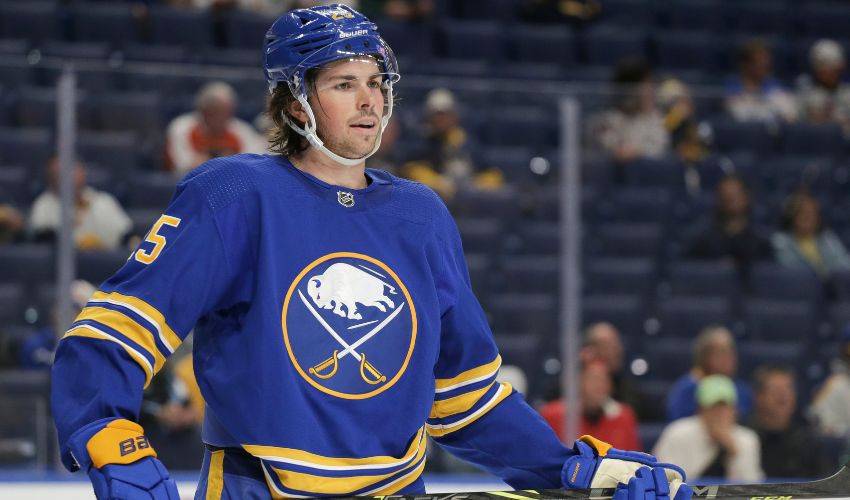 Feature photo: Getty Images
---
"To try and live out a dream that I've always had since I was kid."
A few months after being selected first overall at the 2021 NHL Draft, Owen Power reminisced about his hopes for his hockey future.
Fast-forward to the present and the strapping 6-foot-6 defenceman has made that dream a reality as a member of the Buffalo Sabres.
The blueliner, who has drawn comparisons to Tampa Bay Lightning veteran, perennial Norris Trophy candidate and two-time Stanley Cup champion, Victor Hedman, has all the skills to make an immediate impact on the big stage.
And make no mistake, he's ready for the show.
After finishing his sophomore campaign at the University of Michigan, where he notched 32 points in 33 games, Power played the first eight games of his NHL career with Buffalo to cap off the season when he posted three points, including two goals.
"You learn so much [from playing at the collegiate level], including the maturity you need to have on and off the ice," said Power. "I don't know if there's anything I can pin down, but there have been a lot of things I've taken from those years and put into my life inside and outside of hockey. All of that helps you feel more comfortable in your game."
As does the support of those closest to him.
"I'm very thankful for my family and the support they have always shown me through my hockey journey. It's always pushed me to get better and to strive for more."
Power, who will look to establish his game with the Sabres' young core in his first full NHL season, has been in constant contact with his Sabres teammates since the 2021-22 season came to a close.
He is grateful for their support, too.
"I've seen quite a few of the guys. It's nice to see them or talk to them and be part of something where we are all pushing for the same goal, to be a playoff team and to take it from there. Everyone there has been awesome to me. I feel comfortable going to anyone and asking them anything, knowing I'll get an honest answer back."
Alex Tuch, who came to Buffalo via a trade with Vegas on November 4, 2021, was impressed with Power from the get-go.
"Owen carries himself on and off the ice with the poise and maturity of a 10-year veteran," praised Tuch. "You can see how he's a sponge around the rink, always wanting to learn more and more every day."
Power, a native of Mississauga, Ontario, already has an impressive toolbox of skills, both offensively and defensively.
He has incorporated some of the experiences from his lacrosse-playing days into his hockey repertoire.
Power won three national championships at the bantam and peewee levels in his lacrosse career. Power's older sister, Emily, plays lacrosse for the University of Guelph and younger brother, Adam, also plays the sport.
"You definitely take a lot from what you learn playing other sports and use that to help you with hockey," said Power. "I could point to a lot of things from lacrosse, things like hand-eye coordination and learning how to adapt in tight spaces, that have helped me along the way."
Those attributes have also been used to good effect on the international hockey stage.
In 2021, Power recorded three assists and was a force in his own end throughout the IIHF World Championship in Latvia, as Team Canada earned a gold medal. He netted a hat trick in his first game of the 2022 World Juniors, and in doing so, became the first Canadian defenceman to score three goals in one game at the tournament.
Power also posted one assist in five games at the 2022 Olympic Games in Beijing, as the second youngest Canadian player to ever play in the Olympics.
"Winning the Worlds was an amazing experience," said Power. "When you wear that Canadian sweater, it's always special. You always hope you'll get that opportunity to play for your country."
For now, the 19-year-old left-handed shot will look to play his part in ending the Sabres' playoff drought, which stands at 11 seasons.
Power is eager to see that streak come to an end.
"Just from talking to the guys, you can see that everyone is committed to going out there and making it a memorable season. Everyone is on the same page."
Including the much talked about teenager living out his childhood dream.