Rookie Matt Boldy shoots for a breakout season with the Minnesota Wild
The former Boston College standout points to his Minnesota Wild teammates as a big reason for his on-ice success.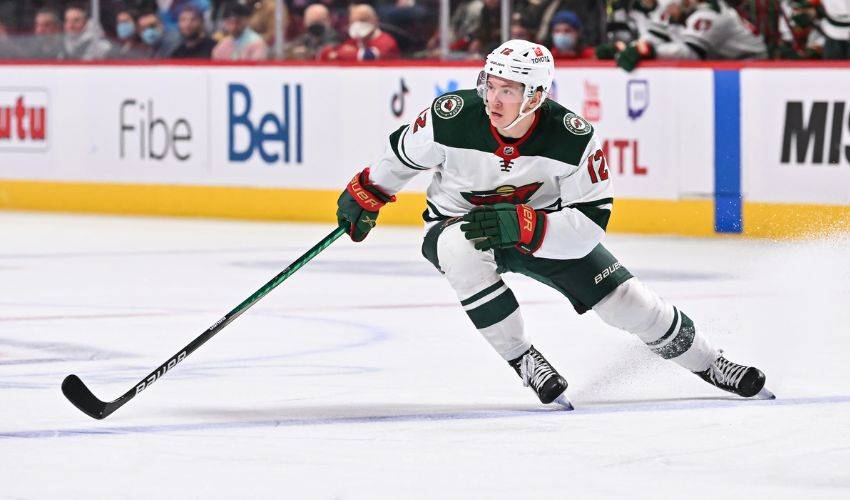 Feature photo: Getty Images
---
As far as memorable first NHL goals go, Matt Boldy had all the bases covered.
His NHL debut with the Minnesota Wild on January 6, 2022, was something the forward had dreamed about and prepared himself for long before the puck dropped on the milestone moment.
That game happened to come on the road against his hometown Boston Bruins and at an arena he had been to several times over the years.
Breaking into the Bruins' zone, Boldy snapped a pass to teammate Marcus Foligno, who quickly fired the puck back to the rookie, culminating with a top-shelf tally at 7:34 of the second frame.
If that wasn't reason enough to celebrate, his goal proved to be the game winner in a 3-2 Wild victory.
"It wasn't too bad, nerves-wise," said the 21-year-old native of Milford, Massachusetts. "Having the game be in Boston was almost better for me because I had friends and family there. That calmed me down, I think, as well as being in a place that I was familiar with. That was definitely nice. I was pretty focused that game, trying to enjoy it, but at the same time wanting to help the team get a win."
Despite besting his hometown team, Boldy can still get a table at Boston restaurants.
"I don't think too many people remember that one," he said with a laugh. "But it was pretty cool for that to be my first NHL goal, coming in my hometown. It was a fairytale for sure."
Selected by the Wild with the 12th overall pick in the 2019 NHL Draft, Boldy was chosen as a top-10 finalist for the 2021 Hobey Baker Award after he recorded 31 points, including 11 goals, in 22 games as a sophomore for Boston College. He signed a three-year, entry-level contract with the Wild on March 30, 2021, and suited up for Iowa in the American Hockey League for the remainder of that season.
An injury didn't derail his ascent into becoming an NHL-ready player. He notched 28 points (10 goals, 18 assists) in 24 games over two AHL seasons after he broke his ankle during a preseason game last October. He posted 10 points in as many AHL games ahead of his NHL debut.
The game against the Bruins wouldn't be his only NHL highlight in 2021-22.
Boldy netted his first NHL hat trick in a 7-4 win against the Detroit Red Wings on February 14, becoming the fourth rookie in Wild history to score three goals in one game.
At season's end, the winger had 39 points in 47 games, including two game-winning goals.
The former Boston College standout points to his teammates as a big reason for his on-ice success.
"We have an unbelievable group of guys. From day one, everyone made me feel comfortable and welcome. It made me feel like I was just one of the guys. They all took care of me and made it really easy for me in every way."
Which is quite similar to how he describes his collegiate days.
"I think the biggest thing I took away from that experience was going out and playing with confidence and with the idea of having an impact every night. We had some really good teams at BC both years I was there. The guys were all great to me. Being able to go out and play with such talented players, playing to win and wanting to have an impact was something I took from those years there."
As for what he will do for an encore, Boldy will be sticking to his longstanding script, which means he won't be overthinking his goals and objectives in 2022-23.
"A successful year would mean that I had an impact on a lot of games, playing an impactful game where it shows up in the standings. I try not to worry too much about how many goals I score or how many assists I get. If I can help create chances and not do anything to hurt the team, that's a pretty successful game for me."
Boldy, who took part in the annual NHLPA Rookie Showcase earlier this month had the summer he was hoping for ahead of the 2022-23 NHL season.
Now, he is ready to see the puck drop on the new campaign.
"It wasn't anything really different from in the past. My summer is coming home and taking the time I need to relax, feel comfortable and get rested. It's a fairly normal routine with working out and skating. It's what's worked so far. Other than that, it's spending time with family and golfing."
One thing Wild fans can expect from Boldy is for the rising star to keep his NFL allegiances intact.
They might have to work overtime to convert him into a Minnesota Vikings supporter.
"I'm definitely sticking with the [New England] Patriots. It's hard to want to change the team you support, especially since they've won so much."
Considering what he brings to the Wild, hockey fans in the Twin Cities just might be able to overlook that.