Timothy Liljegren drives towards success with the Maple Leafs
Fresh off signing a two-year contract, the Maple Leafs blueliner on what he hopes to achieve next both on and off the ice.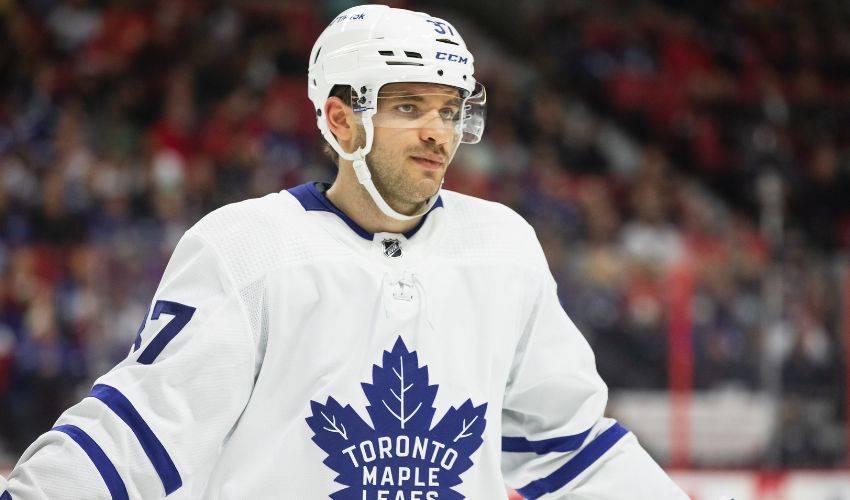 Feature photo: Getty Images
---
Timothy Liljegren is hoping to be in the driver's seat, literally, ahead of the 2022-23 NHL regular season.
Spending the summer in his native Sweden, the 23-year-old Liljegren, who re-signed with the Toronto Maple Leafs on a two-year contract on June 27, was asked if he had anything left on his wish list before the summer ends and the puck drops on the new campaign.
No. 1 on that list?
"I'm actually trying to get my Canadian driver's license," Liljegren told NHLPA.com. "I don't have one yet, so I'm going to try and get that before training camp starts."
When that does happen, the defenceman who was selected 17th overall in the 2017 NHL Draft by Toronto, might be spending the first few weeks driving some of his teammates around.
"That's what I've been doing up until now, guys driving me around, so I need to get my own car and return some favours."
For now, Liljegren, when in between training, will dedicate some of his free time to hitting the links in his homeland.
His golf game, still in its relatively early stages, has been hit or miss on most days. There is, however, some reason for optimism on the green.

"I've been trying to work on my golf game, so we'll have to see at the end of the summer if it's any better. The first month here in Sweden, it was kind of bad weather, but the last couple of weeks it's been nice. I still have a ways to go with my golf, but I've been putting together some rounds, so that's been good to see. I'd say my irons would be the best part of my game, but the biggest problem is my driver. I'm working on that."
Other than the pursuit of birdies and preparing for the new season, the native of Kristianstad, located in southern Sweden, is making the most of his time with family and friends.
An ideal way, said Liljegren, to decompress from the past season and get ready for the next one.
"I start to really get excited about the new season around August. It's a long season, so you just try and take as much time, in between training, to enjoy the summer as much as you can. I've been texting with some of the guys on the team. I keep in touch with [teammate and fellow Swede] Pierre Engvall, who lives about 30 minutes from where I am."
Liljegren, who had 23 points (five goals, 18 assists) in 61 regular-season games with Toronto in 2021-22, and who also appeared in two playoff games, is hoping to build off his first full NHL campaign.
"They really are a great group of guys, on and off the ice. I was up and down [between the NHL and minors] a lot, and last year was my first full year in the NHL, so I got to know the guys a lot more. They are really great. They are very supportive and a lot of fun to play with."
With around a month or so left in Sweden, Liljegren, who made 148 regular-season appearances with the American Hockey League's Toronto Marlies, posting 73 points (11 goals, 62 assists) and winning a Calder Cup in 2018, will be ramping up his training regimen while also continuing to work on his golf game.
And while he's enjoying his time at home, he's also looking forward to getting back to Toronto and reconnecting with his teammates and NHL city.
"I really like Toronto. I think one that comes to mind that I really enjoy are all the great restaurants. I don't usually cook a lot during the season, so it's really nice to have so many places to go to and try out."
Whenever he does head out for dinner, Liljegren might be the one doing the driving. His days as a passenger could be over by the time training camp gets underway.
"That's my goal, to get that license. Hopefully, I can do that and then I'll be able to get around more easily. And I'm sure I'll be offering up rides for the guys. That did that for me, so it's only fair that I do that for them."