Prokop inspiring young people to 'just be'
Through his partnership with Kids Help Phone, Luke Prokop is making an impact in the lives of young people across Canada.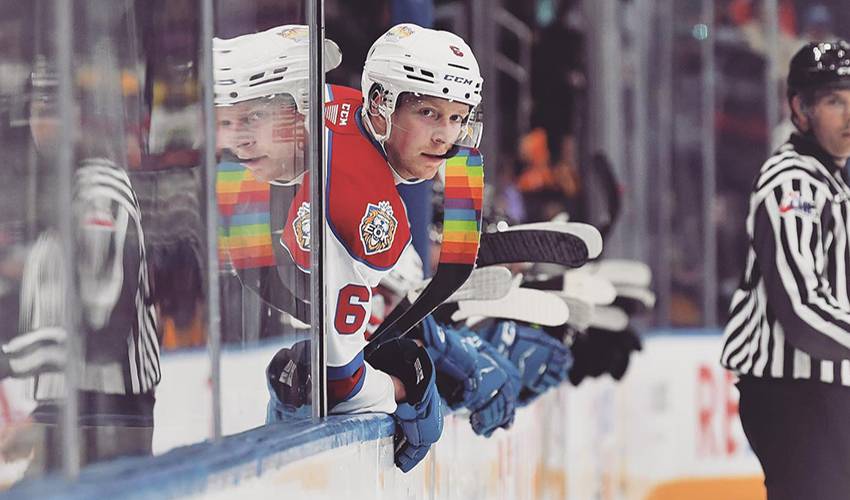 Feature photo: Getty Images
---
Thanks to Luke Prokop and Kids Help Phone, one shot can make a world of difference.
It was ahead of the 2021-22 Western Hockey League season when Prokop and representatives from Kids Help Phone, Canada's only 24/7 e-mental health service offering free, confidential support in English and French to young people, began talking about ways they could work together.
Prokop, who made history as the first player signed to an NHL contract to come out publicly as gay, wanted to help others. From those conversations a unique fundraiser, 'Shots for Impact,' came to be.
Through the initiative, the 20-year-old Prokop, selected 73rd overall by the Nashville Predators in the 2020 NHL Draft, pledged to donate $10 to Kids Help Phone for each shot on net he registered during the 2021-22 regular season with the WHL's Edmonton Oil Kings, which the organization and the Predators matched.
The end result was $12,480 raised for Kids Help Phone.
"This is the first time we've had a player activate with Kids Help Phone in this way," said Jenny Yuen, Kids Help Phone Senior Vice President, National Partnerships & Government Relations. "I loved Luke's perspective. He said, 'I'm a defenceman, so it's not about the goals I'm going to score.' He came up with the idea of the shots. So, it was an interesting spin in terms of his role on the team and how he could inspire to give. At the crux of this great partnership is his willingness to entertain ideas and his eagerness to collaborate."
Since 2021 when Prokop came out as gay through an Instagram post, he has dedicated his time and energy in representing and advocating for the 2SLGBTQ+ community, including helping to organize the Oil Kings' first Pride Day game.
The native of Edmonton, Alberta, is equally passionate about his partnership with Kids Help Phone.
"When I set my bar for how many shots I wanted to get this year, I aimed pretty high. I didn't shoot a lot of pucks this year. I was hoping I could get a little bit more money from donations, and the Oil Kings and Nashville both matched it. It was unbelievable how many people pitched in and helped support the cause. That really meant a lot to me."
As did the support he's received from the hockey community since coming out.
Initially unsure how that news would be received, Prokop got his answer soon after his post made its way through the social media world and in turn, the hockey community.
EA Sports, a partner of the NHL and NHLPA, launched 'Breaking the Ice,' a five-part video series meant to highlight champions of diversity in hockey.
The first episode featured Prokop.
"It's really been awesome. From the day I came out, the amount of messages I received from players in the NHL was not something I was expecting whatsoever. I could probably name five guys at least on each team, whether that be posting on social media, or texting or calling me – they did an amazing job of showing their support. It's been cool to see, playing in Edmonton, some of those guys on the Oilers come through the building, they've taken the time to talk to me when I've been warming up or taping my stick outside the dressing room. Seeing that support has been amazing as well."
Fellow NHLPA member Tyson Jost, a forward for the Minnesota Wild, lauded Prokop's decision to speak his truth and hopes others will be comfortable to follow his lead.

"Him doing that is just absolutely outstanding, just the courage it takes," Jost told 9news.com at the time. "I hope if there's any other players out there that want to come out, that they are comfortable enough to do that because you shouldn't be hiding who you are, you should express who you are and I believe you should feel comfortable in your own skin."
Wanting to help others has always been an important part of Prokop's life. With 51 per cent of young people who reach out to Kids Help Phone identifying themselves as 2SLGBTQ+, the decision to work in concert with Kids Help Phone was an easy choice for him.
"Supporting people, including kids, that's the reason why I wanted to work with Kids Help Phone. I have friends and family who have gone through mental health struggles. I don't think I could have been there for them. There were parts of me that wanted to be there, but I couldn't tell that they wanted to reach out or they were doing a good job hiding it. These conversations are coming up more these days, discussing mental health, and prioritizing it in your life. I think it's heading in a really good direction. I think giving the recognition to Kids Help Phone, where people can reach out to them at any time, 24/7, you are able to talk to someone and be free to talk about whatever you want. If I was ever in that situation, that's what I would do, reach out to Kids Help Phone. I just want to highlight all the great work they do."
And those at the organization are eager to share their experience working with Prokop, who was recently named the recipient of the Western Hockey League's Doug Wickenheiser Memorial Trophy as the 2021-22 Humanitarian of the Year.
"The best way I could describe Luke is that he is a gem of a human being," said Yuen. "He's so down to earth. He's not doing it to get his name out there. He's doing it for all the right reasons and the accolades are coming, rightfully so. He started with a goal and imagining what it could be, and it just has organically grown. The community is responding to him with donations, but also, more importantly, from a messaging standpoint. We had no idea what year one would be, on the wave of his enthusiasm and commitment, so we thought we'd try this – the amount of shots he'd take – and people have really taken to it."
More than either Prokop or Kids Help Phone could have fathomed.
His openness has resonated with youth across Canada.
"Luke wanted to share his story because he knows that there are more people and kids like him – that's him being the genuine person he is," offered Yuen. "But what he also shared was that he had no idea how many young people would be reaching out to him, hearing their story. He was dedicated to ensuring their personal stories and struggles would be heard. He's inspiring so many people. He's also one of the most humble people you will ever meet and he is in it for the right reasons. He's game for any of the ideas that will help young people. He's always looking at it from the lens of, 'What is the way I can share my own story to inspire a young person?' We hosted an Instagram Live with him and kids could ask him and one of our counsellors anything. And Luke was incredibly engaging."
In many ways, Prokop, part of an Oil Kings squad that won the Western Hockey League title and will now play in the 2022 Memorial Cup, is simply doing what he's always done.
During his playing days with Calgary of the Western Hockey League, it was a teammate's charitable efforts that sparked Prokop's interest in doing something on his own.
"It's always how I've been, even going back to when I was younger. When I was in Calgary, I had a teammate, Riley Fiddler-Schultz, who won the Humanitarian of the Year award when I was 17. He had a program for the Boys and Girls Club there. He did a lot of work for them and would have them come out to see games in a box. After the game, he would go hang out with them and talk with them. I always wanted to do something, but I didn't know what. Seeing what Riley did was so inspiring."
Now, it's Prokop doing the inspiring.
Whether it's being a role model for the 2SLGBTQ+ community, encouraging youth to be proud of who they are, or through his 'Shots For Impact' program, he's become a game-changer in the world of sport.
"There are young people who are coming out, considering it, questioning and aren't sure what that means from an identity perspective, but his story is, broadly, that it is okay to be who you are," said Yuen. "At the end of the day, that's what we hear a lot from youth. They just want to be. We've had so many people reach out to Kids Help Phone and say that they don't have to explain who they are, they just can be themselves. I think Luke is a great representation of that."